 ](http://careyindiana.com)
INDIANAPOLIS –In the week after the Colts lost in the divisional playoffs, Anthony Castonzo relaxed after starting 18 games and pushing himself for months.
The second week of the off-season found Castonzo doing what many teammates do – pursuing hobbies, but his idea of recreation may not sync up with everyone else's.
"I took one week completely off, just kind of unwinding," said Castonzo.  "(Then), I spent a week getting my endurance back up, doing a little more cardio work.  I did nothing with my joints, just letting my joints heal up." 
Stage two was to head to Bradenton, Florida, where his recreation mode did not slow down.
"I (go) to Florida to start my double sessions and getting back to really grinding," said Castonzo.  "If I'm not doing something, I feel so gross.  I feel terrible about myself if I'm not working out." 
The Rhodes Scholar candidate with a degree in biochemistry is not opposed to traditional ways of having fun.  It is just that work to others is concocting fun for himself.
"Working out is sort of a hobby of mine.  I consider working out as almost time off," said Castonzo.  "You don't have football on your mind.  It's more the mental time for me than it is physical for me.  I need something to do to fill the time."
For years, Castonzo has journeyed to the IMG Academy to train in a way he feels is much different than in-season conditioning. 
"Your mind is a lot clearer.  You're not thinking about who you're playing on Sunday," said Castonzo.  "You're not thinking about your technique.  You're just trying to get your body in shape. 
"It's just going out there, beating the crap out of yourself until you feel real good then go rest at night.  I try to make it where each day I look back at my workout and don't feel that I wasted a day.  The worst thing you can possibly do is waste a day."
In-season or off, no one can accuse Castonzo of being a sloth.  He has started 44 career regular-season games at left tackle.  With fellow Boston College alum Gosder Cherilus, Castonzo helped bookend an offensive line as the Colts went 11-5 for a second straight season.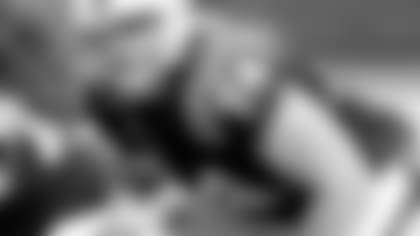 After starting a school-record 54 games and continuing that pattern here, Castonzo is an unquestioned leader with the Colts.  His efforts have made him so as has his tenure (only 11 teammates have spent more seasons with Indianapolis), but he feels that stature is shared by many. 
"I feel like I've kind of established myself as a guy who can be there for his teammates," said Castonzo.  "As far as a leader, we have a team full of leaders.  It's not like one guy or a couple of guys lead and everyone follows. 
"The reason we've been successful is because we have guys who know how it's done and do it the right way.  It's almost like a team full of leaders where if one guy decides to stray off the path, he has a team full of guys who are doing it the right way.  He's going to jump right back in line."
Castonzo mixes well with his in-season teammates, and he spends time in Bradenton among younger players who are training in hopes of a good combine performance or who aspire to reach the NFL despite a non-invitation.
Castonzo attended the academy before being drafted by the Colts in 2011 (22nd overall), and those at the academy have seen a pro in action.
"The off-season and in-season workouts are very different," said Castonzo.  "The in-season approach is all about staying healthy, preserving strength and maintaining (yourself).  You're not doing much breaking down of your body in-season. 
"In the off-season, you have nothing to save yourself for since the games are months away.  You can go all to the wall and break down your body." 
It is a ritual for Castonzo, a laboratory he uses to hone strengths for personal use and for the crunch moment of competition.
"I like to beat the crap out of myself.  There is long-term value in it," said Castonzo.  "It's almost mental training as it is physical training.  You kind of get used of overcoming that 'point of no return' to keep going.  Then when it happens in a game, it will be second nature."