Call it a late Christmas gift. Or an early birthday present (on January 8th). When Roosevelt Potts got the call from Colts Alumni Relations Coordinator Phil Andrews, at first, he didn't believe it.
"Because every time he calls me to do something, I'm always trying to get him with something. I thought he was trying to just get me back. But when he told me it was real, I was like, 'Man, about time.' I said, 'Now I don't have to tell everybody how good I was.'"
Originally from Louisiana, Potts played tailback for the University of Louisiana at Monroe. He was a second round draft pick by the Colts in 1993 and played five seasons and 49 games at fullback, averaging 4.2 yards per carry. On Sunday, he'll be named an Honorary Horseshoe Legend during the Colts game against the Tennessee Titans.
"I didn't get a chance to enjoy it when I was playing and I'm glad I'm getting this opportunity to go back, because I'm going to let it sink in this time. I'm standing in front of 70,000 people for one more time with something about me. And like I said, now that I'm retired and old, I think I'm really going to enjoy the fans. I think I'm really going to hear it."
And he's going to enjoy it with his family by his side. Potts settled in Indianapolis and post football, raising his family has been the biggest part of his life. But going from football man to family man was a bit of a transition.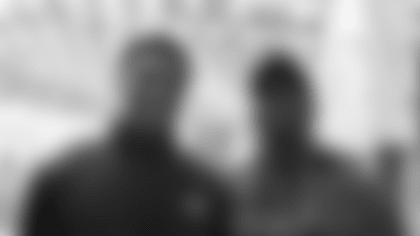 "It changes to being patient, to learning about what they're doing, it's family stuff. You turn into a dad, you turn into a husband. Before that, wherever you say you have to go, it was legit. It was out of the question. You had to go, there was no stopping you. But when that's over with, you can't overpower your family. You have to go with the flow."
For Potts, going with the flow has meant going on recruiting trips with his son, R.J., a safety for Fishers High School and one of the state's top college prospects. In recent years, it's gone from R.J. Potts being Roosevelt Potts' son to Roosevelt Potts being R.J. Potts' dad. And Roosevelt couldn't be happier about it.
"I'm glad. The script's been flipped. I'm going to all these different colleges with him and I'm kind of reliving my thing, but I didn't have a father to go with me on my trip. So, I'm glad I'm there because I can give him a heads up on how things turn out."
Like many players, Potts says it took time to find himself again after football.
"It took about eight years before I was able to come back and face it. Football is like this, you're so excited when they draft you. You're so happy when you leave. You're also happy when you come back."
And one of the ways he rediscovered himself is by giving back with his former team.
"I'm having a great time with it. It makes you feel like you're somebody again, like you're part of something still after you helped build it. It's really inspiring when they call you up and say, 'Hey, I need you to do this.' You're still important. I get a chance to do that a lot. And the more I've been doing it, it brought me back to a point where that's what I need to be doing."
And now, he gets to do it as a legend.
"I had to look up the word legend. And it was a person that did extraordinary things. And an accomplishment that would be talked about for the rest of their life. So, I think to me, I've finally made it. And I'm going to enjoy it."*
Roosevelt Potts will be signing autographs in Touchdown Town (North end of Lucas Oil Stadium along South Street) from 10:30-11:15 and you can catch him on the Colts pregame show on AM 1070 The Fan right afterwards.*