INDIANAPOLIS --- Indianapolis Colts kick and punt returner Josh Cribbs wanted to play football in 2014, but until the Colts signed him November 18th, that wasn't the case. Instead, he spent most of the season as an analyst covering the Browns on WKYC-TV in Cleveland, the city where he spent the first eight years of his career. Less than three weeks after signing, Cribbs will return to Cleveland to play his old team, the team he spent most of this year studying.

"I was analyzing the Browns. I was breaking down their games, before I came out here," said Cribbs Friday. I was on a lot of their live TV, Browns Tonight, just analyzing all of their players."

"He was absolutely tremendous," WKYC-TV Sports Director and Browns Play-by-Play Broadcaster Jim Donovan told Colts.com Friday. "He gave you his opinion. He was very open about what he thought was going on...it was a very popular segment."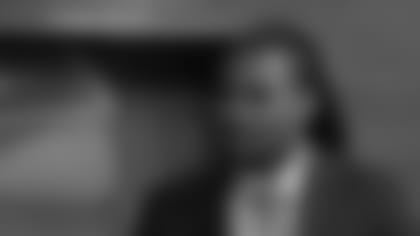 "He was a stylish guy. He always was," said Donovan. "He really took it very seriously. A lot of guys would come in and just give you pat answers, but he was very honest, very critical...he was terrific."

All that work as a TV personality came in handy this week too as his new team gets ready to meet his former team.

"So my scouting reports were pretty significant and pretty loaded this week for their defensive guys and special teams," Cribbs said with a smile. "I know those guys. I played with them."

It's funny how things work out. 19 days after signing with the Colts, Cribbs returns to the Dawg Pound, to see the same players in person he was paid to talk about a couple weeks ago.

"It's crazy. It's surreal. I've been there my whole life, my whole career. My whole adult life has been in Cleveland. I went to college 30 miles up the road," said Cribbs, who played quarterback at Kent State University. "My home is there. My children are there. My wife is there. So, it's going to be something."

After also speaking to a producer at WKYC-TV in Cleveland, it seems Cribbs will get a warm reception Sunday from the Browns faithful. Donovan agrees.

"Oh my God, yeah. I can honestly say this. There were times when (the Browns) were not good, but (Cribbs) was worth the price of a ticket," said Donovan. "People really loved him. They loved the whole story that he was a quarterback at Kent State, a walk-on tryout really with the Browns, then how he just became such a great player."

The love affair from the Dawg Pound only began there.

"I would have to say when Josh got his big contract with the Browns, the fans really got it for him. They demanded that Mike Holmgren pay him and give him a very, very respectable contract," Donovan remembered. "That's how much he meant to the fans here."

Cribbs knows a warm reception awaits him in northeastern Ohio on Sunday afternoon.

"I'm hearing a lot of fans saying they're breaking out their Cribbs jerseys," said Cribbs. "There's going to be a lot of Cribbs jerseys from the Browns. They're going to root for me, they said, but not for the Colts. I'm like, 'Hey, you don't have a choice,' because if I'm scoring we're doing good. I'm just excited that I've been adopted by ColtsNation, and I want to play well for them."

Every team in the NFL had their chance to sign Cribbs this season. The Colts did, but there was also talk in Cleveland this season about Cribbs possibly rejoining the Browns.

"He was also very honest about how he couldn't understand how the Browns had not given him a telephone call to come in and help them out," said Donovan, mentioning some of the Browns struggles on special teams this year. "We would end almost every segment with, 'Hey, your telephone's working, isn't it?'"

So Cribbs has his suit ready, not for the post-game show, but for his post-game locker room interview. Come WKYC-TV's seven o'clock news on Monday night, he'll already be getting ready for week 15 against the Texans at Lucas Oil Stadium.

Whether that is after a Colts win or loss against the Browns will be decided Sunday, but don't expect Cribbs to take a knee in the endzone or call for a fair catch.