 ](http://careyindiana.com/)
INDIANAPOLIS – Most players fresh off leading their respective NFL team in tackles, in their first NFL season, would not be thinking about life after football.
However, Jerrell Freeman isn't a man to break a promise.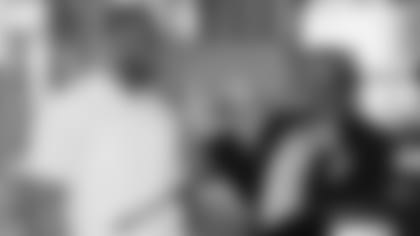 In 2012, Freeman led the Colts with 203 tackles in his rookie campaign starting in the NFL.
Yet when the Colts playoff run came to a close last January, Freeman knew where he would be spending a part of his first NFL offseason, thanks to a promise he made to his mother.
"Football is not always going to be there. It's definitely here for me in the short run but education is going to take me further into the future," Freeman says.
So Freeman went back to Belton, Texas to finish up the final 11 credits of his degree in criminal justice from the University of Mary Hardin-Baylor.
The son of a nurse and city worker, Freeman had more than just his mother in his ear about heading back to Mary Hardin-Baylor to earn something he will inevitably rely on one day.
"I just love to learn so I was excited to go back to get my degree," Freeman says. "I had professors, presidents texting me letting me know I had to come back and finish.
"Having that degree, that's saying something. It says that you finished what you started. You're a hard worker. You have to make those sacrifices, dedicate yourself, know what you want to do and reach that goal."
Saying Freeman is a hard worker does not do the Colts inside linebacker enough justice.
After playing football at the Division III level, Freeman's unusual path to NFL stardom took him north of the border.
Freeman played three seasons for the Saskatchewan Roughriders of the Canadian Football League, waiting for one more crack at his NFL dream before the real world beckoned.
Ryan Grigson came calling in January of 2012 by making Freeman his first signing as Colts general manager.
Freeman delivered with a season that the NFL has not seen before.
A few months later, Freeman delivered in the classroom and set himself up for life once the pads and cleats are hung up for good.
"The NFL knows that there is a future beyond football," Freeman says. "This is not a job where you can retire at 65. You are going to have to get that education and I think guys know now that it's bigger than them."
Freeman is helping spearhead that initiative by taking part in the 2025 Goal with the Lumina Foundation to raise awareness to the youth of America on the importance of education.
A few weeks back, Freeman spoke to a group of students at IUPUI to make those aware of his own story.
To many in the Indianapolis area, Freeman is known as the leading tackler of the playoff-bound Colts.
Freeman though has taken a macro approach to his outlook on life and knows one day the decision he made this past summer will pay dividends.
"You definitely can't take away that paper, can't take away that education," he says. "That's always going to follow you."