Robert Taliaferro had a fourth-grade education; Virnater Taliaferro a sixth-grade education. Where they were raised in Gates, Tenn., Black residents could not go to school beyond the sixth grade.
Fast forward to the 1940s: the Taliaferro's son, George, was clearly a standout on the football field for Gary Roosevelt High School in Gary, Ind., but up until his senior year, three of the state's all-Black high schools — Gary Roosevelt, Crispus Attucks in Indianapolis and Lincoln High School in Evansville — weren't allowed to participate in Indiana High School Athletic Association-sanctioned competitions. Instead, his team was forced to travel all around the Midwest just to get its games in.
George Taliaferro would go on to star in football at Indiana University, where he wasn't allowed to live in the dorms, eat in school cafeterias or swim in the pool. If Taliaferro wanted to go to the movies in Bloomington, Ind., he had to wait for the weekends and sit only in the balcony.
In 1946, after completing the first semester of his freshman year at Indiana, Taliaferro was stunned to learn he had been drafted into the U.S. Army. Sixty-five of his fellow recruits were transported to Fort Benjamin Harrison in a bus; Taliaferro was taken separately to Indianapolis in a military utility truck.
Early in life, Taliaferro was reminded constantly of the racist and discriminatory rules, regulations and attitudes that so negatively affected him and those who looked like him across the U.S. Yet, somehow, with all the odds stacked against him, George Taliaferro was able to overcome all of it, eventually becoming a trailblazing figure as the first Black player ever drafted by a National Football League team.
As Colts.com continues its celebration of Black History Month, we take a look back at the life and career of Taliaferro, whose best professional season came as a Pro Bowler with the expansion Baltimore Colts in 1953. Taliaferro, who died in 2018 at the age of 91, left behind quite the legacy of a man who not only rose up against racism and hatred for a decorated career as a professional athlete, but spent the last several decades of his life helping others in innumerable ways.
---
---
Born Jan. 8, 1927, in Gates, Tenn., Taliaferro and his family eventually moved to Gary, Ind., which sits about 25 miles southeast of Chicago.
Taliaferro became a huge fan of the nearby Chicago Bears, and has aspirations that one day he, too, would be sharing the field with the best that the game of football had to offer.
He became a star athlete at Gary Roosevelt High School, despite the fact that his all-Black school could not compete against other Indiana schools his first three years. A standout for the baseball, basketball and track teams, it was on the football field where Taliaferro became a local phenom.
Yet, despite the fact his senior year he could finally take on in-state competition, gaining him even more exposure, Taliaferro didn't initially exactly have a ton of college offers. At first, he said just the University of Illinois, where his high school basketball coach was a graduate, and UCLA, where Jackie Robinson had starred in multiple sports just a few years prior, were interested in his services.
But the night before Taliaferro was set to make a visit to North Carolina Central — a predominantly black institution in Durham, N.C. — Indiana University officially extended an offer to play for the Hoosiers, about three hours south of Gary. The appeal of his parents having the ability to watch him play ended up winning out in the end, and Taliaferro was officially headed to Bloomington.
---
---
Taliaferro was eager to get the full college experience upon his arrival at Indiana University. What he quickly learned, however, was that Black students weren't allowed to live on campus and he couldn't even eat in school cafeterias.
He decided then and there to take out his frustrations on those trying to stop him on the football field.
Taliaferro didn't take long at all to establish himself as one of the Big Ten Conference's best players. In his freshman season in 1945, Taliaferro led the Hoosiers in rushing and helped lead the team to its first-ever undefeated Big Ten championship.
One semester into his college career, Taliaferro had already made a name for himself.
But that's when the military came calling.
Taliaferro recalled being stunned to learn early in 1946 that he had been selected for the first peacetime draft in U.S. history, as he was headed for the U.S. Army. There he learned he was going to be utilized on his base's football team; Taliaferro, still bitter about his situation, was defiant at first.
"I said, 'I'm not going to play football.' In that tone of a voice," Taliaferro told Colts.com a few years back. "And (the commanding officer) just sat up in his chair, like this, and he said, 'You have an alternative. You can either go to officer's candidate's school, which is an automatic three-year enlistment, or you can play football.' And just that quickly, I said, 'Then I'll see you after football practice.'"
Taliaferro served one year in the Army, and then returned to Indiana University, where his excellence on the football field continued for two more seasons. A standout running back, quarterback, defensive back and kicker, Taliaferro would earn All-American honors three times in all.
Taliaferro also made a major impact off the field. Case in point: remember that Bloomington movie theater that only allowed admittance to Black customers on weekends? Taliaferro one day brought a screwdriver to the theater and removed its "COLORED" sign from the wall in the balcony, and took his seat downstairs.
He kept that "COLORED" sign with him for the rest of his life.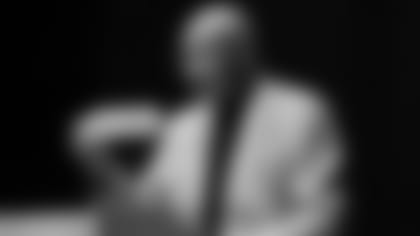 ---
---
After wrapping up his junior season at IU, Taliaferro made history when the Chicago Bears — his favorite team as a child — selected him in the 13th round of the 1949 NFL Draft, making him the first African-American drafted by an NFL team.
Taliaferro had already elected to sign with the Los Angeles Dons of the All-America Football Conference (AAFC) out of college, however. He played with the Dons in 1949, officially entered the NFL with the New York Yanks in 1950-51 and played one season with the Dallas Texans in 1952.
In 1953, Taliaferro joined the expansion Baltimore Colts for two seasons. He had his best professional season with the Colts in 1953, when he posted career-highs in rushing attempts (102), rushing yards (479) and receiving yards (346). Named to his third consecutive Pro Bowl that season, Taliaferro had two touchdowns each on the ground, through the air and as a passer.
Taliaferro would wrap up his playing career with the Philadelphia Eagles in 1955. A three-time Pro Bowler, Taliaferro would play 72 games in his seven-year professional football career. He racked up 498 rushing attempts for 2,266 yards (4.6 yards per carry) with 15 touchdowns, while he also had 95 career receptions for 1,300 yards and another 12 scores. Taliaferro also completed 92-of-284 career passing attempts for 1,633 yards and 10 touchdowns to 29 interceptions.
He is not only believed to be the only NFL player to play seven different positions — running back, quarterback, wide receiver, cornerback, kick returner, punt returner and punter — but he's also believed to be one of the first Black quarterbacks in league history.
---
---
Taliaferro's career as a football player was over, but another career — one spent as a major positive influence on a countless number of lives in education and through his charitable efforts — was just about to begin.
He became a social worker in the Baltimore area, earned his Master's degree at Howard University, taught at the University of Maryland and then was hired as the dean of students at Morgan State University. In 1972, Taliaferro returned to Indiana University as a special assistant to the president and an affirmative action coordinator.
He spent his first lunch back at IU with a young basketball coach by the name of Bob Knight, who had just been hired by the school a year prior.
"He asked me to assist him in recruiting, and that he wanted his players to see a person who had played professional sports, but who had a college degree," Taliaferro told Colts.com of that conversation with Knight.
Taliaferro would also serve as chancellor at IUPUI and the dean of the School of Social Work.
Taliaferro said his general attitude was, "When I found out that my name would help in whatever — I volunteered it." He was instrumental in the formation of the first Boys & Girls club in Bloomington. He spent more than three decades deeply involved with the Children's Organ Transplant Association.
Over the years, Taliaferro would learn just how influential he was on a countless number of folks. At one point, he was approached by legendary former Indianapolis Colts head coach Tony Dungy.
"And he walked right over to me and said, 'Mr. Taliaferro, my name is Tony Dungy. I want to meet a legend.' And I said, 'Where?'" Taliaferro recalled with a laugh. "And he told me there that his decision to play at the University of Minnesota was created by my career at Indiana University."
In 2019, Indiana University posthumously dedicated a bronze statue of Taliaferro outside of Memorial Stadium.
Upon Taliaferro's death in October 2018, Colts owner Jim Irsay tweeted: "Rest in peace, George Taliaferro. Not only 1st African-American drafted into NFL, but also league's 2nd African-American QB. A trailblazer and true gentleman, George graced us with his presence at a recent home game. One of our last connections to pro football of the '40s/50s."
George Taliaferro was survived by his wife of 67 years, Viola, his four daughters — Donna Taliaferro, Linda Harvey, Renée Buckner and Terri Johnson — his brother, Rozell, and several grandchildren and great-grandchildren.