 ](http://careyindiana.com)
INDIANAPOLIS –Daniel Adongo's second day on American soil was spent in Anderson, Indiana after flying 17 hours from Johannesburg, South Africa.
After playing at rugby's highest level in the world, an agent had helped target the Colts on the partial criteria that the team had been successful and played a generally rural area.
Adongo never had played football, never hit a blocking sled, never been in a pads – let alone a stance – and could hardly catch or throw a football.
The raw product weighed 257 pounds on a diet that consisted mainly of fruits and nuts, and he had become a football nut by watching broadcasts in Nairobi and by playing Madden games.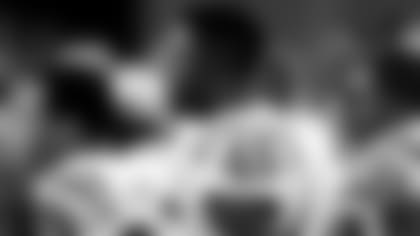 His dad's advice was to, "Go for it."
Early in camp, Adongo told a reporter, "They don't know me from a bar of soap, but they took me in as one of their own."
While dressing for preseason games but not playing for safety reasons, Adongo sought and soaked up knowledge.  He has spent 13 weeks on the practice squad.
Tuesday, he was placed on the active roster.  Sunday in Cincinnati, Adongo could play.  He is more than an unknown quantity.  Adongo is well-respected.
"What he's done is tremendous, it's crazy," said Robert Mathis, somewhat of a longshot in 2003 from Alabama A&M.  "He was more of a longshot than I because his of his knowledge of the game, or lack thereof.
"He seeks knowledge.  He would come ask questions, and I'm happy to give him every piece of advice.  He's improved tremendously.  I saw him every day at practice get better.  Whether it's the spin move, the chop-spin, bull rush, whatever it is, he's working at it.  It's unbelievable.  People don't know the leap he's made."
Now weighing 270, Adongo is mature about what lies ahead.
"I'm excited about the opportunity," said Adongo.  "I'm not going to let that excitement get to me.  It's been subdued by my duty and obligation to do my job.  Do it to the best of my abilities."
Chuck Pagano indicated special teams are the likely duty with the club having a number of outside linebackers. 
"From what we saw to right now, it's night and day," said Pagano.  "The guy is a smart guy.  He's very athletic, a tireless worker.  Even though he hasn't played, he's picked up a ton.  You've seen him every day get better, start to understand the nuances of the game, setting the edge, dropping into coverage, rushing the passer.  
"He hasn't been under the lights when it counts, but he's played on a big field before.  He's run around and tackled people before with no pads.  I suspect instinctively, he'll know how to do that.  It might be even more physical and violent because he does have pads."
Adongo says the aggression, techniques and physicality of the two sports are the same, but wearing pads has been an adjustment, "I won't say it was weird.  It was unexpected to have the pads on and hit people."
Football jargon can be intense for newcomers, so Adongo took a big-picture approach.
"Once you sit down and put your mind to it, you look beyond not understanding it initially, just accepting that and trying to find out what you don't understand, piecing things together one step at a time.  Then, it all comes to you at the end," said Adongo.  "If you start off and think, 'Oh, there's a lot of information to pick up,' you don't focus on the process and the execution and proper planning on how to absorb whatever it is you have in front of you."
Said Mathis, "He's taken the language, the lingo and he's digested that and even regurgitated it and asked us questions where we have to back and check our playbooks.  That's a tribute to him.  He's a guy who's very professional about his craft."
Coming to a new country and new sport, Adongo again credits his teammates for their willingness to assist. 
"Robert Mathis, Cory Redding and everyone on the D-line and all the coaches, everyone played a part in helping me get to this point," said Adongo.  "It was a team effort. 
"It takes a village to raise a child I like to say.  That's what great people, great men do.  They embrace other people, teach them and impart the skills that they have.  It's about sharing the knowledge that you have, and helping other people grow."
Adongo says he feels like a football player now, and it is a different feeling that being a rugby forward.
"How does it feel differently?  Pads, helmets," laughed Adongo.
PRACTICE REPORT – Did not participate:  DT-Ricky Jean Francois (foot), OT-Jeff Linkenbach (quad), OG-Hugh Thornton, S-Sergio Brown (hand); LB-Robert Mathis (rest); Limited Participation:  CB-Greg Toler (groin), WR-T.Y. Hilton (shoulder); Full Participation:  LB-Kavell Conner (ankle), CB-Josh Gordy (groin).  
Pagano has ruled Linkenbach out for Sunday.  How the guard positions this Sunday will work will come down to Mike McGlynn, Thornton and Joe Reitz.
COLTS IN PRO BOWL FAN VOTING (AFC POSITION) – Andrew Luck (3rd-399,523; Peyton Manning, Den, 926,432; Tom Brady, NE, 408,189); OLB-Robert Mathis (3rd-217,191; Tamba Hali, KC, 233,738; Terrell Suggs, Bal, 221,617); K-Adam Vinatieri (4th-41,848; Stephen Gostkowski, NE, 150,820; Nick Folk, NYJ, 91,749; Matt Prater, Den, 81,029).
Fan voting will continue online and on web-enabled mobile phones until 6:00 p.m. ET on Thursday, December 26 by going to www.NFL.com/probowl/ballot.  Fans count as one-third of the process, with players and coaches providing the rest of the voting.