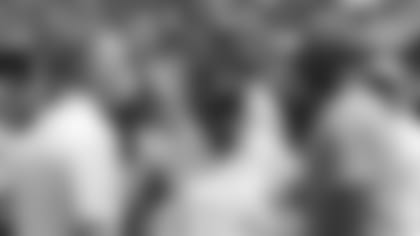 ](http://www.embarque.com/)
INDIANAPOLIS – Each week, readers of Colts.com can submit their questions to have a chance of them being answered in our Wednesday or Saturday mailbag.
Here is this weekend's collection:Scott Braun (Southwest Asia)
I'm currently overseas and although we do get a few channels on base, we do not get the same channels that would play colts games (or any NFL games for the matter) back home. Is there any websites or other means available to watch the colts games without paying a tremendous amount?
Also, I'm a big fan of Tyler Varga and while Tipton is decent, he didn't impress me late last season. Do you think Varga has a chance beating him out and/or making the 53 man roster?
Bowen: Scott, I will point you in this direction to hopefully help you out. I would also say go on some NFL team message boards and pose the same question to fans, who might also be overseas. As far as Varga, it's going to be interesting to see how the Colts fill out the rest of the running back group. I like the way Varga runs and he had a nice debut Sunday in Philadelphia (3 carries for 16 yards). Varga has to hope the Colts keep four running backs and if that happens, he likely will be fighting with Vick Ballard (health pending) and Zurlon Tipton for that spot. That's a tall order. Varga obviously has practice squad eligibility, so maybe that's the more likely route for him in 2015.
Cory Cardwell (Abingdon, VA)
I have heard about a lot of players recently, but nothing of Robert Mathis. how is he doing?
Bowen: There has been no update on Mathis since Jim Irsay put out a timetable of late September/early October for No. 98's return. Mathis does daily rehab work on the Colts adjacent practice field, along with Donald Thomas. If Irsay's time frame holds true, you would think Mathis will have to return to practice in the next couple of weeks to prepare himself for eventual game reps.
Rodney Johnson (Louisville)
Why would we not wear our home whites at home
Kevin, I know you get lots of questions during the week and cant answer all, but I hope you answer this one. Colts mobile is downloaded on my phone. Even in the offseason, I'm always looking at it for new information on trades, players, just anything. I also look at the photos. Like the philly travel photos. It would be nice to have the names underneath as to identify the players. Even though I know some/most, there are those I have no idea. Any possible way that could be made to happen? Thanks Go colts!!
Bowen: Michelle, that's a great question. I talked with our photo guru (Matt Bowen, no relation) and I believe he's going to do this going forward. His plan is to label the travel photos with player names following road trips. For home games (no travel photos), the "Faces of the Franchise" gallery he posts will also include players' names. This should hopefully help fans identify guys in their attire away from the gridiron.
John K Wright, V (Plano, Texas)
I actually thought that QB Bryan Bennett deserves more credit in the loss. The team scored it's only TD during the time he lead the team. Some of his passes looked like they should have been taught. If he didn't have a 3rd or 4th Team blocking for him, maybe he would not have been sacked.
Bowen: The biggest area for Bennett to improve on heading into Week Two of the preseason is simply better ball security. Bennett cannot have the turnovers the offense had when he was under center. The athleticism though is evident when watching Bennett. He's a gifted athlete at the quarterback position and I do think there's potential for him. In past seasons, the Colts have kept a quarterback on the practice squad so maybe Bennett will end up there come regular season.
I know you can't discuss contract specifics, so I'll keep this question as general as possible. Don't you think the Colts and Andrew Luck are in the perfect situation for the NFL's first fully guaranteed contract, with a slightly lower average annual value than in a typically structured contract? He's already a top-5 QB, and he's durable. (He's also an outstanding citizen.) Quarterbacks like that see the full value of their contracts anyway, and usually more because they get contract extensions. Wouldn't it make sense for the Colts to guarantee Luck's contract, and in turn reap the benefits of a little extra salary cap room? I see this as an opportunity, not a risk.
Bowen: We've received a few of these questions lately with the quarterback contracts taking shape recently around the NFL. The obvious with Luck's contract is it's going to be substantial and deserving for what he means to the Colts. The unknown comes with his agent. Luck's uncle, Will Wilson, represents the Colts quarterback. When the Wasserman Media Group signed Luck, he became the first NFL player the agency represented. So that's where the unknown comes in. You have little precedent to previous deals for NFL players and their clients (compared to a veteran agent like Drew Rosenhaus). There are positives to your plan, Paul. However, there are plenty of hurdles to clear for a contract that will be in rarefied air when it's all said and done.
Michael Shaw (Indianapolis)
I believe the Colts defense have improved greatly and will 'shock' the NFL this season. How I see it, the Colts will have a top five defense in the first five weeks, followed by a slight downfall in their next five games due to facing some potentially top tier offenses. By season's end, the Colts will be a top eight overall defense with at least four pro bowl selections. Am I just a hopeful, delusional fan, or is their something to my bold prediction?
Bowen: I think the "boldest" part of your prediction comes in the Colts having four Pro Bowl selections. I know the Colts had three Pro Bowl defensive guys last year, but two of those came from other guys having to pull out of the game. I do see the defensive pattern following your script. The gauntlet of elite quarterbacks hits the Colts schedule in mid-October (a stretch of Tom Brady, Drew Brees, Cam Newton and Peyton Manning). From a Colts standpoint, the schedule is laid out nicely with a handful of games early on before the Hall of Fame quarterbacks come later. I could definitely see the Colts ranking as a top-eight defense, but the jump in facing the quarterbacks above will have to be immense (compared to last year).
Chase Lemke (Minneapolis, MN)
Khaled Holmes seems to have secured the center spot over Jonotthan Harrison. Throughout the past year, we kept hearing about how Harrison had a much higher upside due to his strength and athleticism, but was held back by mental miscues (as evidenced by several poor snaps last season). Why have we not heard about any transition to guard for him? Seems like avoiding being the centerpiece of the line would be a chance for him to rely more on his physical gifts while hiding the mental side of his game.
Bowen: We received a couple of inquiries about Harrison this week. First, I think he has tremendous value on this roster, even if he's not a starter. It will be interesting to see if the Colts drill Harrison at guard now, following Hugh Thornton's knee sprain. The Colts don't have a lot of depth at guard right now and Harrison played there in the 2014 regular season finale. As far as moving Harrison permanently to guard though, I don't see it happening. You need to have a backup center and the Colts are clearly still in the development stages with the second-year Harrison. In a pinch, sure, he could play guard. For now, I see Harrison as the top reserve at center and potentially guard (still have Joe Reitz and Hugh Thornton to play there).
Jim Hawley (North Carolina)
I haven't heard much about Jonathan Newsome at training camp or preseason. Has he not progressed like the team had hoped. I have high hopes for him to be a top pass rusher. Go Colts looking forward to this upcoming season.
Bowen: Newsome has been kind of a forgotten name during the offseason. Again, when you have these practices there are no "sacks". Many times defenders let up right before they get to the quarterback to allow the offense to run through the entire play, so lets remember that. I still think Newsome has a big role on this team in 2015, especially if Robert Mathis misses time. The Colts have used Newsome plenty in pass rushing situations this offseason and with the way he ended last season, I expect that role to only expand in 2015.
With pretty good back-up tight ends and contracts looming for our starters, have u heard any chatter of a trade? Perhaps redskins. Thanks.
Bowen: Colts fans seem to be on a bit of a bandwagon in terms of trade chatter (as a sports fan, I'm guilty of this, too). When you see trades this time of year, they are rarely significant though. A late-round pick in exchange for a player is typically what occurs in late August, early September. In regards to a tight end, the Colts have depth there but you also have to think long term. If you aren't able to re-sign both Dwayne Allen and Coby Fleener in the offseason, then all of a sudden you need an additional tight end, particularly with the frequency Pep Hamilton uses that position.