 ](http://careyindiana.com)
INDIANAPOLIS – Readers of Colts.com may submit questions during the week and have a chance to have them answered during the middle of each week.  **Submit your question here**.
Here are responses to some of the questions received recently.  We thank you for your interest in the Colts.  Please make an effort to be concise when submitting a question.
BOB B. (from Deltona, FL) With the unexpected retiring of Phil Costa, will the money that the Colts signed him for go back into their salary cap money?  Other than Khaled Holmes, who else can play center on the current roster?  Would the Colts consider trading either LaVon Brazill or Da'Rick Rogers?  I'd keep Griff Whalen.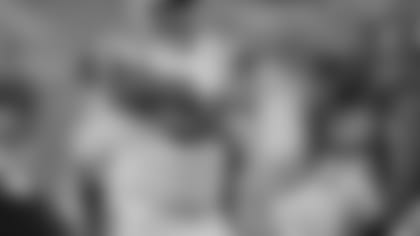 A:  There is no on-going financial impact from Phil Costa's retirement, so we are able to operate normally.  In addition to Khaled Holmes, Donald Thomas has taken some snaps and is among a couple of others who have some experience at center.  How that position emerges could look different more toward training camp (or it may not), but we will field a unit that will be fine.  I know people want answers now, but we have time.  I don't think we're looking to push any trades for the young guys you mention, nor am I sure there is a market at the moment.  The unit has become pretty deep for us, and I think it's best to see how it plays out in the spring and summer.  LaVon, Da'Rick and Griff are here competing right now, and this is the first week we've been able to get on the field for limited work.  They all have a great deal of sweat equity here, and I think they'll all make a great run at things.  This truly is an 'Iron Sharpens Iron' unit, and we're going to get great results during the season.
KERVENS P. (from Atlanta, GA) I know coaches help their respective area of players, but can our greats like Reggie and Andrew can help our DBs?  To tell them what they see so that the DBs can learn and adjust.  Also, let Robert Mathis sharpen up all of our OL so they can better prepare to face great DL during the season.  Also, I hate seeing our DBs drop interceptions.  So can Andrew throw them all types of balls (fast balls, deep balls, etc.) like they are the receivers?  All these things can make us better.
A:  Players do help each other already, and a big part of that happens on the practice field.  With preparation time being so valuable and with normal wear and tear on players being a real practice concern, I don't think you want to see a starting quarterback devote throws to defensive teammates.  Coaches, practice squad players and others are used more to do that, and it's done on a daily basis.  Reggie and Robert can offer tips and they do, but the way we construct things in practice and film work is just what players need.  Thanks for your two cents and for probably posing a question other fans may have thought but not asked.  Trust me, our practices are sharp, well thought out and offer every preparation aspect necessary.
TED N. (from Tacoma, WA) I read a question last week that asked the team to avoid drafting Marcus Martin and instead draft Gabe Ikard.  I agree 100% with that.  Martin is a decent player, but he can't block the run or help at pocket situations.  The Colts could grab a center in the third or the fifth round who could provide more blocking and versatility without the need of using an early pick.  I think that is why some fans want Ikard.
A:  Marcus Martin is starting to draw so much negative attention in our mailbag that it's almost amusing.  People seem to have firm opinions on him, but you see a number of analysts who think Marcus is a talented player.  All I can say is keep opinions coming.  We like our fans to be involved.  It may be that we have enough snappers here already, but we could be looking for more.  You'll know for sure in about 2-3 days.  I think both Marcus and Gabe will be fine in this league regardless of where they're taken and where they go.
ISAK H. (from Mexico City, Mexico) Should the team avoid WRs in the draft?  It is unfair that somebody takes the spots that Griff Whalen and Da'Rick Rogers won with so many efforts when Reggie Wayne went down.  You know how we fans react when they cut Whalen.
A:  I do know how fans react with any news involving Griff Whalen.  It's amazing what he strikes in people, and it's probably due to the challenges he has won over the years.  Very quickly, our receiving corps has become a strength among all the units on our team.  Da'Rick, LaVon and Griff really came on and matured when Reggie went down.  As you know, we've added Hakeem Nicks, and T.Y. Hilton is a star.  Do I think we'll draft a receiver?  No, but you never know.  All our guys are up for the challenge.  It's a high bar for whatever players win starting and/or roster spots, according to Ryan Grigson.  Griff, like always, is up for the fight.  It will be a good one, and calling competition at WR "theater" may not be too much of an embellishment.  No roster spot is a birthright, though, so we'll see how it goes.  Thanks for your support of Griff.  He has a vocal following, and understandably so.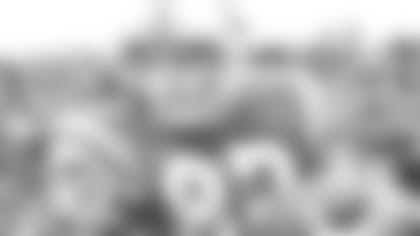 JERROD F. (from Watertown, NY) I recently read an article about the best draft classes for each AFC team.  The writer said the Colts' best draft class came in 1963.  I personally would say the 2012 draft class was not only Indy's best draft class of all-time, but one of the overall best drafts any team has ever had – Andrew Luck, T.Y Hilton, Coby Fleener, Dwayne Allen, Vick Ballard.  The point is that just about every pick made by the Colts in 2012 turned out to be a great player.  What would you say was the best Colts draft class of all-time?
A:  Over two years, the 2012 draft class has been a big hit, but I think a larger body of work is needed from them if we're going to talk in historical terms.  I hope nothing intervenes health-wise or departure-wise to derail it because there is so much promise for those guys.  As for our Indianapolis era, I think the earmarks are in place for the 2012 class to establish itself as the best ever.  There were some classes that had great moments with certain players, but this is a top-to-bottom cast has a great opportunity.  From my vantage point, the 1963 class has outstanding credentials in the discussion with Bob Vogel, John Mackey, Jerry Logan and Willie Richardson.  The 1954 draft could be mentioned for Ordell Braase, Alex Sandusky and Raymond Berry.  Some could argue 1955 (maybe in lesser terms) with Alan Ameche and Dick Symanski.  The 1957 draft had Jim Parker and Don Shinnick going 1-2.  The 1965 draft had Mike Curtis, Glenn Ressler and Roy Hilton.  The one in 1967 had Bubba Smith and Rick Volk.  In 1972, the team took Glenn Doughty, Lydell Mitchell, Bruce Laird and Stan White.  If you argue picks that prospered elsewhere, the 1969 class had Carl Mauck and Ted Hendricks.  If you're counting players that starred elsewhere, that changes the discussion entirely.  This is a great topic that takes far more space and time than I can allow here, and it would take some input from some people who worked for and covered the team in Baltimore.  The 1963 class gave you greatness in a Colts uniform, and let's hope that's what plays out in entirety for the 2012 bunch.  Since it's draft season, if readers want to cite their top Colts draft classes over the next week or so, feel free to do so (and explain why).  As for draft classes beyond just the Colts, Pittsburgh's in 1974 (Lynn Swann, Jack Lambert, John Stallworth, Mike Webster) was outstanding.  That one might get my vote.
MATT C. (from Indianapolis) Now that Reggie Wayne is back from ACL surgery, is T.Y. Hilton now the number one, primary go-to guy?
A:  My heart and head tells me never to sell short what Reggie can do.  That said, I don't know that I'd want to rank 1-2-3 where Reggie, T.Y. and Hakeem will be in the offense.  We are diverse enough to present great challenges for any defense, and Reggie's work all over the field makes him tough to defend.  T.Y. has matured so well in such a short time that you must account for him on every play.  How Hakeem works his way in will be very interesting, plus the development of the younger receivers bears watching.  Don't forget the return of Dwayne Allen, and you like the prospects for the running game.  I don't think this is a cop out answer.  Reggie, given the continuation of his rehabilitation, should be back to where Colts fans want him to be.  Chuck Pagano says Reggie's more driven than ever.  I prefer to watch (marvel?) at him, and I don't want to claim any sort of pecking order in an attack that will be tough to defend.
GILBERT M. (from Salt Lake City, UT) In 1957, the NFL Draft had 30 rounds.  In 1960, each team had 20 picks, 1967, 17 picks, 1977, 12 picks.  Then in 1994, seven picks. With less picks, the Colts have a larger pool of undrafted college free agents (CFAs). How many CFAs can the Colts sign after the draft?  How do the Colts sign the best CFA before another NFL team?
A:  The number of rounds from 1977-92 was 12.  It was eight rounds in 1993 and has been seven rounds since 1994.  You're right on how it has been condensed from the 1950s when the number of rounds hovered around 30.  Teams are very aggressive in nabbing undrafted free agents (or CFAs), and they start efforts at or just prior to the conclusion of the last round.  Normally, we sign about 15 undrafted free agents.  The roster size this time of year is 90 and with five picks right now, I think we can add 14 CFAs.  Scouts have a great idea what talent is out there because of their year-long efforts.  They have established relationships with players and coaches, and that helps the process.  Having a great environment is a plus in attracting talent.  We have that.  Having the reputation as an organization that puts the best players on the field (regardless of how they're acquired) helps greatly, and we have that.  You can look at our history of success with CFAs, and players and their agents like to do business with those teams.  That's how a great part of the action of landing players happens, and it's a critical means to building a team.  Ryan and Chuck are masters at getting players and molding them once they're here.  You hear veteran free agents like D'Qwell Jackson praise our culture, and you hear CFAs like Jerrell Freeman do it, too.  Since you've followed us for years (since 1958), you know the roll call of players who have come through here via that avenue and starred.    
DAN J. (from Carmel, IN) I know the Colts are going to draft a safety, possibly with the second pick.  Are the Colts willing to move up a couple of picks in the second to get an elite player like Jimmie Ward or Deone Bucannon?
A:  Your use of the word 'know' is interesting, but I don't think anyone would be surprised if the club were to address the safety position with one of its five picks.  Should we target that position with our top pick, it may not be reasonable to think either Ward or Bucannon would be available at 59th.  You see them likely going off the board 12-16 slots ahead of where we are, and I just am not sold on us moving up a measurable degree.  That doesn't mean we aren't committed in our approach, and it could be that our top slot is targeted elsewhere.  What would help us the most is if there is an early run on quarterbacks, and the nearer the top of the draft the better.  If there isn't, I would not be surprised to see us think of moving back, if possible.  One thing for sure, if Thursday's first-round viewing is not compelling in Colts terms, Friday sure will be.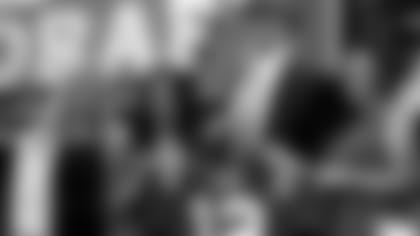 DAVE H. (from Sebring, FL) The NFL may move the draft out of New York.  Has the Colts' organization contacted the NFL to maybe bring the draft to Indianapolis?  It would be a big win to land the draft.  It would bring money and jobs to the city.  It would give us a better insight on these players.
A:  On Monday, Commissioner Goodell indicated the mayors of Chicago and Los Angeles have made aggressive overtures to host the draft.  Prior to that update from the commissioner, I had heard there really haven't been truly serious discussions.  Once this draft is concluded on Saturday, it could become a more viable discussion point.  The next league meetings are in a couple of weeks, so it could come up at that time.  Speculation comes into play because this is the last year of the deal with the NFL and Radio City Music Hall.  As far as Indianapolis is concerned, we have put a great deal of effort into hosting Super Bowl LII in February of 2018.  That decision will come later this month.  Of course, the city has hosted the combine since the late 1980s.  If you were aiming to get an insight into draft hopefuls, that is a much better time than the draft is.  The impact of the draft would have its place, but no more so than the combine which has a longer running duration than the draft.
ADAM C. (from Louisville, KY) I think the Colts' offense should try to spread the field this year like the Eagles did last year.  The Eagles spread the WRs around the entire field making defenses vulnerable.  I know the Colts want to focus on the run more this year and this would help out even if we chose to use a slant pass.  I feel sorry for any defensive player that would try to bring down Richardson, Bradshaw or Ballard when they have an open space in front of them.  Plus Hilton, Wayne, Nicks, Allen and Fleener would have breakout years in the one-on-one coverages.  What do you think?
A:  We're not constructed like the Eagles, and we'll stick with what we do.  In Pep Hamilton's offense, we'll get the ball to a number of different players, so your wishes on that front are fine.  We feel very good about who we are offensively, and there's more than one way to skin a cat.  We'll stick to our concepts, and we'll try to defend theirs in week two.  It won't be a referendum on who is right, but it should be a terrific game.  Thanks for your thoughts, and I'm sure we will entertain you pretty well this year.