 ](http://careyindiana.com)
INDIANAPOLIS – Readers of Colts.com may submit questions during the week and have a chance to have them answered during the middle of each week.  **Submit your question here**.
Here are responses to some of the questions received recently.  We thank you for your interest in the Colts.  Please make an effort to be concise when submitting a question.
ENRIQUE H. (from Bakersfield, CA) I know you get many uniform questions, but I was wondering just for one season could the Colts wear the blue facemasks like in the old days?  Please bring them back.
A:  I thought when we added the blue facemasks in 1995 that it was a really cool addition.  I thought it accentuated our blue horseshoe really well.  I loved it.  In 2004, we darkened the shade of blue in our jerseys to match what it was in the 1960s (it had gotten lighter and lighter for some reason), and that's when we switched back to the gray facemasks.  I personally didn't care for that change, but it has grown on me to the point where I think it's perfect now.  You're showing your long-time patronage of the team by remembering that blue facemask from 1995-03.  There were some great moments in it (click here for a look back at 1995, and those blue facemasks).  Don't know that it ever will return, though.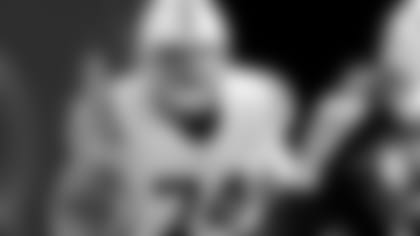 BOB B. (from Deltona, FL) Your point regarding keeping Anthony Costanzo at LT is well taken, why mess with success?  But they need help at center and right guard.  Jack Breckner is an imposing figure.  A player his size should be utilized.  I'm glad Ryan Grigson has a plan in place.
A:  No one wants a solid line more than Ryan.  It's ingrained deeply in his DNA.  Wherever he thinks we need help and can get it, you'll see him do it.  It could be on the O-line.  Let's hope Jack's playing ability matches his size (6-9, 320).  He'll definitely have the chance.  As for Anthony, I think he already is one of the game's best left tackles.  Though maybe his position doesn't see the best rusher historically as much as it once did, he still locks up a key position for us, plus his character is top notch.  When you have a guy like Anthony, Will Wolford or Tarik Glenn at LT, you just ride the horse.
BRIAN M. (from Fishers, IN) How will the Colts help improve their defense to the next level as one of the best?
A:  I don't have anything specific for you, but a percentage of it will have to come from within.  We're two years into our 3-4 scheme, and players are more fluent with it.  Getting Vontae Davis back would be big.  Having LaRon Landry healthy for a longer period would help, and Erik Walden could really come on this year.  We need for some younger players like Bjoern Werner, Josh Chapman and Montori Hughes to develop, and defending the run consistently is a big need. I know we addressed some of this through free agency in 2012-13.  You get the feeling we're going to try to develop what we have, but free agency that starts next week could bring surprises there.  We stated before last year we wanted to be a top five unit.  I'm sure that still is the goal.  Our highest 2013 rankings were ninth in sacks per pass play and points per game.  I know we aspire to higher levels in those and many other areas.
ISRAEL R. (from Laredo, TX) What are your thoughts on the Colts trading up to try and get Jadeveon Clowney?  He would be a good fit, and we need help defensively and at DE to complement Robert Mathis or vice versa, though it might mean losing a lot of in return for a pick.
A:  I just don't see it happening.  I think the price would be too steep.  The currency in picks and players would be astronomical, and I don't see us parting with that type of package.  (Now that I've said that, just watch us.)  Seriously, I don't think that's a direction for us to go in, though his explosion in the 40 at the combine was impressive.  We do need to complement Robert a little more, but I think we can get it done internally.  It's fun to think of.  You're the second to do so in the mailbag recently, and I'm sure there will be other scenarios batted around before May 8.  That's the beauty of our sport, the draft and our fans, who always want us to get better.
TOM S. (from Brick, NJ) I find the running game troubling.  It's been that way since I can remember.  The last sustained success we had running the ball was with Edgerrin James.  The "Stretch" play was a vital ingredient to that success.  Any chance Trent Richardson (who seems built like James) could work with Andrew Luck on reviving the "stretch."  Seems there's nothing to lose.
A:  Let's not make any comparisons to EJ (**click here for a review of his 1999 rookie season**).  He had his own style, just as every great runner has had.  To win consecutive rushing titles to open a career has been done only about 10 times, and not since him.  Trent will be fine, and I join you in hoping we can establish the same type of consistent running presence we had during EJ's heyday.  It came in an offense that was so explosive and showed how one element (passing game and running game) can help the other.  As for the design of the "stretch" play, I don't think you'll see a return to it in its purest form.  A hybrid?  Maybe, but I have no inside scoop.  Our schemes now are different than those older Colts offenses, but we have some talented minds at work (not to mention a dedication to getting that job done).  I think you'll see us do better, and Trent should be a different player with a full off-season here.
DAVE H. (from Sebring, FL) People are saying to get Eric Decker, but we don't need him if LaVon Brazill and Da'Rick Rogers step up next year.  Dwayne Allen and Reggie Wayne will be back, and we have a great group of WRs.  We only need to focus on the needs only!  If it was not for all our injuries, we would have been a contender!!  This group will come back stronger and better than last year, and we will surprise teams and media.  It's time to unleash the beast this season!!!**
A:  We were a contender last year, but I know what you're saying.  We did a great job under adverse conditions, but I think you saw growth from LaVon and Da'Rick that will help this year.  I sure hope so.  We need it from them.  With healthy bodies, we should be fine.  My personal opinion is that any addition at WR would be through the draft.  I just don't see us using a UFA pursuit there.  Again, I could be wrong, but I'm on the same page here as you.  Was that a near-Mark Schlereth reference?  Uniform questions lead Mark right now this year, 2-0.
HUGE COLTS FAN (from Miami, FL) We can't pass up on Jarvis Landry.  I love dat guy.  Just a thought, but 'In Grigson I Trust.'**
A:  Congrats, you're the first person in two years who I published without supplying a name.  You touched my LSU and New Orleans roots with your letter.  Not so much about Jarvis Landry (who I enjoyed watching when he played for 'dem Tigahs' (as the locals pronounce it rather than 'the Tigers') but for your use of 'dat' rather than 'that.')  **Click here for Landry's highlights. ** If you're from Miami, you could pass for New Orleans any day.  Landry was a great player in the nation's toughest conference.  We'll miss him in Baton Rouge, but it should be fun watching him play on Sundays (maybe for us).  If not and we don't take a WR in the draft, we do have some pretty good talent already here.  Thanks for the note, and you sound like a person who knows his/her way around a crawfish boil.
LOUIS S. (from Fort Wayne, IN) Is a WR on the Colts' draft board, considering the talent among the draft group, or will the Colts take a different approach and sign a veteran receiver like Deion Branch?
A:  I'm not sure about our direction with Deion.  We'll find out real soon (about a week) when a lot of things get clearer as free agency hits.  You saw my comments in the two letters above about the WR position and free agency and the draft.  It's a popular topic for questions, and for good reason.  Should Deion return, he would be a savvy presence, and you'd love to see him do for Andrew what he did for Tom Brady (particularly doing it for us in the post-season).  If we select a WR, we'll plug him in and make him go. 
SETH J. (from Virginia) It has been stated we have to be careful with long-term contracts on FAs because of the number of players we will have to re-sign in 2015 and 2016.  I understand not much is set in stone in the NFL, but I was under the impression the salary cap number would see a significant jump in 2015-16 due to TV contracts.  I understand the whole wait and see motto, but is there any chance that the salary cap jumps in the next few years and if so, what could that mean for our club?
A:  The cap jumps annually for a number of different factors.  TV contracts certainly help.  We could see this year's figure around $133 million.  As recently as two weeks ago, it was thought to be around $130 million (up from $123 million in 2013).  By March 11, teams must be under the cap (whatever it is) with its top 51 players.  If it jumps beyond this year, we'll deal with that then.  While it's true we do have room to operate (some say between $35-42 million), it gets gobbled up much quicker than people know, plus you have to keep monies budgeted for injuries, incentives earned, etc.  We're in sound shape, and you don't want to get caught in a tough spot when key players are coming due in the near future.  Check out the history of the NFL salary cap:
HISTORY OF NFL SALARY CAP (IN MILLIONS)
A.J. L. (from Evansville, IN) What do you think the Colts should do in the FA market for upgrades?  Do you think they will release anyone and upgrade the OL?  Go after an edge rushing DE for the 3-4?  Do you think Bjoern Werner will begin to show what Ryan Grigson saw in him as a top pick last year?
A:  You ask all the pertinent and popular questions.  I don't see us releasing any UFAs signed last year.  How we approach this year's crop that is due to hit it on March 11 will be known soon.  We've been quiet.  A lot of people target the line, some do WRs and some like you want improvements on the line and the defense.  There's no question we need to keep building on defense, but I think we'll look within first.  Bjoern will keep developing.  There was not as much room for him to contribute right away last year since we shopped heavily on defense in free agency.  I think he's come in for a little criticism that could be a bit unfair, and I bet he shows everyone very soon why he was taken where Ryan took him.  Be patient, and I think you'll be happy.