 ](http://careyindiana.com)
INDIANAPOLIS – Readers of Colts.com may submit questions during the week and have a chance to have them answered during the middle of each week.  **Submit your question here**.
Here are responses to some of the questions received recently.  We thank you for your interest in the Colts.  Please make an effort to be concise when submitting a question.
BRAEDEN H. (from Paris, KY) As for the draft, do we look to find another G/C sort of like Mike McGlynn to help support the right side of the line, or will we focus on acquiring a safety to aid LaRon Landry?  If not a safety, will Delano Howell fill Antoine's old spot?
A:  Ryan Grigson said the other day the club has accomplished a great deal in free agency and "truly got everyone we went after."  He feels the line has good, young talent that can emerge, plus has veteran leadership as well.  While he did not rule out something else occurring there or at other position groups, you get the sense the great bulk of free agency shopping is done.  He did say the safety position could be an area of concern or need, but players like Delano are there with a chance to contribute.  Again, wide-range shopping in free agency can impair the future of a franchise.  That's not something we've done, and the draft is a natural way to cultivate talent that stands a real chance to play through a contract.  We still have options and won't stop looking for ways to better the franchise.  You sort of feel the draft will be the next option.
TOM B. (from Indiana) The Colts have need for a safety and OL.  Which position are the Colts more likely to fill through the draft, and who they could be targeting still via free agency or trade?  Is it possible to try to trade up to get a player that could be a starter at the positions I mentioned?
A:  You and a number of others have the same question about the line and safety, and it's natural since other areas have been enhanced through outside free agency, as has the line with Phil Costa.  We haven't tipped our hand as to our thinking, and we won't.  We'll use every way available to build the team.  Ryan has engineered 16 trades in two and a half seasons.  If that's the best way to move forward, he will.  We may just have to cool the jets a bit and wait until May's draft.   
AMY J. (from Indiana) I don't understand what the Colts are doing with regard to the interior of the O-line.  If we upgraded at all, it's barely.  I think fans are sick of watching Andrew Luck have to run for his life.  How committed are the Colts to protecting the franchise QB and improving the offense?
A:  Protecting Andrew Luck always has been a top priority.  We've taken aggressive approaches to that end through free agency and the draft, and we don't mistake how much games can be influenced by line play.  We feel good about the addition of Phil Costa.  The return of Donald Thomas will bolster the interior that you mention.  Hugh Thornton and Khaled Holmes are examples of our approach, and they should mature in their second seasons.  If there are others we can add in an appropriate manner, we will.  I think the line is in better shape than some readers feel, and our commitment is to win championships.  We've surrounded Andrew with talent in the backfield and with receivers.  It's been a pretty productive offense that is headed in the right direction.  I'd say give it a chance.  I think there are undue worries out there and that the line will be fine.  Thank you for sharing your thoughts. Love your passion.
TRAV L. (from Illinois) What kinds of positions are the Colts looking at in the draft, and will the Colts be looking to keep the same special teams players such as Andy Studebaker and Sergio Brown?  Will the Colts have some sort of RB rotation with Donald Brown gone?  Also, glad to have Bradshaw back!
A:  With our picks being where they are in rounds two, three, five, six and seven, part of what happens will be how the process unfolds.  We don't have picks in the early stages of each round like we did in 2012, but this appears to be a relatively deep draft.  Ryan Grigson has pulled off draft-day trades before, so you never feel that is beyond happening, and he says a team never can have enough corners, pass rushers and linemen.  Andy and Sergio were two very good players for us last year, and the roster is filled to its complete number by players like them who are committed to performing on the specialty units.  A big part of the team's backbone is found there.  As for the RBs, it should be a good rotation.  We sought a 1-2 punch last year, and it took different forms.  You'll see the same mindset this year, and we appear to have some solid talent that can get it done.  The rotation will work itself out.  You don't look for that one workhorse approach like we had with Edgerrin James.   
JOSEPH C. (from El Paso, TX) Can you shed some light on Carson Wiggs?  I hope we added him to prepare for being our kicker when Adam hangs it up.  I am drawn to certain players such as Griff Whalen.  I think out of the three players (Griff, Rogers and Brazill) he could be our version of Wes Welker.  I will be in Korea this football season, so, hopefully, I can keep up with the action.
A:  Almost every team signs an additional kicker to participate during the spring and summer.  A good number of current kickers got into the league that way.  Adding Carson is a good move.  It gives him the chance to keep plying his trade, and he was one of Purdue's all-time greats.  Carson can benefit from his association with the team and Adam, one of history's all-time greats.  I can understand your attraction to Griff.  He is a dedicated worker who takes advantage of opportunity.  Could he be Welker-like?  That's a big comparison, but Griff continually has proven himself at every level.  Let's hope he, Da'Rick and LaVon keep taking those steps.  It is a deep group that will be very competitive.  It bears watching to see who rises.  I hope your time in Korea is safe and successful and that you can follow us closely.  Our website is the best way.   
DEAN E. (from Indiana) I like our FA signings.  Good job on that, and I think Trent Richardson will have a comeback year.  He is still a young player.  The question is what position are you looking at in the draft?
A:  You can see my answer earlier in the mailbag about the draft.  Trent's success this year could tell a big part of our season.  We are high on him and what we think he can do.  He certainly will be watched by many, and here's hoping Trent can get the same amount of rushing yards he had as a rookie.
HECTOR M. (from Mexico) Who will be the one selected as main RB and what will happen to the other guys?  Honestly, I'd go for Vick Ballard and Trent Richardson, leaving Ahmad Bradshaw as the reserve.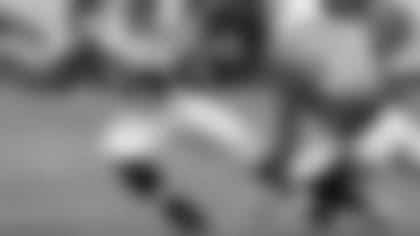 A:  There is no pecking order at the moment.  You have Ahmad, who has done it for a long time.  You have two third-year players who had solid 2012 seasons, while Vick got hurt early last year and Trent adapted to our offense after Vick went down.  Vick is bouncing back and will have some level of spring participation.  Ahmad should be along those same lines, while Trent will have a full load of work with us.  It shapes up as some good competition, and that is something Ryan and Chuck make a point of doing every off-season.  I'm sure Vick appreciates your support, and all three players figure to make a push for what can be an exciting backfield.  All three, though, should contribute.
BOB B. (from Deltona, FL) As you stated, I got my wish of getting another WR to complement Reggie, T.Y., Allen and Fleener.  With the addition of Costa, the offense is shaping up nicely.  Do you think Ryan Grigson will draft an OL and WR?
A:  I think there will be some players at those groups who could be options.  I think, though, we are more stocked at WR than on the line, and that's not a shot at our line.  I just think we have a good number of bodies at the receiver positions.  Coby showed pretty good growth last year.  Dwayne Allen should be a star waiting to happen.  The offense is shaping up nicely, and glad you like the addition of Phil.  Some others have been doubtful, but I like the move.  Thanks for your weekly contribution and with a second letter this week from Deltona, it may be that you're adding Colts fans to the area.
MERLE H. (from Deltona, FL) I wanted to further another fan's compliment of you not being vanilla.  I get most of the information about the Colts here in the mailbag.  Do you remember the movie Slapshot?  The sportswriter for the Charlestown Chiefs was Dicky Dunn.  Reggie, played by Paul Newman, would say, 'That was really good writing Dicky.'  Dunn would always reply, 'I was just trying to capture the spirit of the thing.'  You do a fine job.  Please tell Mr. Richardson that we are pulling for him.
A:  I always was taught to thank people for compliments, so thank you.  I hope you are educated/entertained by this forum and articles on the site.  We want to accommodate fans to our fullest, and we know a great portion like the approach we take.  Keep reading and I'll try to keep it up, too.  Trent knows he has followers here rooting him on.  I hope he sees your letter.
DEREK H. (from Virginia Beach, VA) What's your take on the Colts not getting any real O-line help?  I thought that would have been top of the list, then D-line and a safety to replace Antoine Bethea.  I am highly disappointed as a true diehard Colts fan since 1966.  I believe they wasted a bit of money on some of the signings instead of the real help they needed.
A:  Derek, I disagree with you and think we've added a good player with Phil Costa.  We have two young players in Hugh Thornton and Khaled Holmes who hopefully play key roles.  As I said earlier in the mailbag, we know the importance of the line.  Let's see how it goes.  If it needs augmenting in free agency and the draft, we'll do it.  I think we've added smartly across the roster and will be solid when the time comes.  You sound like a true diehard, and I hope we can show you a line that stands with other good ones that you can recall through many years of dedication.
BRUCE M. (from Sydney, Australia) This weekend the MLB starts its season with a matchup here in Australia (Dodgers vs. Diamondbacks).  Any chance we could one day see a Colts' game played in Australia?  Even a pre-season game would be good.
A:  I'm all for it, and I know there would be a great attraction there to NFL football.  The only way it would happen from what I understand is if it would be one of our road games.  We are not interested in expending a home game to do so because of our loyal fans.  Should one of our games away from Lucas Oil Stadium be in your area, I bet a bunch of us would be excited.  Hope you follow us closely, and I hope we get down there sometime.
*MATT A. (from Minot, ND) Since we have a durable, mobile QB and talented RBs with different skill sets, would it be a stretch to say that we may see something similar to the 'Wildcat' offense in the near future?  Personally, I'm not a fan of the formation, but it sure seems to me that it would work on occasion with the personnel we have. *
A:  Our plans from season-to-season usually involve new wrinkles, but a design like that I'm not sure we will see.  We don't have runs specifically called for Andrew, though his innate sense leads him to escape and create when he needs to or sees something.  We do have backs with different abilities, but we don't want players in our offense that can't perform every aspect of the game.  I'm like you in that I'm not a true fan of the 'Wildcat.'  It is exciting, but I think our style has stood the test of time and will continue to do so.