 ](http://careyindiana.com)
INDIANAPOLIS – Readers of Colts.com may submit questions during the week and have a chance to have them answered during the middle of each week.  **Submit your question here**.
Here are responses to some of the questions received recently.  We thank you for your interest in the Colts.  Please make an effort to be concise when submitting a question.
FRANK C. (from Martinsville, IN) I used to think power running just meant being strong, but I now realize it is a technical term with another style of running being zone blocking. I've also read that Alabama uses zone blocking and that backs that played there often do not do well in a power-blocking scheme.  Can you explain the difference?  Do you think there is anything to the notion that Richardson is more comfortable with zone blocking and if so, is a season of OTA's expected to cure his issue, or will we use the off-season to introduce our linemen to some zone blocking plays?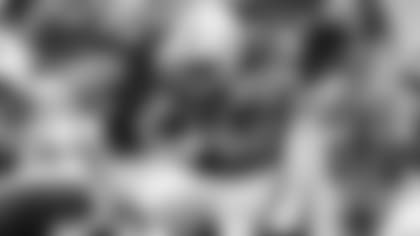 A:  Without getting too technical, a power attack can be more north-south, hit the hole quickly and usually between the tackles.  The guard can be used to pull or trap inside the tackles, though some of those runs can be inside zone in nature.  This is more the 'downhill' type of style.  You can picture Jamal Lewis and the Ravens doing this, but virtually every team has these elements, too.  About every team does the outside type of zone running as well, some do it more than others (think of Denver under Alex Gibbs, for example).  Linemen in this type of predominant approach can be a bit lighter because of the area covered.  The blocking and running can be more read-and-react.  When you boil it down, teams dabble in the entire range to some degree, and a few butter their bread with heavier doses.  As for Alabama, they ran the entire package, which means Trent has seen and done it all.  He has no ill to cure, and he will benefit greatly by having a spring and summer to work with us.  Imagine trying to do any job on the fly, like a lawyer trying a case without advanced preparation.    
JEREMY L. (from Cheyenne, WY) I'm so excited for the defensive additions we added, but I was a little puzzled on why we haven't made any offensive line moves?  That seems like it is what we needed the most.
A:  I'm sure the addition of Phil Costa will help ease some concerns.  The return of Donald Thomas should as well.  Some like you feel we need to be more aggressive in this area and while we still might be, it could be that the draft is how we'll do it.  You never close the door on anything and we have had some departures, but Ryan and Chuck know how important this is and they're committed to having a solid line.  There still is time on the clock.  How we approach it certainly will spur questions like yours.
ALLANTE G. (from Fort Wayne, IN) I'm very glad to have you as my favorite team.  Will we get another WR?  Are you guys looking at Demarcus Ware from the Cowboys?
A:  Mr. Ware is in Denver.  Hakeem Nicks is in Indy.  You have to love it.  We've added a veteran WR in three straight off-seasons under Ryan and Chuck.  Donnie Avery had some moments for us.  DHB didn't quite work the way we/he wanted offensively (though he was a positive presence), and you have to be excited about adding Nicks, who averaged 62 receptions for 924 yards and five TDs in his days in New York.  Obviously, you wrote before it happened, and I'm sure you're fired up.  Hope so.  We are.    
PAYTON C. (from Citrus Heights, CA) I love the signings and can't wait to watch Arthur Jones in the middle.  What do you see us doing about safety?  Do we try to use Sergio Brown and David Sims, a guy we signed early after the season?  Anything on our O-line and WR situation?
A:  You can see my answer above on the offensive line and for the addition of Hakeem Nicks.  Antoine's departure will leave an immediate void, but we have time and ways to address it.  What portion of it comes from within will be determined.  If we target something through the draft, who knows?  We will coach it up and get it done.  We have two assistants on the job, plus Chuck migrates over there, too, sometimes in practices with his expertise.  Obviously, I don't have a direct answer, but we have some hands onboard already.  Just understand, not always do free agency departures mean you reach right back into that bag to compensate for it.  Knee jerk responses like that often lead to negative impacts.  Long answer short, we'll get it done. 
BOB B. (from Deltona, FL) Ryan Grigson has made some really good additions.  I hope they can pick up a quality O-lineman, but now a WR is needed to take pressure off Reggie Wayne and T.Y. Hilton.
A:  Bob, you got your wish in Hakeem Nicks.  With the three RBs we have, the two TEs and a stable of receivers, it will be a dynamic offense and one that gives us a great chance to compete in the division, then hopefully beyond.  I know you follow us like a hawk.  You have to love who we've kept (we wish there could have been more), and you have to love the selective shopping we've done in free agency.  The off-season program will start in about a month, and watching us work and form will be fun.  I don't see how there can be anything but positive chatter.
DANIEL B. (from Chicago, IL) We need one more Reggie Wayne that can keep drives alive and get TDs, and we need a few more players that can stop the run.  We need to stop the run if we want to be champs.  Also, make Andrew Luck run more on drives we need to keep alive.
A:  There are no shopping destinations to find Reggie Wayne's.  Teams have looked for years.  We'll field the best unit possible, and we took a huge step in landing Hakeem Nicks.  We have taken the steps also to be a better run defense.  Ranking 29th and 26th the last two years is not where we want to be.  We're aiming much higher, and you see it in our actions.  As for Andrew, we've never intentionally called a run for him, though he's had some great success.  Andrew has the innate greatness to make things happen, but he always has said his best tack is to get the ball to playmakers.  I'm sure he'll continue to pick his spots like the great ones do, but by design?  I don't think so.
MARK S. (from Minnesota) What's the plan to give Andrew Luck some help at WR with an aging Reggie Wayne?  Shouldn't we have made a run at a WR in free agency?
A:  I'd be careful about calling Reggie 'aging.'  Though it's chronologically accurate, for a premier athlete I refrain until there's incontrovertible evidence.  I hope we don't see it anytime soon, plus we have a budded (not budding) star in T.Y. Hilton.  Now, we've added Hakeem Nicks.  I think we've accomplished what you were seeking.  Andrew should have fun dispersing the ball this season.
MIKE C. (from Indiana) How is Daniel Adongo shaping up?  He has size, speed, athleticism and seems to be a hard worker.
A:  Daniel is doing fine and it will be fun to see him in April when players return.  His physical attributes are just what you say, as is his ethic.  He seems to be a work that is accountable to teammates (above all else).  The 30 pounds he put on last year to get to 270 is good weight.  He left with a mindset to continue to sharpen himself physically (not that he wouldn't have done it on his own anyway).  To see him work through the spring will be one of the big attractions for a lot of us, and I think you'll like seeing how Daniel will go.  I hope his progression leads him onto the field defensively.
JORGE R. (from Mexico City, Mexico) In the past two seasons, we expend $22 million in a four-year contract Ricky Jean Francois and $10 million in a three-year contract for Cory Redding, both are awesome players.  Also we count with Montori Hughes and Fili Moala.  Now, we expend $33 million for Arthur Jones.  Don't you think we are expending a lot of money in the same spot?  Who will be on the bench in the next season Ricky or Cory?  We don't have a good quality safety other than LaRon Landry.
A:  Fili always has been an accountable pro.  You said it all about Cory and Ricky Jean.  Montori should show some second-year development, and it was tougher for young guys to get on the field last year because of our veterans.  Getting Arthur Jones only will get us more solid in the middle and putting it in the financial terms like you did, it sounds like you're using your money.  Obviously, there is a rotation involved with this unit and all guys get on the field.  If you're not strong there, it will show up.  We're taking every step we can to get even further in the playoffs.  You noticed how Baltimore resided there for years with its defense.  It helped Joe Flacco and John Harbaugh win playoff games in five straight seasons.  We've made two straight playoffs under Chuck, and we want to get our defense to the level we have seen with Baltimore.  We're on the way.
STEVE W. (from Ruskin, FL) Thanks for bringing back Ahmad Bradshaw.  This guy is really something special for our offense, tough to beat with his added ability to help keep drives alive.
A:  Ahmad, as you know, is a tough guy and hard runner.  He did not get the chance much last year, but you saw what he can do when he was healthy.  Here's hoping a solid pro gets an extended opportunity to contribute in our backfield in 2014.  Glad you're on board.