 ](http://careyindiana.com)
INDIANAPOLIS – Readers of Colts.com may submit questions during the week and have a chance to have them answered during the middle of each week.  **Submit your question here**.
Here are responses to some of the questions received recently.  We thank you for your interest in the Colts.  Please make an effort to be concise when submitting a question.
DAVID D. (from Greenwood, IN) What is going to happen to Reggie Wayne with all these roster changes?
A:  You have no worries with Reggie with all the other personnel moves that will happen with free agency and the draft.  Reggie is rehabbing and doing well.  He and we believe firmly he will be back like the Reggie we know.  Reggie has put together a career that merits Hall-of-Fame consideration.  Some might say he's not quite there yet, while others could argue his accomplishments are where they need to be to get in.  Let's hope his return is impactful, that he moves even higher on the list of Colts players in the category of most regular-season victories with the franchise (see the accompanying grid for the company he shares) and that he keeps extending his NFL record for the most consecutive games with at least three receptions.  He currently stands at 71 in that area, a truly amazing accomplishment.
COLTS PLAYERS WITH 100-PLUS REGULAR-SEASON WINS
DANA E. (from Indianapolis) Do you think Michael Bennett will be a great fit for the Colts and should they pick him up first?**
A:  For those wondering why I withhold comment until certain times, Bennett re-signing with Seattle and avoiding unrestricted free agency is an example why.  It was a great question and one I would have answered had free agency arrived and he had not signed.  When the free agency period comes, there is more latitude for me to respond.
GRAYSEN A. (from New Meadows, ID) Congrats on the D'Qwell Jackson and Pat McAfee signings!  Now that Samson Satele was released, what are the plans at center? Evan Dietrich-Smith is the best FA option, or are we going with Khaled Holmes?  That guy deserves a chance.  Is Bjoern Werner going to get more playing time?  Jairus Byrd and Eric Decker would both be nice signings (provided Antoine Bethea walks), but we shouldn't overpay them because we already have Delano Howell, T.Y. Hilton, Da'Rick Rogers and LaVon Brazill.
A:  You're like some others in having a big shopping list.  D'Qwell is a great addition for us, and Pat could be on pace to have one of the longest careers of any Colts specialist, and that counts David Lee, Rohn Stark and Hunter Smith (for those Colts fans of different generations).  I will say Samson was a pretty gritty player for us.  He plays a position that is very difficult, and I hope Colts fans don't lose sight of his contributions.  I hope Khaled Holmes develops and certainly believe there is room for him and others to do so.  How we attack the center position now draws a bunch of attention.  I think you'll see Bjoern getting some significant play this year, and Delano and the three receivers you mention are on the front end of opportunity.  T.Y. has seized it wonderfully, and you want to see the same from Da'Rick and LaVon.
CHRIS N. (from Evansville, IN) Does it really make sense to sign Vontae Davis to a long-term deal when Sam Shields and Alterraun Verner would both be cheaper and play press man coverage in a 3-4 hybrid defense with less risk of being burned?**
A:  Vontae has tremendous skills, size and a great competitive nature.  Getting him back was the thing to do.  I don't want to marginalize the talents of others, but Vontae is just what you're looking for, and there was a pretty big level of interest from other teams for him.  I appreciate your thoughts and hope you like Vontae remaining a Colt.  For his part, Vontae loved returning.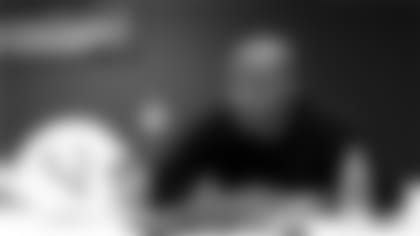 *MIKE B. (from Granger, IN) Can you explain the free agency process with D'Qwell Jackson?  Clearly there is something different with his signing from the standard free agency starting on March 11. *
A:  D'Qwell was released by the Browns recently, thus he was on the open market.  Without ties to the Browns, he was free to visit teams and reach a decision.  After visiting a short list, he made a deal with us.   D'Qwell was not unrestricted, and I hope that clears up your question.
MICHAEL W. (from Deming, WA) I'm a huge fan.  I think you should sign Eric Decker because he's a reliable WR and would really help the team.  I think you should get these players in the draft – Khalil Mack, Tre Mason, Darqueze Dennard, Sammy Watkins and Greg Robinson.
A:  It's always nice to hear from a fan far away.  It will be interesting to see the interest Decker draws in free agency.  His body of work should make him a popular figure in the process, but I don't think we'll be his destination.  A number of our fans share your opinion.  He's had great production the last two years.  As for the guys you mention in the draft, interesting opinions.  I'm sure we'll hear others, and thanks for sharing them.
JOSEPH B. (from Hope, IN) Could the Colts use some of their cap monies to sign a couple of impact FAs (center, free safety) in addition to D'Qwell Jackson to deals that could be front-loaded with bonuses in order to keep cap space for the future re-signings of utmost importance?  I feel like we could still re-sign Vontae Davis, a starter and some of the other guys like Joe Reitz and Mike McGlynn, who would be experienced backups to reasonable deals.  It would be nice to have an upper echelon center.  I don't see us re-signing Antoine Bethea.
A:  You were spot on with Vontae Davis and Antoine Bethea, though the fan you seem to be will miss AB's professionalism.  We have tendered Joe Reitz, and we'll have to see how everything else shakes out.  You've no doubt noted the moves we made Tuesday and the estimated money that was spent.  We'll leave speculation on how those contracts were drawn up to others.  The figures, in some degree of accuracy, get out quickly.  We will keep our reserves stocked enough to handle matters in coming seasons.  We owe that to players who are flourishing internally, and to our fans like you who are engaged with the team and how we do.
CLINT S. (from Illinois) I'm curious on your thoughts of going after Hakeem Nicks.  I think he is a good fit and is flying under the radar, especially with Eric Decker out there.  Having Nicks and Reggie Wayne on the outside and T.Y. Hilton running the middle would make the Colts one of the best in that position.  I think it makes sense, any chance this could be a reality?**
A:  I guess there's a chance of anything, and kudos for asking a non-Decker WR question.  Hakeem has been productive on some good teams.  Your depiction of him in our offense is interesting, but I have no idea of the odds.  We may have the talent here already to accommodate our plans.  The position could be supplemented as you say or in the draft.  If we target the position in free agency, you'll certainly see.  I don't get the feeling it's our top priority.  I appreciate you sending something in.  Hope you get over here for a game sometime, if you don't already.
MIKE G. (from Goshen, IN) Darrius Heyward-Bey has shown that he has problems catching the ball, yet he has great speed.  I'm wondering whether the Colts might make him a modest, incentive-laden contract offer and perhaps try him at a different position?  If he could play in the secondary, it would be a win-win situation.
A:  DHB probably didn't have the season he would have wished in the offense, but he was a positive presence in the locker room and on special teams (to his great credit).  As for trying him at another position, however, it just doesn't look like that would be something to do.  Moving from receiver-to-defender is a much different skill set and is not an apples-to-apples conversion process.  If we have any plans for DHB, it would be at receiver.  We have been quiet on the FA front at that position.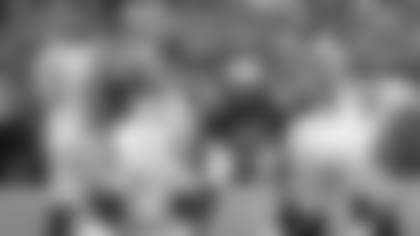 TED H. (from Alamogordo, NM) I am still trying to rationalize our defensive front seven's play.  I am not a student of the game to be able to pick apart the line play, so I can only rely on game stats.  What I'm trying to figure out is how we seem to stop big-name RBs and let unknowns run all over us.  Is it game-planning, lack of familiarity, or what?
A:  It's all about 11 guys being on the same page and playing with proper technique.  We had a few moments of inefficiency last year (I think we all realize that), but sometimes opponents have to be given some credit, too.  Cory Redding told me this week it's just a matter of consistency.  He did say sometimes teams rotate personnel groupings and can be effective with deception.  Just like we do that to other teams, there will be times opponents will gouge us.  We do want a stronger presence, and I think you saw some big-time steps taken in that direction recently.  Sometimes, we scratch our heads, too, then we set our jaw.
*PAYTON C. (from Citrus Heights, CA) I just heard Demarcus Ware was released.  That would be a killer edge-rusher.  We have the money to do it and with him and Mathis on the edges, that be awesome.  Let me know what you think. *
A:  Ware has been a potent competitor, and I can see why you love him.  At this writing, it looks like he could be headed to Denver with Aqib Talib.  We've allocated a great deal of resources to our defense, and I think you'll like what we've done.
MIKE S. (from Indiana) I've been watching the Colts' free agent signings, and I'm pleased they are signing defensive players.  Since I've been watching the Colts (for quite a few years) we've never had a "smash-mouth" defense, although Pagano is working on it since he's been here.  I'm very excited about what we are putting together!  I enjoy a high-power offense, but absolutely love seeing a stout defense! Great job with your mailbag, I read it every week.
A:  Thanks for the weekly support of the mailbag, and I think we've taken definite steps to upgrade the defense.  You're right about the identity (we've only had seven top 10 defenses in 30 seasons in Indianapolis), and it's something you think can change.  You see the importance of it, and it's usually on full display in the playoffs.  I hope your aspirations become reality in 2014.
JACK T. (from St. Louis, MO) The Colts signed pretty much all major FAs on Tuesday and new members on defense.  Does Ryan Grigson have an idea who's going to take the safety position since Bethea is a 49er?  Davis is back.  Do they plan getting another CB for help besides Toler, from free agency, the draft, or even re-signing Cassius Vaughn?
A:  Every GM goes into this process with multiple plans to engage.  We hit on some great ones yesterday, and I'm sure Ryan has things in place for areas of concern.  As you know, we keep things quiet here and like some do with Erik Walden, don't sell Greg Toler short.  He is better than many give him credit for.