 ](http://careyindiana.com)
INDIANAPOLIS – Readers of Colts.com may submit questions during the week and have a chance to have them answered during the middle of each week.  **Submit your question here**.
Here are responses to some of the questions received recently.  We thank you for your interest in the Colts.  Please make an effort to be concise when submitting a question.
CHAD T. (from Indianapolis) I was a little disappointed they didn't bring mini-camp back to Lucas Oil Stadium this year.  I took my nephew last year, and he had a blast. Are we going to keep all three RBs (Ahmad Bradshaw, Trent Richardson, Vick Ballard) on roster?  If Bradshaw is healthy, he'd be my starter, but all three have talent and could be the starter.
A:  This past mini-camp was a departure from how we have done it previously, and it's good to get feedback.  Every year is different, and I hope we can arrange a practice at the stadium next year like we have done before.  I see no reason why we wouldn't have all three RBs with us.  It's some great competition, plus Ahmad, Trent and Vick are accomplished receivers who can take pressure off Andrew Luck that way.  That's a great pressure-creator for defenses, and those three guys will battle it out in a couple of weeks.  I believe all three will have chances to provide great impacts this year.  It's been a while since we have had so many quality backs in one offense.  For years, it was Eric Dickerson, Marshall Faulk or Edgerrin James who shouldered the bulk of the carries.  While I guess that could happen this year to a smaller degree (sometimes those guys would account for about 90 percent of the team's rushing attempts and yards), we could have a pretty diverse approach.  If it's Ahmad, as you state, it means he made it back from a tough injury that was unfortunate last year.
MICHAEL L. (from Columbus, IN) I'm happy we brought Brandon McKinney back.  He is a monster of a man and will help.  I hate when people bash John Newsome.  He is a good player.  I'm a fan and believe we will win the Super Bowl!  We have the players and Andrew Luck, and I think Donte Moncrief is going to be a Pro Bowl WR.
A:  Brandon is a really good guy who is fun to have around.  Sometimes you see a guy who gets the chance to author a new chapter in a career.  Tony Mandarich did that with us in the mid-1990s.  Brandon's story is a little different than Tony's, and I hope he can overcome past injuries to return to the game he loves.  Don't listen to the outside voices on Jonathan Newsome.  He's going to be fine.  I like your confidence in Donte and his abilities.  He has a tremendous chance to be a big part of our attack.  Thanks also for thinking we'll make an impact in the playoffs.  We have the potential, but we have to take everything as it comes.  It will be interesting to see how guys will handle themselves coming off two playoff appearances.  I don't get any sense of satisfaction on their part.  You truly think our guys sense opportunity and will respect the process of getting back to the post-season again.  It's not an easy path.
MATT D. (from Iowa City, IA) I think it would be really cool for us to do something like Jacksonville's Brad Meester on his last play of the season and bring Robert Mathis to the offensive side of the ball for a play.  I know Mathis probably won't be retiring that soon, but it would be really cool to see that happen at some point.
A:  Brad Meester was an opponent you really respected.  He was loved by his teammates and the Jacksonville organization.  As for Robert, let's not even mention the 'R' word with him.  There's still too much to be accomplished and a lot of tread left on his tires.  While ceremonial touches are nice, I doubt he'd want to go to the other side of the ball even for one snap.  He's too intent on getting to the quarterback.  Thanks for a fun letter, though.  Keep them coming.  I'll let you know if Robert has any thoughts on your idea.
LAWRENCE S. (from Indianapolis) LaRon Landry showed up to mini-camp and couldn't participate because of an injury.  What is concerning is his coverage skills.  They weren't good last year.  He's always taking pictures in the weight room, but not on his footwork or practicing intercepting the ball.  Do the coaches keep tabs on him?  Do they realize his weight lifting habits, but no field work habits?  He needs to be focused.  Is Trent Richardson working on his footwork and quickness?  He looked kind of slow.  When Donald Brown got the ball last year, he was explosive and could bust through the line to break arm tackles.  Without you sugar-coating what his performance was last year, can you be honest?  I understand maybe he didn't know the plays, but he does know how to run.  So when he did, it wasn't quick.
A:  LaRon chooses to spend his off-season training elsewhere.  It's his prerogative, though we wish he'd opt to be in Indy.  His inaction in mini-camp should not alter things come training camp, and he'll be ready to roll.  We do need for him to play a prominent role this year.  Trent was here and benefited from what the off-season affords a player in truly learning the offense.  His 2013 season was not what anyone wanted, and Pep Hamilton probably put it best by saying we might have been a bit ambitious in our thinking that he'd fully adapt to it after joining us in week three.  I think you'll see a much different back this year, and that's no sugar-coat on my part.  Many times people just don't get (**click here for story on Trent**) how important an off-season is.  I hope that's not too blunt for you.  Trent wants a bigger impact, and we need it, too (**read this story from Ryan Grigson earlier this year**).  I hope you make it up to camp in Anderson to watch Trent and others compete.  We'll see you there. 
JEFF S. (from Savannah, GA) Reggie Wayne is sure to be the number one wide out.  Is T.Y. Hilton a sure fill for the two spot, or is it open to whomever?  Is the coaching staff still confident we can get an influential safety to fill the spot of a missing Pro Bowler?
A:  Reggie says he's ready to go, and all arrows point to that.  He's shown he can play numerous roles for us, and I don't want to presume a pecking order.  T.Y. is ready to keep posting numbers that put him along with Marvin Harrison as the top first two-season receivers in Colts history.  Hakeem Nicks adds a third 1,000-yard performer to the attack.  How or if they shake out as the top three WRs is not known.  We'll see how things develop with Da'Rick Rogers, Griff Whalen and Donte Moncrief.  It's quite a cast, and following that story in training camp might be the top thing to watch.  Also, knowing how prominent the TEs were in Stanford's offense under Pep Hamilton and others, Coby and Dwayne will get their share of action.  That's a rambling answer, sorry.  But this offense has a chance to be really, really good.  As for safety, we'll be fine with the competition we have.  Antoine's spot will be tough to fill, but we'll manage.
TYLER P. (from Des Moines, IA) I'm a big Da'Rick Rogers fan, so I'm hoping he gets a true chance to prove his talent and the potential he has to be a starting WR for this team.  What are your thoughts on his progression and chances to get into the starting lineup?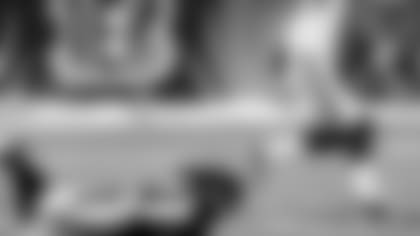 A:  Da'Rick is coming along like all young players are.  He's comfortable in our culture, and he worked hard in our off-season program.  Da'Rick told me his key aim is for Andrew Luck to see an accomplished receiver when he is in patterns.  Da'Rick also feels the high level of competition he faced in the SEC and the intimidating road environments in which he played have helped him come along with us.  You'll see growth in him, and he still has room for more.  There is vigorous competition on the unit and while starting may be a bit beyond where I believe he'll be, I do think you'll see him with more chances to contribute this year.
KERVENS P. (from Atlanta, GA) Will we see the Colts play with a champion's mindset?  We are going to win this year.  We are the best.  It's a fact.
A:  We've always played with a champion's mindset.  Under Chuck and Ryan, that's a given.  What's not a given is the result.  I agree we have talent on hand to win games, but respecting the process to get there is part of our daily walk.  I know you continually write in with this theme (I think this is your fourth such letter in five weeks).  I'm glad you feel this way.  If we take things a step at a time (**remember that refrain in 2005 that helped lead to a nice record during a different era**), we have a chance to compete well in a league where any number of teams also harbor legitimate aspirations.  Remember, we're not the only dog in the hunt.
DAVID C. (from Westfield, IN) Have there been any discussion of using Daniel Adongo on offense?  With his running ability in rugby, it seems he would make an interesting TE or FB.  At 280 and very athletic, he would be a beast to tackle.  A 6-6, he could be a red zone star.
A:  I don't dispute that it would be fun to see Daniel handle the ball and that he probably could do it if asked, but I am not aware of any plans along those lines.  I think he has enough on his plate already, and I hope he gets some chances to show it defensively.  You'll see Mario Harvey shifting from linebacker to fullback, and we're stocked with talented TEs.  I think we'll see Daniel make his inroads on special teams and hopefully in some spot duty on defense.  One thing for sure, he certainly attracts attention from fans who love following his progress.
HAROLD M. (from Kendallville, IN) I have noticed the Colts will be playing more night games.  I know the Colts have done a great job with security in and around the stadium.  My question is are the Colts and the IMPD planning on greater security for night games in wake of the stepped-up violence we have seen in Indy.  Maybe I worry too much!  I just want to feel safe.  I love the Colts!  Thank you.
A:  I can assure you we will continue to work with IMPD and other security entities to ensure the best atmosphere possible for all fans that attend our games and who enjoy the pre- and post-game amenities that are fun parts of the overall experience.  That always has been a thrust of the organization, and we ask that others like you help (ie:  the more eyes, the better) as well because we want everyone attending to have a memorable time.  This is an important letter you wrote as home games are approaching.  Every game is important for us to provide a safe environment, and the added visibility of night games is something we all enjoy.  We don't want any problems to mar them. 
FRANK P. (from Lanesville, IN) Can you tell me if the Colts Caravan is coming to Louisville?
A:  We had a Colts Fan Fest stop in Louisville on June 26 at Papa John's Stadium.  That event was promoted through our website, social media and through the local radio stations and news outlets in Louisville.  That is the only large event we have planned in Louisville this year.  You may wish to stay tuned to the event calendar on www.colts.com.  There may be times when we have Colts in Motion, cheerleader or mascot appearances in or around the Louisville area during the year.
*BOB B. (from Deltona, FL) I just read again the "Clown" (Jadeveon Clowney) from the Texans is taking shots at Andrew Luck.  I hope the Colts put this article on their bulletin board to make the "Clown" a target.  It amazes me how a mindless idiot can shoot his mouth off when he hasn't played one down in the NFL.  You'd think the Houston management and coaching staff would tell this mindless idiot to keep his mouth shut.  His comments should give the Colts incentive when they meet. *
A:  We'll have plenty of natural incentive when we meet them since it represents division winners each season since 2009.  We took the crown back last year and aim to keep it.  That is motivation enough without any artificial sweeteners.  Should his comments merit attention, we'll do so, but I think we'll have our focus elsewhere.  Thanks for the update.  You're probably helping us.  I sincerely love your passion and am curious what you'll have for your pre-game meal when we face them.
DACODA W. (from Tucson, AZ) I feel the Colts are a legitimate team who can compete for the Lombardi Trophy this year.  After looking at our schedule, I can see us again winning 10-12 games.  I have been a fan of the Colts for a long time, and I can't stop thinking about our troubles in the playoffs with certain teams.  I have watched the troubles we had with San Diego and New England.  It's heartbreaking.  When do you think the tables will turn and we will start having their numbers?
A:  I feel your pain for those playoff games (as do many Colts fans).  Five times we've lost to those teams in the playoffs, and each was tough (if possible) to get over.  A big part of what allowed our teams to bounce back annually was putting the past behind and looking ahead.  That was just as important in 2007 (click here for 2006 review) when we had to put a Super Bowl win behind and focus.  Unfortunately, San Diego ended that year for us in a tough loss in the RCA Dome (**click here for 2007 review**).  We have to come back after last year's disappointment in New England.  Each player knows only the present is what matters.  If playoff wins come against the two teams that stick in your craw, so be it.  We need to focus internally and be the best at what we do.  Thanks for the bright outlook for this season.  Ten-to-12 wins is a tough accomplishment.  I hope you're right, but don't overlook what has to be done to get there.
MARK L. (from Calgary, Alberta, Canada) I've been a huge fan since I watched Peyton decimate the league in 2003.  I was a fan of the Chiefs because a WR from my Calgary Stampeders went down there.  But after Peyton beat up on them in the divisional playoffs that year, I was a converted man!  I'm finally going to catch my first Colts game this year in Dallas! My question is about the future of the WR corps once Reggie (if ever) finally retires.  I thought, when given the opportunity, Da'Rick was outstanding.  T.Y. is obviously a beast, period.  With Nicks likely being a one-year rental, do you think that T.Y., Da'Rick and Moncrief could be the long-term answer?  Two big WRs and a speed demon that plays every position seem like a pretty good formula.
A:  Whenever Reggie is finished (there must be a fountain of youth near his house), the three youngsters you mention certainly have a chance.  T.Y. has proven himself, big-time.  You hope Da'Rick and Donte will follow.  Both have tremendous physical skills and size as you note, and they could present significant problems if their careers play out as we all hope.  We'll see if Hakeem is a one-year player as you mention.  We've seen Donnie Avery and DHB be that case the last two years, but don't judge Hakeem off that.  As for that 2003 playoff game in KC, that remains one of my all-time favorites.  While there were many games when we sizzled offensively, that one, to me, stands out maybe above all others.  We went into one of the roughest environments and executed with the precision of a rocket.  We could not be stopped that day (**click here for a story on that game**), and Peyton orchestrated the offense at the peak of his abilities.  There were other days of glory during that franchise tenure, but we were smoking hot in KC – and thankfully hot enough to convert you.