 ](http://careyindiana.com)
INDIANAPOLIS – Readers of Colts.com may submit questions during the week and have a chance to have them answered during the middle of each week.  **Submit your question here**.  Here are responses to some of the questions received recently.  We thank you for your interest in the Colts.
ROBERT G. (from Canada) I wanted to know if we are well suited to win in a game in a cold environment?  Also how could Deion Branch help us have better success in our passing game?
A:  We are well-suited to win in any road environment and the reason we didn't in New England had nothing to do with the elements.  We take every precaution necessary to compete on the road, we just didn't do it last Saturday.  You obviously wrote before the game, and Deion was not active.  We'll see what transpires with him (he could be an unrestricted free agent in March), and thanks for your letter.
ERIC R. (from Miami, FL) We have a pretty solid team with a few holes to fill.  I think we should draft a solid CB and a big WR to grow under Reggie Wayne in this upcoming draft.
A:  Chuck Pagano and Ryan Grigson will be sitting down in the next few days to go over all personnel matters.  It has not happened yet with the off-season just underway.  Vontae Davis might be a free agent, the same with DHB.  We've come a long way in two years under our regime.  There are a lot of pieces in place, but the nature of the business always causes rosters to change dramatically in the off-season.  Thanks for your thoughts.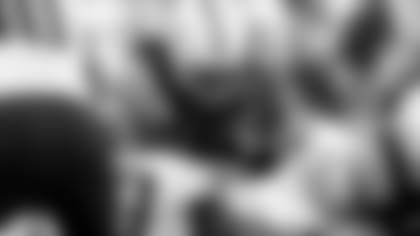 LEON H. (from Pensacola, FL) I am an admittedly "converted" Colts fan and have been impressed with Coach Pagano (and) Pep Hamilton.  I haven't ever witnessed a team that sticks together and never wavers from the game plan as the Colts do.  I know Trent Richardson and am glad that the Colts appear to be patient in his development.  This guy has work ethic and will give the Colts everything they expected and more.  What most don't see is his desire to be great.  I encourage fans to be more patient, and they'll very soon see he is their guy.
A:  The off-season will be a key time for Trent to get more comfortable in the program.  We know it was tough to join us mid-stream without the off-season, and we've been very upfront in saying so.  Trent and Vick Ballard are under contract, along with Stanley Havili and Tashard Choice.  What happens with Donald Brown and Ahmad Bradshaw remains to be seen.  Trent should get a way for a bit and get back here in April to absorb the off-season culture he was not privy to last year.  The spring and summer periods will be important for him.  Thanks for being a convert.  Please make it permanent.
*STEVE P. (from undisclosed) Is Reggie Wayne signed for next year and if we were to release DHB, how much of a cap hit would we take. *
A:  Reggie is under contract, so there is no issue there.  He spoke Monday and feels very good about his rehab.  He said with no setbacks, he hopes to grind it out with teammates when they start doing so.  Reggie also expressed complete confidence that he will be the "Reggie" of old.  It was good to hear a guy who never embellishes the truth be so forthright.  As for DHB, he says he could have played better this year, and that any shortcomings were "on him."  He will not be under contract when 2013 contracts expire in early March.  DHB is a stand-up guy.  He was a good presence in our locker room for those of us (including me) who are fans of his.
BOB B. (from Deltona, FL) What free agents do you think the Colts will go after in 2014?  I'd like to see them add an offensive lineman and center.
A:  Full disclosure – Bob, you sent in a letter or two after the game expressing frustration/anger many of us felt.  I could not publish those as they were written.  This question came prior to the game.  In recognition of your passion for the Colts, I ran it.  The game was a big disappointment for all of us.  We didn't compete offensively and defensively as any of us wished.  It was a season of high and low points, and I know you stuck with us all the way (even through some rough patches).  As I said above, Chuck said the coming days will afford the chance for Ryan Grigson and him to get together to assess personnel and map the future.  Free agency does not start until the second week of March.  When the period starts, 18 players could be unrestricted free agents – Pat Angerer, Antoine Bethea, Ahmad Bradshaw, Deion Branch, Donald Brown, Sergio Brown, Kavell Conner, Vontae Davis, Aubrayo Franklin, Darrius Heyward-Bey, Jeff Linkenbach, Ricardo Mathews, Pat McAfee, Mike McGlynn, Fili Moala, Lawrence Sidbury, Cassius Vaughn, Adam Vinatieri.  Joe Reitz and Josh Gordy could be restricted free agents.  Rosters change around 25-to-30 percent annually.  I won't speculate on how our roster will change.  It's too early, and our leaders will address matters at the appropriate time.  We had accomplishments this year.  We had problems.  It was a typical NFL season in some regards, but we did win 12 games, a division title, a home playoff game and we were undefeated in the AFC South.  We'll keep you and others posted on news as we are able to do.  Please keep your letters coming, and thanks for your opinions on how we should proceed.
RUSSELL J. (from Omaha, NE) I see us in the draft and maybe even free agency keeping the pipeline of that big offensive line going.  If we can get a key free agent, we are off and running again.  On the defensive side maybe a good cover corner?  I seriously love the way we look.  I will just sit back and let Ryan Grigson just work his magic.
A:  A number of people think we are in the need of offensive linemen.  That could be the case, but might not.  Vontae Davis could be unrestricted and could be an order of business.  He said Monday he likes it here and wants to be part of the future.  I believe Greg Toler has two years left on the deal he signed last year.  We need strong corner play in Chuck Pagano's defense.  It's a priority.  The season did not end defensively (as an entire unit) like we wanted.  The off-season magnifying class is pretty intense, so you know Ryan, Chuck and their staffs will be looking for every way possible to keep a nice two-season run going.
JORGE R. (from Mexico City, Mexico) In the preseason, some fans were asking to get a high-caliber WR.  Since then, I believe in the skills of Griff Whalen, T.Y. Hilton, LaVon Brazill and now Da'Rick Rogers.  Will the Colts develop their talents or get a new WR?  Do you think Donald Brown is going to be with us next year?**
A:  T.Y. Hilton is a star.  Back when camp started, we felt very good about him, and 2013 was off-the-charts (my opinion, and a rather obvious one).  Griff, I think, has proven himself, and I think LaVon is on the way.  You really want to see the weekly consistency from him.  Da'Rick is getting there and took advantage of his chance.  Will we add someone?  Will DHB be back?  Who knows?  Reggie feels good about where he is in his recovery.  Beyond that, it will be a topic for many like you, and rightly so.  As for Donald, he did all he could do to put himself in a position to stay.  I spoke with him about that Monday, and you really like how he carries himself – very professional.  I've been a fan of his since day one.  I asked him specifically what he was able to show this year that fans may not have known, but he just tactfully said it was not about showing anyone anything.  It was about being prepared, playing for his teammates and the fans.  We have a number of personnel matters on which to decide.  Donald's situation as a possible free agent is one of them.
MARCELO S. (from Sao Paulo, Brazil) American football in Brazil is crawling, but our inspiration comes from you.  Why not make at least one annual game in other countries, including Brazil? **
A:  You'd have to talk to the NFL about getting a game in your area.  I have not heard any chatter at all about doing anything in Brazil, but what a great sports appetite there is your country.  I'm not opposed to it, and our team seems to have a firm mindset of playing abroad as long as it does not cost us a home game in the process.  Thanks for following us, and I hope you click in to see we used your letter.
R.J. E. (from Marion, IN) Mr. Kelley, you, sir, are a part of what makes the Colts so awesome. Taking time to answer all those questions, however odd they may or may not be, is very much appreciated.  Makes us fans feel like we have a voice.  If you get the opportunity, please let as many members of the team know that the loyal fans are proud of them for the way they show no quit when it comes to the gridiron.  They are role models, stand up guys and one heck of a football team.  Go Colts!
A:  First off, I was taught to thank people for compliments.  Thank you.  I enjoy doing this and hope fans get the impression I answer as many as I can.  It's critically important from our organization for fans to feel welcome to interact.  Our players appreciate the compliments you offered, too.  We put a great deal of effort into attracting players who fit our style on and off the field.  We don't always win, but we don't quit (kind of like that Jim Valvano speech).  We're not perfect off the field, but we try to be.  I know by your letters that you love the team.  Keep it up, and I hope you enjoyed the season.  On balance, it was a very solid year.