 INDIANAPOLIS – Readers of Colts.com may submit questions during the week and have a chance to have them answered during the middle of each week.  **Submit your question here**.  Here are responses to some of the questions received recently.  We thank you for your interest in the Colts.
ERIC R. (from Miami, FL) The Colts should draft Jarvis Landry (LSU).  We need the big-body WR, someone who would grow under Reggie Wayne.  We also could use a lockdown CB and beef up our line for Trent Richardson.
A:  Jarvis certainly entertained this LSU alum throughout his career, and I never mind when a Bayou Bengal turns in purple and gold for blue and white.  Landry had a terrific career and should be able to make the jump to playing on Sundays.  As far as a 'lockdown CB,' that may be one of the more manufactured terms in recent years, in my opinion.  I would like to see us get Vontae Davis back and watch him grow.  I think Greg Toler can make good contributions again.  It's not his fault he got a very tough injury last season.  We know the value of the CB positions in Chuck's defense, and we have a passion to be a top unit.  You join many outside observers in wanting the club to take action on the offensive line.  Whatever we do, Trent needs to be a big part of our answer next year.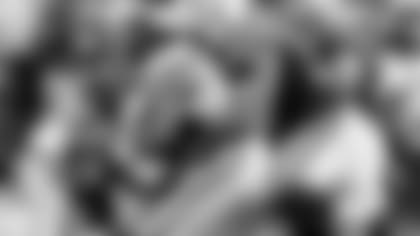 GARY A. (from Denver, NC) They really need to shore up that run defense.  I know Coach Dungy built a small, fast defense, but speed does no good if that defense is man-handled by a big offensive line. They need two big guys in the middle to stop the run up the middle.  The knock on Manning when he was in Indy was that he couldn't win in the playoffs.  Defense played a BIG part of that.  What good is an offense that can score 30 points a game if the defense gives up 31?
A:  The run defense at times was pretty good last year, but there were times when it did not hold up like we had hoped.  The New England playoff game was one example, and there were some others.  I know we want a more consistent level of play.  Our style has changed from that of Tony Dungy, and it was evident in our off-season moves last year.  I think everyone could see that.  That said, we do need to perform at a higher level in 2014, and I don't think anyone would question that.  We saw in the playoffs how running the ball and playing solidly on defense won and won big.  It is the philosophy preached by Chuck, and it's the way we will proceed. While 45-44 was exciting in the playoffs, that's not the way we want to go about it.  Comebacks are fun, but not if you're trying to win regularly.  As for when we won Super Bowl XLI, the defense played a very big role in that four-game run.
BOB B. (from Deltona, FL) I'm curious to know if Ryan Grigson would release some of the FAs signed in 2013 that didn't play to expectations to add more money available to the salary cap.  I know that they have at least $35-45 million which is awesome.  I think getting a quality center like Alex Mack from Cleveland would be a plus, also LBs who are run-stoppers.  Would Ryan Grigson consider Richie Incognito?  A trade for Josh Logan would be great.  I would re-sign Adam Vinatieri and Pat McAfee.
A:  A couple of Ryan's signings were derailed by injuries, while others played pretty well.  While there were parts of last season that were gratifying, there was a definite feeling of unfinished business that hung in the air after the New England loss.  I think that will follow when our players return in a few weeks.  Many of the free agent signings last year were multi-year deals, and those were done with thought.  I don't see any reason to alter those (not to mention the cap implications it could trigger).  So many people feel help on the offensive line is necessary.  They could be right.  As for any players we might add, they would have to have the qualities we look for in our players.  Nothing would be done to disrupt the unity and mindset we have with our players.  I'm not intimating anything related to your question.  I'm just saying we have a very tight roster and we place a big premium on attracting the right kind of person in addition to playing talent.   
*PATRICK B. (from Evansville, IN) What does the organization feel is the biggest area of need for the team?  I hope the interior OL and DL are a main focus.  It doesn't seem like Mike McGlynn's and Samson Satele's abilities are what will help us as a "power running" team.  Maybe a different blocking scheme could be implemented for next season.  I also hope the DL is looked at closely.  We have some good pieces in place, but it seems the line is one standout player away from being dominant. Is there a possibility of grabbing someone in free agency?  I was also hoping to see more aggression from the defense and Manusky's play-calling.  I believe with more attitude and aggression we could have a great defense.  I'm sure I speak for many Colts fans in saying we should keep Antoine Bethea and Vontae Davis. *
A:  Thanks for your opinion of the overhaul you think is needed.  The next month or so will tell a lot of observers if our evaluators agree with many like you who think help is needed on the lines.  It certainly is a thought of many outsiders.  I think our schemes are fine as they are.  I point to 23 wins in two years as proof of that.  That success level has been achieved by a few other teams, but not all of them have had the regime change that we have had.  As for Greg Manusky, he is a very solid coordinator and the in-game adjustments he and his staff have been responsible for a number of those wins.  Greg and Pep Hamilton always will be targets for criticisms because of their positions, but I think many Colts fans feel very good about them.  We can be better and I think we will, but I don't think our leadership is of any concern.  As for Antoine and Vontae, I hope they both are back.  They are solid talents, and we need a high level of play at their positions.  Antoine has been one of our best-ever players in Indianapolis, and Vontae has a tremendous future ahead of him.  Again, I appreciate your input.  That's what we're here for.
ALEXANDER F. (from Akron, OH) I've been a Colts fan for years and stopping the run with any consistency has long been a problem.  Solution: Brian Orakpo and Greg Hardy; re-sign Vontae, Antoine and Donald Brown; draft an ILB with the second pick and, a center with the third, a kicker in the fifth, punter in the sixth, huge run-stopper DT in seventh, and still make the cap.  Better?
A:  I agree with your opinion of our run defenses historically.  We had a period in the mid-1990s when we were pretty solid against the run, but we've only had a top 15 ranking five times in 30 seasons in Indianapolis.  The last time we did it was in 2007 (15th), and we have been no better than 24th since.  Last year, we were out-rushed in nine games and by almost 300 yards over the season.  It's an area we need to improve upon and thanks for your suggestions.  It will be a few weeks before we see the entire NFL free agency field.  You breaking down the draft by rounds is a fun read.  I personally hope we would not spend two picks on kickers, however.
ED K. (from Wisconsin) I've been reading the mailbag for a few years and have sent in some comments.  The questions people have about a new RB just don't seem a good idea.  I know our running game wasn't the greatest, but the O-line couldn't block for the run, nor could it pass block.  At times it did a good job but most of the time it was bad.  I hope we go after O-linemen in the draft and FA.  I know your answer, but I'll ask it anyway, what ideas do you have about the Colts' draft and FA possibilities?
A:  I thought our line performed pretty admirably, given the losses we incurred by injuries and with the near-constant upheavals in the starting unit.  While every unit across the roster probably thinks it can play to a higher level, I think the line comes in for tougher scrutiny at times.  That's probably the case for a number of teams.  As for my opinions on what areas we should target in the draft and free agency, the need for depth roster-wide always is present.  I think QBs, TEs and possibly WRs are far less pressing concerns.  We have to address the depth at RB.  Help on the lines always is a concern (maybe not to the level some contributors express), but we all know how games can be decided in these areas.  How the secondary is addressed with re-signings is a crucial matter, as are the kickers.  There are a number of areas that will come into focus in the next four-to-five weeks.  I personally would like to retain a number of our free agents, but that's just me speaking.  I do know Ryan and Chuck will plot a course for us to have a good chance to keep building on what has been accomplished in the last two years.  You'll never address every concern, but they have done a terrific job so far.
J. C. (from Noblesville, IN) Any chance the Colts will take a look at Jonathon Martin or Toby Gerhardt, both former teammates of Andrew Luck?  It seems like both could be valuable additions.
A:  We have had a few mailbag contributors mention a Stanford lineage and how they think adding more Cardinal players could benefit us.  As for the two players you mention, their situations could bear watching by a number of teams.  I don't know that their college backgrounds would influence any thinking we have at this point, however.
JOHN R. (from Washington, DC) When are the Colts going to decide what free agents are they going to keep?  Are they going to explain why players were kept or not?
A:  The free agency period will start in early March.  Until then, don't expect too much chatter.  I know fans want answers now (Ryan Grigson kidded about us having a "microwave" society in wanting all answers and solutions right now), but there is a business process to follow.  We all have rapt interest in what is being decided, and it's a period of debate and conjecture for fans.  Anything that is resolved will be reported.  As for addressing why decisions are made, we'll provide what our leaders say.  We will be as forthcoming as possible.
RICKY G. (from Phoenix, AZ) While looking through Griff Whalen's stats, I noticed he was signed and waived and then signed back a few times.  What was the reason for that and do you think he's earned his spot on the starting roster especially when Reggie comes back next season?  I see analysts suggesting we need a WR in the draft.  If they knew what great weapons are coming back, they would know that's not the case.  This WR corps we have has the potential to rival any other out there.**
A:  Griff was on the roster last year early because he had a good training camp and because LaVon Brazill missed the first four games on suspension.  Griff went back and forth a couple of times and ended the last part of the season in very productive fashion.  He works and trains hard, practices well and has seized opportunity.  Griff's story is like that of a lot of young players.  I hope that helps your understanding of his career so far.  As for Griff starting, I think T.Y. Hilton is much more in line for that role given his emergence.  Our design does call for multiple looks, so there is plenty of time for receivers beyond Reggie and T.Y.  I would be less surprised if we drafted a receiver than if we added one through free agency.  I do think we have some quality depth already, and it has a chance to grow.
AVERY S. (from Arizona) I wonder with Ryan Grigson being really active in CFL and AFL are there any chances about Noel Devine?  He's a speedster and I would like to think he would be a perfect change-of-pace-type back for the Colts.  What's your take on Noel Devine?
A:  I don't know much about him, but I did see he had a brief (five-day?) stint with Philadelphia in 2011 as an undrafted free agent.  Ryan would be familiar with Noel from then.  His size (5-8, 180) could be an issue for some teams.  That may have contributed to him not being drafted after his West Virginia career.  Some critics of his refer to fumbles that have happened.  As much as Ryan and his staff watch leagues like the UFL and CFL, I am sure they know what Devine has accomplished.  Should there be a fit, Ryan's history shows he will take a chance.  That's about as much as I know about Devine, so time will be the judge.  Thanks for asking.