 INDIANAPOLIS – Readers of Colts.com may submit questions during the week and have a chance to have them answered during the middle of each week.  **Submit your questions here**.
Here are responses to some of the questions received recently.  We thank you for your interest in the Colts.
CHAD W. (from Houston, TX) I'm writing to comment more than ask a question. I hope that players that don't keep their noses clean are let go.  Wes Saunders was cut, and I was proud of that.  I hope the other guys with issues are handled the same way.  I sure believe in second chances, but integrity is what matters most.  I love what this organization stands for and don't want to see that change.  Thanks for listening.  GO COLTS!!!!!
A:  We value off-field character as strongly as on-field performance.  That said, we do listen to matters on a case-by-case basis.  We like that people have faith in our organization and process.  We listen to opinions of our fans, and a number have written in on this in the past.  It's evident how important fans view this.  We'll never lose sight of that, nor should people think we don't place a continual emphasis on character and behavior.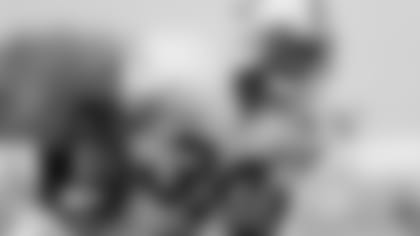 CAULIN P. (from Salt Lake City, UT) I like what I've seen so far in the preseason, even with the Buffalo game, considering that it's preseason and there is always stuff to work on.  There has been a lot of talk about the back end of our receiving depth chart.  With the introduction of more of a power running game and hopefully some two tight end sets, we should be alright with the top four (I'm including LaVon Brazill in this).  Obviously they need to fill roster spots, and have people ready to fill shoes in the event of an injury, but this seems extremely over-hyped.
A:  We know three of the guys for sure and how it goes after that is very interesting from a competitive and roster breakdown standpoint.  We added David Reed last week, and he has a special teams background.  How (if?) would that factor into the process?  Nathan Palmer, unfortunately, got hurt against Cleveland.  He will not be ready for about six weeks.  We all know LaVon cannot be in the mix for the first quarter of the season.  We saw Stanley Havili involved heavily in the attack last week.  I don't think there is any doubt about the fullback being a part of the offense.  There is one more chance for the guys on hand, and looming decisions will be difficult.  I know I'm just stating the obvious here, but that's all anyone outside the personnel and coaching staffs can do at this point.
CALEB S. (from New Palestine, IN) When are the Colts going to wear their throwback jerseys, like next year, the season after that, etc.?
A:  Decisions for future seasons will be made then.  We have no Throwback plans for 2013.
BOB B. (from Deltona, FL) Each day I see the positive progress of Ryan Grigson.  He always is looking for ways and players to improve his team, kudos.  Not a day goes by where he looks at players released from other teams and picks out a certain player who he knows can help the team.  The majority of GM's throughout the league just sit back and wait.  Grigson is always active.
A:  I need to find out what particular coffee he drinks, and then buy stock in that company.  Ryan is wedded to his convictions, and is not afraid to act.  No GM bats 1.000, but his average is quite robust.  Ryan is not the only aggressive executive in the league, but he is a great fit for us.
ISAK H. (from Mexico City, Mexico) When is Facebook Friday coming back?**
A:  We will debut Facebook Friday on September 6, the first Friday of the regular season.  Enjoy.
DANIEL B. (from Newcastle, UK) Thanks for answering my question a couple of months back, although I was disappointed to hear that you think the Jags won't want to play divisional games in London.  This severely limits the chances of the Colts coming over despite the fact of an added second game, but I digress.  Why does the Colts jersey not have a badge or even the word 'Colts' written on it like many other NFL teams?  When I wear mine, to the untrained eye over here many people don't know what team it is and often think it's the Giants' jersey.  Help me promote the mighty Colts.  Stick the Horseshoe on!
A:  I can understand the confusion.  It's close to the Giants, but better.  A logo never has been a part of our jersey design, so you'll have to do your part over there for us.  Hope we play on your soil sometime….soon, too.
LARRY V. (from Mohawk, TN) Not a question, just a statement:  I wish everyone would get off the uniform question.  I believe the Colts have the nicest uniform in the NFL.  I think those griping about our uniform are not really Colts fans, but fans of another team that wants us to look bad like other teams.  Please keep our uniforms.
A:  I agree with your first statement.  After that, fans are entitled to opinions, and they can express them.  It can be healthy to do so, and I think they are all avid followers, too.  I don't see any uniform conspiracy.  We've had our share, perhaps more than our share, of questions this year on uniforms.  If our record always matched the quality of our uniform style, in my opinion we'd go undefeated forever.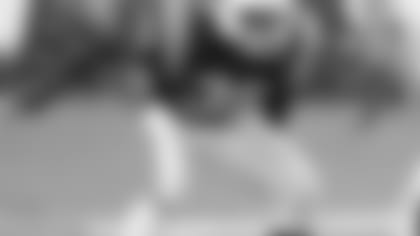 TERRY M. (from Madison, WI) Why did the Colts cut the jersey shoulder/sleeve stripes off at mid-point and will they ever return again to where they go all the way into the arm pit?  Change is not always the best!
A:  The stripes on the jersey are the "UCLA" model, and it became more in vogue about six-to-seven years ago when the cut of jerseys was changed.  Today's jerseys conform tightly to the pads and there is no extra material where defenders can grab (see older style to the left worn by Eugene Daniel in 1988).  The stripes did take some getting used to.  It was not a break from tradition in that sense, but it made sense to do business better.  It is kind of like when Edgerrin James trimmed his dreads when he saw a player on another team get tackled by them.  **Edge (click here to review EJ's 1999 rookie season)** said his new style was a "business decision."  Hope that explains the shift a little bit.  It's not the traditional look of previous decades, but it is the style for all teams now. 
TIMMY K. (from Pottsville, PA) I noticed in the preseason game with the Giants, with about one minute and a half remaining in the game we took a knee.  I know it's procedure to do this when winning a game in the regular season, but why do this in preseason when you can try something that could work in a regular season game?  This is the time to try everybody no matter what the time is remaining in the game.
A:  Your point is a bit more valid in preseason than regular season, but I support how we handled it.  Injuries are such a concern, and we've had a number ourselves.  It would be hard to take if someone were nailed when the game was decided.  Player safety is paramount for every team.
BRAEDEN H. (from Paris, KY) With Delone Carter departed, are the coaches content with Ahmad Bradshaw, Donald Brown, Vick Ballard and Kerwynn Williams?  What do you see being the weakest part of the team offense, defense, special teams?
A:  How the coaches feel about the backs will be seen by this weekend.  Davin Meggett has been released.  I would be surprised if **Ahmad Bradshaw (click here for Bradshaw interview)** plays on Thursday.  Donald and Vick have been productive, and Kerwynn had a good showing against Cleveland.  We have three fullbacks, too, plus three tight ends.  It's a tight job market.  It's hard to know exactly what the coaches are thinking, and numbers at position groups are points of discussion everywhere.  Even when the 53-man roster is first reached, it can be fluid.  I'm not sure coaches are ever just 'content' with players.  There is usually a firm conviction for every player on the roster.  As for weak position groups, I hope there aren't any.
GAGE M. (from Danville, IL) I was so glad to see Pat Angerer play (last Saturday).  I really would like you to thank the whole coaching staff for establishing another great football team.  I am really glad to watch them and bleed blue.  My question is for the playing time of Pat.  Coach Pagano said that he would only have 15-to-20 snaps.  I think he got a bit more.  How much time did he get?**
A:  We targeted Pat for 15-to-20 snaps, and our records show him out there on 18 plays.  Pat being out there was one of the best things on a fun night.
*MIKE B. (from Granger, IN) What's up with Dallas Clark?  He was obviously a vital part of the Colts offense for a long time, and situations change.  I know he played for the Buccaneers last year, but I can't seem to track him down now. *
A:  Dallas is with the Baltimore Ravens.  Let's hope he can continue his career there.  You want to see players with great contributions get as much out of their playing years possible.
TRUDY D. (from Crawfordsville, IN) Loved the halftime show with the cheerleaders from 30 years of football.  I think it would be great if you let the crowd sing the national anthem.  Just let someone get them started.  It really sounds great!
A:  It was fun seeing so many former cheerleaders have another moment on the field.  Being a **cheerleader (click here for cheerleader clip from last week)** is a much tougher job than in looks, and it takes a huge commitment to be one.  It's always nice to keep the past connected to the present.  As for having the crowd sing the anthem, we've done it before and it has been very moving to hear 60,000 people show their patriotism.  I'll pass it along and wouldn't be surprised if we do it again.  Our fans are tremendous assets.  While I'm a traditionalist in anthem terms, I thought last week's musical ensemble, **Time for Three (click here to view performance)**, was outstanding, as was having a former cheerleader perform sign language to augment their performance. 
TOM E. (from Noblesville, IN) How can they not start Hugh Thornton from now on at right guard?  I recorded the game so I can run it in slow-motion, and I watched Thornton on every play.  His man never came within 10 yards of Luck at any time.  He stayed with his block at all times.  I am impressed so much with this guy.
A:  It was a very good night for Hugh, particularly for having very little work in training camp.  Should he start at Cincinnati, Chuck Pagano has said he would not have any real qualms.  Hugh is a bright guy and hard worker.  He should have a very good future.
DARYL I. (from Port Perry Ontario, Canada) I was just wondering what your thoughts would be if Mike McGlynn was out with knee for a few more weeks and Hugh Thornton seems to his job well like on Saturday?  Do you see him actually working him into starting RG position?  What are your thoughts on his debut?
A:  Like I said above, it was a very good debut for Hugh.  We're all for getting the best unit on the field, as well as for rooting for the health of our players.  Mike's injury is only a bruised bone.  He's coming along fine and will be healthy for the opener.
BOB M. (from Milwaukee, WI) Just my take, I wouldn't be surprised if Mr. Grigson moves Coby Fleener.  I had great expectations for him like everyone else, but he really has underachieved – lots of drops, missed blocks and fumbles.  He just seems like a big body out there, but not explosive or effective. … Mr. Grigson is a great judge of talent and heart.  I think he missed on Fleener.
A:  I could not disagree more and would be surprised hugely if Coby were not on the 53-man roster.  On top of that, I think he will have a good season and a solid career.  Has it had a bumpy start?  Yes, to a degree.  You're right on Ryan being a great judge of talent, heart and even intangibles.  I don't agree with your opinion, but the mailbag can be for an exchange of ideas, so thanks for expressing it.  You're a regular contributor, so I know you care.
MARINA R. (from Indianapolis) Where can I get a hard copy schedule for the Colts? Our son is in the Air Force in the Middle East and he is a long-time fan.  He is asking me for an official hard copy schedule for the season that he can post on base for all the guys.  Thank you in your help with this simple, but meaningful, request.
A:  Please thank your son and his counterparts on the base for their service to our nation, and the fastest way to get a schedule is for them to visit our website, www.colts.com.  On the top left of the front page is an icon marked, 'TEAM.'  If he clicks on that and goes to 'SCHEDULE,' just click to print from there.  He'll have it in an instant.
SHAWN Z. (from Matthews, IN) Long-time Colts fan and can't wait for the season to start!  So many of the Colts free agent signings this year have been great so far. However, I thought Lawrence Sidbury's name would be called on more than it has. Then I hear he is being placed on IR.  Could you give us an update on his status? Thanks and GO COLTS!
A:  Unfortunately, Lawrence hurt a shoulder in the Giants game and will not be able to go this year.  He is seeking another opinion on the medical process ahead, and we wish him a full and speedy recovery.  I know he appreciates your support, and I hope we get Lawrence back next year.
TOM G. (from undisclosed) This is a comment more than a question.  I'm tired of watching the flag being unfurled and dragged along the turf, even by military personnel.  If there is not a way to unfurl the flag, maybe a smaller flag is in order.  In all other areas the National Anthem presentation is top notch.  I hope this one weakness can be corrected.  Thank you.
A:  Tom, our enormous American flag is the largest in the NFL.  The feedback we get from our fans tells us it is a highlight of a Colts game day, and a great way to salute our nation.  I will pass along your comments, but I would not expect a smaller American flag anytime soon."