 ](http://careyindiana.com)
INDIANAPOLIS – Readers of Colts.com may submit questions during the week and have a chance to have them answered during the middle of each week.  **Submit your question here**.
Here are responses to some of the questions received recently.  We thank you for your interest in the Colts.  Please make an effort to be concise when submitting a question.
CURTIS R. (from Schoolcraft, MI) We re-signed Vontae Davis, do you think we will sign any other CBs?  If Trent Richardson will not be productive next season will he be released, and do you think losing Darrius Heyward-Bey will affect our receiving corps?
A:  A lot of people forget Greg Toler (**click here**) and how effectively he played last year when he was healthy.  I think you will see a strong bounce back from Greg this year and with the money spent on Vontae Davis and him in the last two free agency periods, I wouldn't look for any other "big-time" action in free agency at CB.  As for Trent, I firmly believe you will see a productive player who validates why we brought him here last year.  He did not perform completely as he had wished last year, and I know a few onlookers will be keeping their eyes trained on him this year.  I don't think you'll be posing the same question about him this time next year.  As for DHB, we wish him the best in Pittsburgh.  His departure likely will have the same impact as the loss of Donnie Avery a year ago.  Please don't take that as a knock on either Donnie or DHB – I like and respect both guys – but we have a talented unit here that will get the job done.  I hope both former Colts keep playing a long time in this league, and we are constructed well enough that fans will like what they see.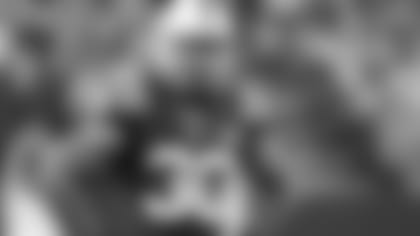 STEPHEN J. (from South Bend, IN) With Antoine Bethea gone, I am worried about the safety position.  We have some very good depth in Delano Howell and maybe Sergio Brown, but could we draft someone who could possibly be a true ball hawk?  As long as LaRon Landry is healthy, we have one of the hardest hitters in football today.  I don't think any Colts fans should worry about the offense.  Maybe there are some unknown features on the O-line, but I do believe it has gotten better.  If everyone stays healthy, look at the lineup at RB, TE and WR.
A:  I wouldn't close the door on the chance of an addition at safety as free agency continues, and the draft has some "great safeties" according to Chuck Pagano.  Delano and Sergio likely will have solid chances to contribute.  Corey Lynch also is on hand.  Delano got a little taste of it last year and played pretty well according to Ryan Grigson.  We'll never leave any effort unmade in our approach to any unit, and having LaRon Landry back there is a huge plus.  Remember that Chuck has cut his teeth in this league with strong secondary play, so you know it's a priority for us.  While you want to retain players like Antoine, sometimes the realities of the NFL get in the way.  I'm glad you're high on the offensive prospects.  The three offensive groups you mention will have some outstanding competition.  How we distribute the ball this year will be very interesting. It's anything but a dilemma.
LEVI F. (from Grand Ridge, FL) I'm starting to get excited about next season.  (I like the) way free agency has worked bringing back (some veterans) and adding D'Qwell Jackson, Arthur Jones and Phil Costa.  It's going to be like adding more new players when Dwayne Allen, Vick Ballard, Reggie Wayne and Donald Thomas return.  The offense is going to be stacked.  The main position I'm concerned with is center.
A:  I think people should go into this season with an open mind in the case of Phil Costa.  We add players we think can help the program.  Khaled Holmes also is a young talent who has a chance to contribute.  At one point, people hadn't heard of Jeff Saturday and while I'm not saying either will anchor the position like Jeff did for a decade, there always is the chance the answer to a question is already here and under the radar.  We'll see as we get moving forward very soon.  We want a gelled unit to protect Andrew as he deploys an impressive arsenal of weapons. 
BOB B. (from Deltona, FL) I watch the Colts closely.  I've been a fan since 1958, so I've seen the good and the bad.  The current regime has the right mindset.  It's NOT going after the premier FAs.  It's getting the people to fit your team concept, and Ryan Grigson has made that obvious.  I hope the players in the draft are available when it's the Colts' turn to select.
A:  You've finally tipped your hand at how long you've followed the Colts.  I couldn't tell through your previous letters, and being on board for such a long time is very impressive.  You've seen a number of regimes through those years, how they've thought and what they've produced.  No doubt you've seen ups and downs, so your perspective on Ryan Grigson and the great job he has done is good to hear.  We have a terrific personnel staff and a solid coaching bunch as well.  They never rest, and the draft will give us a few more chances to enhance the product.  Thank you for many years of dedication, and for your weekly submission to the mailbag.
MIKEY N. (from Springdale, AR) I am very excited about how our offense is going to look this year.  I'm not as excited about the defense, but if we drafted a safety and maybe a corner to give Vontae Davis help on the opposite side (I will be).  I think our offense will look much better than it did last year, and Trent Richardson will be a big part of that.  What are your thoughts on how our offense and defense will look?
A:  Some of my comments earlier on the offense tell you the feeling I'm getting.  What will draw positive attention again will be the progression of Andrew Luck.  Already, he is one of the game's foremost talents, and Colts fans are so lucky (no pun intended) that the game's key position has been manned (no pun, again) so well since 1998.  I think our running game will look like it did to start last season, and I hope that continues through 16 games.  Our tight ends have a chance to be special, and a healthy Reggie Wayne might be the best thing of all.  In year three of Chuck's defense, I think we'll see consistent pressure on the QB from more than Robert Mathis.  Robert's 2013 season was wondrous, but you don't really want one player to generate 40 percent of a team's sacks.  We have players who fit the scheme, and bolting down on the run is essential.  We'll have to see what is fielded at Antoine Bethea's former position, and I am hopeful LaRon Landry and Greg Toler stay healthy for the duration.  With that, I think we'll field a solid bunch.  It's so easy this time of the year to get too high or too skeptical since the NFL has constant attention.  We'll build the best roster we can, and it's nice Colts fans like you can harbor legitimate hopes for another successful season.  Some fan bases are not as fortunate, and very few have been as fortunate as ours to have those hopes for the last 15 years.  When you think of that, it's truly impressive. 
MICHELLE M. (from Fort Wayne, IN) Any chance of signing Danieal Manning, or has he even been talked about visiting the Colts?  Also I wrote a letter previously about Deion Branch, what is his status with the Colts?
A:  I never sensed any real push for Manning, and now he's with Cincinnati.  Ryan Grigson said a couple of weeks ago the team basically added players it targeted in free agency.  The amount of money spent to add and retain players is well into nine figures, and it shows our dedication to winning.  We'll keep reporting our efforts, but it is likely our heavy lifting in free agency is over.  I also have not gotten the sense that Deion would return.  We have a pretty good stack of WRs right now, and that includes Hakeem Nicks – the third straight year the team has added a veteran WR in the process.  I don't know that the future would preclude us from doing something with Deion since he's local.  If so, I'm sure you will know.