 ](http://careyindiana.com)
ANDERSON – Chuck Pagano dismissed his team Monday to take a short respite from the practice field.
Pagano has won 23-of-35 overall games since joining the team in 2012.  He is the only NFL coach to pilot his team over the last two seasons without losing consecutive games.
Pagano is one of eight coaches to open a career by winning 11-plus games twice.
NFL Coaches Starting Career with 11-Plus Wins in Consecutive Seasons
*Made Playoffs   #Won Super Bowl           Per Elias Sport Bureau
Pagano talked on the value of relationships when he first joined the Colts.  With Jim Irsay and Ryan Grigson, the words 'Trust, Loyalty, Respect' define the Horseshoe culture.
Players were asked recently why Pagano is such a fun coach to play for and what makes him successful.
TE-Jack Doyle – It's his style.  We had our camp-opening meeting the other day when you set your goals.  It's something about how he delivers his message.  I can't put a word on it.  His attitude and the way he carries himself, it's something you want to play for.  He's an awesome player's coach.  He interacts with the guys when we're warming up.  He's very friendly with everybody.  Sometimes coaches won't talk to the third-string tight end.  He's just awesome with everybody.  He's one of those guys who makes players want to run through a brick wall for him.
LB-Kelvin Sheppard – I could write a book about that.  The biggest thing is I've never been around a head coach who's so open with you.  I texted him this off-season and some guys in the NFL don't even speak to the head coach, let alone the GM but here, you can text or call them.  If you have something on your heart, their door is open.  You see Chuck and it's, 'Hey, Shep!'  Most coaches when you see them they don't have time for that.  He understands the player-coach relationship.  It's a sacred bond.  I love coaches like Chuck. 
CB-Josh Gordy **– He has a great sense of humor.  A lot of people don't catch it sometimes.  It's an under-the-radar type of humor sometimes.  He's a player's coach guy.  He's just fun to be around.
LB-Andy Studebaker – Guys know when a coach is real.  When a coach speaks from conviction and has a relationship with his players, it's contagious.  The guys buy in because he has a relationship with us.  He cares about us, our personal lives outside the white lines and our families.  It starts with that.  When he speaks, he means what he says.  Coach Pagano speaks with passion.  Because of those things, it's an impactful relationship.  Guys give their all for him.
S-Sergio Brown – He's a great coach, a great person.  He has a great personality.  He's real player-friendly.  He makes this more fun than job.  He's like one of the guys.  We can talk to him about anything, talk to him in more relaxed ways.  We're able to understand each other.  We're always at the same level.
LB-Ricky Jean Francois – He's aggressive.  He's a player's coach.  He knows when to go hard and when to back off.  He relates to us a lot.  Everything he does in football is passionate.  He just doesn't do things because he's a head coach.  He does things because he has it in his heart, in his blood.  He bleeds football.  To have a coach like that, you'll do anything for him.  You'll play all four downs, lose your leg, something to show him your gratitude and appreciation for having a coach like him.
G-Joe Reitz** – I just think it's the man he is.  He's such a passionate man – about football, about life.  That really inspires you, and you really want to play well for him.  It's about relationships with him.  He's always asking how you're doing and how your family is doing.  He really cares about you as a person, not just a football player.  That's what guys love about him.  It's amazing, I'll never forget when he was ill, he was still texting me all the time and giving me tips.  He really, really cares about you.  He's there for every guy on the roster, 1-through-53.
The Colts signed two free agents, LB-Jonathon Sharpe and RB-Phillip Tanner.
Sharpe (6-0, 235) started two years for North Greenville University, where he totaled 132 tackles, including 23.5 for a loss, 5.5 sacks and three interceptions.  Prior to joining NGU, he played at Wofford College.
Tanner (5-10, 208) spent the last three seasons with Dallas, where he had 56 carries for 149 yards and two TDs and nine receptions for 93 yards.  He also made 21 special teams tackles.  He finished his collegiate career at Middle Tennessee State University with 430 carries for 2,024 yards (4.7 avg.) and 33 touchdowns.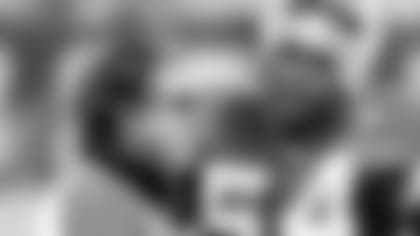 In 25 of the 30 seasons the Colts have played in Indianapolis, 13 different linebackers finished as the club's leading tackler.  Seven of the 13 did it on multiple occasions.  Name as many of those seven as possible, along with identifying the only one to lead the team seven different times. 
ANSWER: Jerrell Freeman, Gary Brackett, Cato June, Mike Peterson, Jeff Herrod, Duane Bickett and Cliff Odom led the team in tackles for a season more than once.  Herrod (1989-92, 94-96) did it seven times.
The Colts are 162-78 in regular-season play since 1999.  Name the only team with more regular-season wins, plus the four other franchises with more than 140 wins during that span.  See the next Colts Camp Notebook for the answer.