 INDIANAPOLIS – Roosevelt Potts was a second-round draft choice by the Colts in 1993 from Louisiana-Monroe.  Potts started 15 games in each of his first three seasons, serving as the club's main back his rookie year, then in a lead-back role when the Colts drafted Marshall Faulk in 1994.  Potts rushed for 711 yards as a rookie.  Though his yardage never totaled more than 400 yards afterward, he was a vital presence in the Indianapolis offense.  Potts had a 4.2 career rushing average with the Colts, and he caught 72 passes for two scores as a viable target out of the backfield.  Potts played into the 1997 season with the club, and he finished his career by playing with Miami and Baltimore.  Potts' last season was in 1998 with the Ravens.  Potts looks back on his career:
Who was the opposing head coach you least liked to face?
Jimmy Johnson.  His teams always played hard, they played with everything they had.  They were competitive every week.  You knew you had your hands full when you played them.  He had style, too.
What was your favorite road stadium to play in and why?
I liked playing at Lambeau Field.  Whenever I played on that field I felt the sense of history.  There were a lot of great players who played there, and it was special to go there.  I felt the same way about Washington (RFK Stadium).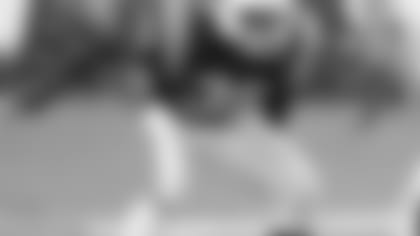 What opposing player did you respect the most and why?
I had two of them, Junior Seau and Eugene Daniel.  Eugene taught me how to be a professional on and off the field.  He helped keep me grounded.  Junior Seau was a hard-nosed player, sort of like Ray Lewis.  He studied the film.  He thought I was under-rated and was a good fullback.  He told me that once, and I appreciated it.
Who was the NFL player you wanted to meet the most before you made the league and why?
I wanted to meet **Walter Payton and Barry Sanders (click here for highlights of both)**.  I wanted to meet Walter because we're both from the South and I heard of his work ethic.  I wanted to know how he played every week and played so well.  He was tough and never missed a beat.  I thought Barry was outstanding.  I watched him in college and thought he was too little to play.  When I was with Miami, I was on the same field as him, and I couldn't take my eyes off him.  He was a super talent.  How he broke tackles was amazing.
What was your most memorable Colts game and why?
My most memorable game was when I played in New Orleans in 1995.  It was my home state, and it meant a lot.  Jim Harbaugh threw a 40-yard touchdown pass to me, and it happened in the area of the stadium where my high school friends and family were watching.  It was right in front of them.  I'll never forget that moment.  It was the only chance I ever got to play at home in the NFL.
Who was the toughest teammate you had and why was he the toughest?
What was the hardest thing you ever had to do in a game?
Running about 60 yards on a play, then having to come back the next play was tough to do, and I did it a few times.  The hardest thing was in Miami in 1995 when we had the big comeback win.  Jim Harbaugh broke a finger and he was in so much pain that he forgot a play, and Ted Marchibroda told me to call the protection and plays for a whole series late in the game.  I did and became the quarterback for one entire series.  Aaron Bailey caught a touchdown pass to end the drive.
What was your favorite road win?
The win in Miami in 1995 was my favorite.  We were way behind (24-3 in the third quarter) and never gave up.  We had a group of guys who would fight, and we hung tight with each other.  That was big because it was early in the season and they were undefeated.  We had just won like that against the Jets a couple of games before and this one helped set up what happened to us later that year.  Also, Jim Harbaugh was hurt and I had to call some protections and plays.  It was a tough challenge.
What was the most fun thing about training camp?
Meeting the rookies from the smaller schools was fun for me because I came from a small school myself.  I liked the big-school guys, too, but I told the ones from smaller schools that they belonged and needed to work hard.  There was opportunity for everybody.  I liked those guys who came from the smaller areas.
What advice would you give to players heading into the NFL?
The best advice I could give is that your career only lasts for a moment.  Learn everything you can, and work as hard as you can.  It's over in a moment, and I played for seven years.  Enjoy it while you are there.  I didn't do a good job of enjoying it while I played.  I enjoy looking back on it now, but I should have done it then.  It is a great chance to live a dream.  Stay out of problem areas and keep your head on straight.  Listen to your coaches.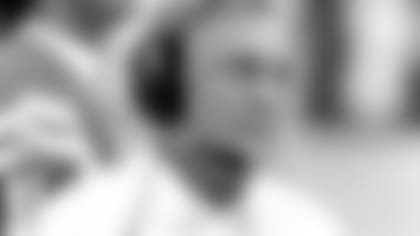 If you could pick three people to share a meal with, who would they be and why would you include them?
I would pick Bob Irsay, Ted Marchibroda and Bob Terpening.  Mr. Irsay was kind to me, and I always remember it.  He knew who I was, and he didn't know all the players' names.  He knew mine, and he was fun to be around.  Ted knew my background before the NFL, and he stood by me.  He gave me a shot to join the team and have a career.  He was loyal to his players.  I liked Bob Terpening because he stayed on me hard.  He told me he didn't like me, but he did.  He was mentoring me, and I respected it.  It was a good approach by him, and we're friends to this day.
Who were the best pranksters among your teammates?
I would say Tony Siragusa, Dean Biasucci and Kevin Call.  Goose pulled a lot of pranks, and he led all the parties.  Once, he hooked me up on a date with a girl with a wooden leg.  I won't go into details.  To say the least, it was a surprise.  Dean was funny.  He taught me to be open-minded.  He looked like a California guy, and I'm a country guy.  We weren't used to the same things.  He taught me things about accepting new ideas, and he liked to put itching powder in funny places.
Which of your head coaches gave the best pre-game speech?
Tom Batta, our special teams coach, was the best.  He was the only coach who motivated me to play special teams.  He let me play whenever I wanted to.  I'd play for him.  He was a players' guy.
Which of your teammates gave the best pre-game or locker room speeches?
Ray Lewis from my Ravens days, but it was Clarence Verdin while with the Colts.  Clarence's speeches were funny because they never were about the team, it was about what he was going to do.  It wasn't selfish, it was funny.  It centered around him, but that was just him.  It was totally **Clarence (click here for USFL highlight)**.  He was good to the bone.
Do you have a favorite quote?  If so, what is it and why does it mean something to you?
My favorite one is, 'Man cannot live by bread alone.'  It's Biblical.  My adopted family gave that to me before I got to the NFL.  You have to branch out and find your purpose in life.  You can't live off one thing or accept one type of person.  You have to learn beyond your comfort zone.
What is the best college uniform and why?
Oregon has the best uniform or uniforms, hands down.
What is the best NFL uniform (other than the Colts) and why?
I like the Atlanta Falcons.  It's a cool look, the colors – black and red and white and red.  I always liked that Falcon.  It's a tough bird, and you have to be tough.
If you could have played under any head coach in history (even beyond the NFL) for whom you didn't play, who would it be and why would you want to play for him?
**Bill Walsh (click here for Walsh piece)** is my choice for how he prepared his teams.  He was so creative, and his teams were so fun to watch.  You never knew what they might do, but they were going to be creative and hard to beat.  They executed tremendously.  He was a brilliant coach who saw things in players that came out on the field.  He was unique.  He knew things other coaches didn't.  It would have been a thrill to play for him.
Who is the best pure athlete you have had as a teammate in Indianapolis?
I would say me.  You may think I'm joking, but I'm not.  I was 255 pounds and ran 4.47.  Other than me, it was Ellis Johnson.
Please describe what you currently are doing and where you live as well as any family information you wish to include.
I live in the Indianapolis area and am watching my kids grow up.  I did some previous work at Anderson University coaching football and being an academic coordinator.  I also did the same at Taylor University.