 ](http://careyindiana.com)
INDIANAPOLIS – Aaron Bailey signed with the Colts as an undrafted free agent from Louisville prior to the 1994 season.  Bailey was a wide receiver/kick returner with the Colts for five years, growing into roles that saw him make contributions in both phases of the game.  Bailey had 67 receptions for 1,040 yards and six scores in his career, along with a 9.8 average on 20 punt returns and a 22.9 mark on 153 career kickoff returns.  Bailey is one of four Colts ever to return an opening kickoff for a touchdown, along with being the most recent to do so (1995).  Bailey is remembered by many fans for being the Colts player who nearly secured the final-play desperation pass from Jim Harbaugh in the 1996 AFC Championship game in Pittsburgh.  Among a scrum of battling players, the ball fell incomplete and ended the club's journey toward Super Bowl XXX.  Bailey looks back on his career:
Who was the opposing head coach you least liked to face?
I didn't necessarily have one.  There are a number of prominent ones like Don Shula we had to face, but I could not really single out one.
What was your favorite road stadium to play in and why?
I liked playing in Three Rivers Stadium in Pittsburgh because I was a Steelers fan growing up as a kid.  Going in there the first time brought a lot of memories to life.
What opposing player did you respect the most and why?
It would be Deion Sanders.  I thought he was the greatest player of all time.  It's my opinion, and he really could impact a game in more than one way.  He was a threat to score every time he touched the ball.
Who was the NFL player you wanted to meet the most before you made the league and why?
I wanted to meet **Jerry Rice (click here)**.  He is the greatest receiver of all time.  He played on some great teams and part of what made them great was him.  He worked hard to be the best.
What was your most memorable Colts game and why?
It was against Miami in 1995 because that was the game when I scored my first touchdown. It was memorable also because we were losing big at the half (24-3), and they were undefeated.  Floyd Turner had two TD receptions before I got mine, and mine helped tie the game in the last two minutes.  Jim Harbaugh threw it up high, and I was able to get it in some pretty tight coverage.  We won the game in overtime.  It was a game few people thought we could win, but we had a team of fighters.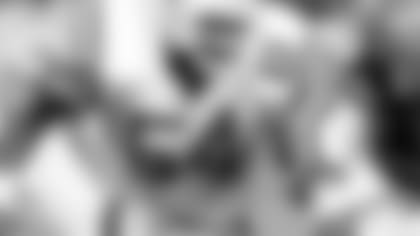 Who was the toughest teammate you had and why was he the toughest?
Jeff Herrod was a really tough guy.  He would play through anything.  I don't think there was a player on our team who didn't respect everything about Jeff.  He was there for the team no matter what.  He really sticks out to me for that.
What was the hardest thing you ever had to do in a game?
It was having to watch on the sideline during my first season in 1994.  I played in 13 games but never started.  It got better after that.  You really want to be part of the action.  After that year, I got out there more and think I made a difference.
What was the hardest thing about playing on the road?
Nothing was particularly hard about it.  I always enjoyed road games.  The fact you were away from home wasn't that big of a deal.  You always had your teammates and coaches with you.
What was your favorite road win?
It was the playoff win against the Chiefs after the **1995 season (click here to review 1995)**.  They were the top seed in the AFC and hadn't lost at home all year.  We had to win our last game just to get into the playoffs, and then we had to win at San Diego (the defending AFC Champions).  We started playing our best ball in the playoffs and were confident.  It was very cold that day in Kansas City.  Some thought a dome team would struggle, but we played really well in every part of the game.  We had a long TD march in the second quarter to tie it, and we made one more field goal than them.  I think the defense had three interceptions.  It was a great day for a bunch of us, and that one is my favorite.
What did your jersey number mean to you?
I chose number 80 because that's the number Jerry Rice wore.  When you talk about a receiver, he leads the list in my opinion, a probably for a lot of other people.
If you didn't wear your favorite number, what number would that have been and why did it mean something to you?
It would have been number **88 for Lynn Swann (click here for highlights)**.  He was such a graceful receiver who was tougher than some people gave him credit for.  I just know he made big plays in big games.  People always remember players like that.
What was the most fun thing about training camp?
Joking around with teammates was fun.  The camaraderie in training camp is a great thing.  It builds relationships needed during the season.
What was the toughest thing about training camp?
The long, hot days were the roughest thing.  We worked hard in tough conditions.  You have to do that as well.  You just want to make it to the end.
What advice would you give to players heading into the NFL?
Listen twice as much as you speak.
If you could pick three people to share a meal with, who would they be and why would you include them?
Jesus, Muhammad Ali and Job because Jesus died for our sins, Muhammad Ali is the greatest of all time and Job talked about his perseverance. 
If you could pick one historical figure to meet, who would it be?
It would be Jesus for the reason I mentioned above.
When was the loudest you heard the RCA Dome and what was the circumstance?
It was the Monday Night game against the Dolphins in 1996.  It was prime-time and our fans were really loud that night.  I don't think they quieted down the whole time, and we won 10-6 to get to 4-0.  Prime-time games mean a lot to players.  I think they all admit it because it's true.  That one meant something to me and our fans.
What was the best prank you played on a teammate?
None, I really was not a prankster.
Who were the best pranksters among your teammates?
Bernard Whittington and Bobby Olive, but I won't say why.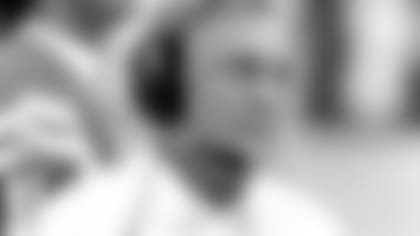 Which of your head coaches gave the best pre-game speech?
Coach Ted Marchibroda gave some great speeches.  Ted spoke from the heart.  He was genuine, and he knew how to reach inside you to get something out.
Which of your teammates gave the best pre-game or locker room speeches?
It was a variety of players who stepped up to speak depending on who the opponent was.  We didn't have just that one guy.
Do you have a favorite quote?  If so, what is it and why does it mean something to you?
Mine is, 'When you do what you love, you will never work a day in your life.'  It speaks for itself. 
What is the best college uniform and why?
Oregon has the best because they have a variety of uniforms to choose from.  You never know what they are going to wear.
What is the best NFL uniform (other than the Colts) and why?
Seattle's are the best because of the combination of blue and florescent colors.
Who is the opposing head coach(s) you find always had his team prepared the most thoroughly?
Bill Parcells.  You knew his team was going to fight.  You knew they likely would play to the highest level they could, and his teams didn't seem to make mistakes.  When you beat one of his teams it means your team really played well.
If you could have played under any head coach in history (even beyond the NFL) for whom you didn't play, who would it be and why would you want to play for him?**
I would take Tony Dungy because everything about him speaks volumes.  I think there are a lot of players who played in this league who would give you that answer.  I think Ted Marchibroda was the same type of guy.  If I had gotten to play for both, that would have been something.
What is your all-time favorite stadium (not necessarily in the NFL) and why?
University of Michigan, 'The Big House.'  What an atmosphere.
What are some of the strangest or funniest sideline moments you remember?
Ted Marchibroda's sons' pants caught on fire standing too close to heaters on sideline.  It was very funny. 
What is the greatest sporting event or individual performance outside the NFL that you saw in person?
University of Michigan football games.  The crowd, the team, the band – you have everything there.
What was your favorite team growing up and why?
It was the Pittsburgh Steelers because of Mean Joe Greene, Franco Harris and Lynn Swann.  Those were great players, and they had others.  It was a special era for that franchise.
Who was your favorite NFL player growing up and why?
Was there a person you wish you could have met during your career that you didn't get to meet? If so, who would was that and why did you want to meet him?
I wanted to Jerry Rice because I think he is the greatest receiver ever.  I would have picked his brain for his approach to the game, his conditioning, everything.   
What do you remember the most about Colts fans?
After our playoff victory against the Chiefs, thousands of fans met us at the airport showing their support.  It was a great night for everyone.  The pilots told the people first getting off the plane just to keep moving through the line, otherwise we never would have gotten everyone off the plane.  It would have been a swarm.  I heard there were about 7,000 people there.  They wanted to share that moment with us.
Please describe what you currently are doing and where you live as well as any family information you wish to include.
I currently am a Learning and Behavioral Specialist in the Kentwood Public School district in Michigan where I also reside.  I am married (Jennifer) with seven children: Aaron Jr., Ashley, Michael, Airyanna, Amari, Alana, and Aaliyah.