 ](http://careyindiana.com)
INDIANAPOLIS –When Vick Ballard spoke on the Monday after the Colts beat Oakland 21-17 in the 2013 opener, he was just as upbeat about what he had done without the ball as what he had done with it.
Sure the club's 2012 leading rusher had gained 63 yards on 12 rushes while having one reception, but he was just as pleased to be six-for-six in blocking assignments for Andrew Luck.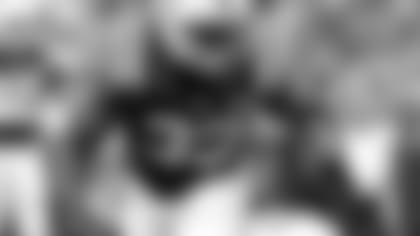 Ballard two days later was preparing for Miami in Wednesday's practice when the earth shifted.
"Practice had just started.  The offense was going through its scripted plays," said Ballard.  "It was the second play and I was running an inside zone play.  When I made a cut, my knee gave out.
"I was hoping I was fine.  Nobody touched me or anything, so I thought it was something minor.  I was able to run when I got up, but I knew something was wrong.  I didn't get any swelling or stiffness.  When I got the MRI, it showed that it (the ACL) was torn."
A player who had started 13 straight games and never had missed measurable playing time due to injury in his entire career was gone after 39 snaps.
"It was like my world got turned upside down," said Ballard.  "At one moment I was on top of the world, then, boom.  It was definitely a blow."
The gut-punch for Ballard was felt by others as Indianapolis lost guard Donald Thomas early in the next game, then intended backfield mate Ahmad Bradshaw hurt his neck in week three and missed the rest of the season.
Tight end Dwayne Allen was felled with a hip injury in the Oakland game, meaning the Colts lost four key figures that were prominent parts in the offense.
Ballard said he felt detached from his teammates a bit early on, but he made sure to attend practices and meetings.  He was welcomed by buddies and coaches to do so, but the strange dynamic some injured players feel was real for Ballard.
"I felt away because I couldn't be out there with the team.  I just focused on getting my knee right."
Ballard saw how the rushing attack shifted with the arrival of Trent Richardson and the emergence of Donald Brown.  Brown and Richardson formed the 1-2 combination originally ticketed for Ballard and Bradshaw.
What he saw was an offense measurably different than the one in which he gained 814 yards as a rookie.
"There was a different philosophy," said Ballard.  "B.A. (Bruce Arians), he was a pass-first, pass-second, run (laughs) guy.  This year, Pep Hamilton was, 'We're going to run the ball on first, second and third down.'  It wasn't exactly like that, but that was the kind of philosophy he had." 
Ballard played in 48 games at Mississippi Gulf Coast College and Mississippi State (his final two years), gaining 4,440 yards and scoring 65 touchdowns on 760 rushes. 
He had 35 receptions for four more scores, fitting the exact model for Hamilton's offense that mandates there being no "can't-do" performers.
"I felt I would have fit right in," said Ballard.  "In junior college and at Mississippi State, we ran the ball a lot.  In my rookie year, we were more pass-happy.  With Pep, this is my kind of football, 'We're going to ground and pound.'  I couldn't even enjoy it."
Ballard said his recovery is still just that and being 100 percent is down the line.  He felt muscle loss in his quad, a natural off-shoot to the nature of his injury.
He is "getting back where I was" and bench pressed 350 pounds recently in the weight room, "that was pretty good."
Ballard is one of a handful of players still on hand recovering from last year's injuries – most of those players mentioned above, plus Reggie Wayne and others.
For Ballard, he cannot work too hard to return – and write a happier story for 2014.
"I'm looking forward to getting back on the field and being productive, get back to where I was, if not better.  I take it day-by-day," said Ballard.  "I'll spend the off-season here.  Maybe I'll get a weekend free, but I don't want to go anywhere.  I don't want to fail at coming back. 
"I want to be here.  If I'm here, I know I'm working to get my knee better.  I don't know if missing a day or two might hurt it, but I don't want to take that chance."