 ](http://careyindiana.com)
INDIANAPOLIS – When the Colts' conditioning started on April 21, Trent Richardson was here to begin the off-season adaptation process he did not have with Indianapolis last year.
Three sessions into phase three – OTA work that matches offense against defense in non-padded drills and without live contact – Richardson is feeling more comfort in his role.
"I feel way more fluid, even with the timing," said Richardson Wednesday.  "I didn't know the snap count last year until the fourth week. 
"When I had to step in and start when Ahmad (Bradshaw) went down, it was hard.  I didn't have the chance to learn 'Why are we doing this?  What am I looking at this linebacker, or that linebacker on the backside?'  I just had to know where I was running.  I didn't know the full reasons.  With the timing, it's way easier now."
What he is feeling is what Ryan Grigson and Chuck Pagano indicated would happen, and Richardson is a needed component in an attack that seeks a power running ability to blend with the passing prowess of Andrew Luck.
"Trent expects what we expect, and that's greatness," said Grigson in February.  "We all have expectations for Trent and he has expectations for himself.  They're for him to be great.  He has expectations of himself to be great.
"He's always been at the top of the rung every time he's played.  (Last year) there (were) areas in Trent's game where he did show up and help us in key situations."
Matt Hasselbeck saw the same scenario when Seattle landed Marshawn Lynch in mid-2010 and saw him labor early before flourishing. 
"Marshawn's numbers weren't spectacular either.  Everyone in the locker room understood he was doing the best he could and was working really hard," said Hasselbeck.  "It's very similar to Trent. 
"He came in in tough circumstances.  We say these OTAs matter and training camp matters and preseason matters.  To put unrealistic expectations on him after he missed all that with us (was unfortunate).  I would definitely expect his numbers to look better this year."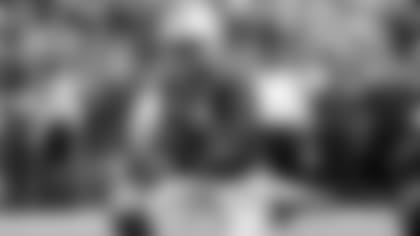 Indianapolis was efficient offensively in 2013 with limiting turnovers, and it trimmed its sacks allowed from 42-to-31 last year.  Still, there are ways to guard further against negative plays and Richardson can factor in.
"What's great with Trent and all the running backs is we've given them some points of emphasis this off-season," said Hasselbeck.  "After just two days, you see it show up on film.  We really want those guys to show up more in the passing game. 
"We want to give Andrew checkdowns and outlets and what we call 'sack-beaters.'  Trent and all those guys have done a great job of getting out quickly.  It's a great start."
Greg Toler shares the same Year Two Colts bond with Richardson.  Where Toler had the 2013 off-season Richardson did not, he sees a different back this year.
"Trent wants to show all the (nay)sayers that he's going to put his best foot forward," said Toler.  "He puts in the work on the field.  I see him staying after late and one of the first to come in. 
"I can see he's catching all the plays and grasping all the concepts.  It's showing on the field.  Like I say, take it one day at a time and the sky's the limit for him."
Richardson is getting more OTA time with the first unit than two others expected to push for major action – Bradshaw and Vick Ballard.
Like Richardson, they can catch, block and make Luck's job easier.  For Richardson, right now is about helping things come easier for himself.
"Everything is going good.  Once you get a chance to spend an off-season with a group you know you're going to be with, it makes it way different," said Richardson.  "You get to earn your respect.  You get to build your family, your unity. 
"This is the time you need to slow things down and know the concepts.  Running backs have to be the second set of eyes (in the offense).  We have to know why we're getting the ball and why not, what we're running into, what coverages are there, what the offensive line is speaking.  You have to be a full player. 
"This time is so important to me.  I needed this from the beginning."