INDIANAPOLIS --- T.Y. Hilton became the 3rd Colts wide receiver to gain more than 1,300 yards in a season in 2014, joining Marvin Harrison and Reggie Wayne. 
His 1,345 yards and 16.4 yards per reception ranked 6th in the NFL. So many of his touchdowns were highlight reel material, including his 73-yard baby cradling score against Jacksonville and clutch game-winning touchdown at Cleveland.
His selection of t-shirts this season were highlight reel material too (not to mention the shirt full of killer whales and rainbows not pictured that Hilton wore after one game this year). Our three favorite T.Y. t-shirts?
"Always be yourself unless you can be T.Y. Hilton. Then...always be T.Y. Hilton"
A Reggie Wayne t-shirt he wore in honor of #87
"Keep Calm We Got T.Y. Hilton"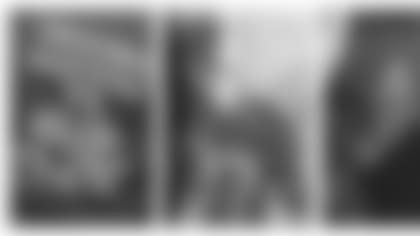 His touchdowns were pretty good too. Check out his best plays of 2014 below: