 ](http://careyindiana.com)
INDIANAPOLIS – Pat McAfee is preparing for his sixth season with the Colts.  With training camp just ahead, Colts.com catches up with McAfee to see how his spring went, what he will do while away and other things that are on his mind.
What did you get accomplished this spring that you set out to do – The number one thing I accomplished was re-signing with the Colts.  Going into the off-season it was my main goal, objective and concern.  I was excited to see it happen.  Other than that, in OTAs and mini-camp I just got better.  Re-signing kept my continuity.  It was huge and the only thing I was worried about.  I was super-excited it got done.
What activities and travels will you have before training camp** – Not that many travels.  When I was younger, I used to travel a bit more.  Now that I'm older, I have to take care of my body more and stay at it a little bit.  The activity I'm looking forward to the most is speaking at the Rookie Symposium.  I'm going to drop some knowledge on those young bucks.  It's June 26 in Cleveland.  It should be a blast.  I'll drop some knowledge on life and how not to make mistakes, how not to be the idiot of the room or how to recover if you do.  That will be good.  I'll probably use a few quotes from Steve Jobs and there's a Q&A, but there's no real script.  Steve's quotes will get me far.  Seriously, it's a great opportunity, and it's important for players entering the league to know the duty involved in being a NFL player.
What will you anticipate the most about the upcoming camp, and what will you have to just deal with once it comes– I don't think you can anticipate much when it comes to training camp.  When you look at it, every day is different, every practice is different.  You have to take one practice, one meeting, one lift at a time.  I'm looking to having a good time, get better and watch this team grow.  What you have to deal with is hanging out with Matt Overton (laughs) every day.
What do you know now about training camp that you didn't as a rookie – As a rookie, all I was doing was trying to make the team.  I had the mindset then in Terre Haute (2009) that whatever happened, that I would get out as an Indianapolis Colt.  I didn't really know anything when I was a rookie.  I go in now to get better.  You never stop working, and my goal is to be the best in the league.  What was once holding on for dear life is now I'm trying to become the best.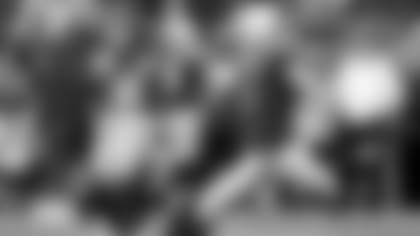 What teammate impressed you the most with his work this off-season and why – Adam Vinatieri is the one.  He's 78 years old (41 actually) and he was at every single OTA practice when he didn't have to be.  Those were all voluntary.  A guy of his stature who just re-signed a new deal would nowhere near be expected to be there.  He was there – working hard, kicking, lifting, doing all the things to stay sharp, and that sets an example.  That was most impressive, and that's why the guy is going to be a Hall-of-Famer.
What is your favorite road stadium to play in and why –It depends.  I like Baltimore a lot because I think their fans are entertaining.  I've never had the chance to play in Seattle.  Baltimore's fans are into it.  I like a rowdy stadium, and Baltimore is just that.  I like Houston a lot, too.  I love the food down there, and I like the stadium.  Usually, I like any stadium where we win.  That's my favorite.
Who was the NFL player you wanted to meet the most before you made the league and why – Growing up I never was a fan of teams, I was a fan of players.  Two of my favorite players were Randy Moss and Deion Sanders.  I had a chance to meet Randy.  I met Deion briefly when we played in the Super Bowl.  Once you realize every player is just a human being, it kind of all goes out the window.  You don't get star-struck much anymore when you hang out with guys like Adam Vinatieri and Peyton Manning.  You realize they're just humans.
What does your jersey number mean to you – If you're not first, you're last.  You can only say that when you wear number one.
If you could pick three people to share a meal with, who would they be and why would you include them –I would pick Steve Jobs, Martin Luther King and Jimmy Buffett.  Steve and Dr. King legitimately changed what people thought about the world.  That's a big deal.  Changing the world is cool but if you can change the ways people think about the world, that's even bigger.  Steve Jobs did that with his innovations and thoughts.  Dr. King did that with his visions and speeches.  I'd pick Jimmy Buffett because I don't think he's ever in a bad mood.  You just always need a good time.
Do you have a favorite quote?  If so, what is it and why does it mean something to you– Not surprisingly, mine is from Steve Jobs, 'Here's to the crazy ones.  The misfits.  The rebels.  The troublemakers.  The round pegs in the square holes.  The ones who see things differently.  They're not fond of rules.  And they have no respect for the status quo.  You can quote them, disagree with them, glorify or vilify them.  About the only thing you can't do is ignore them.  Because they change things.  They push the human race forward.  And while some may see them as the crazy ones, we see genius.  Because the people who are crazy enough to think they can change the world, are the ones who do.'  It means the people who aren't trying to fit it, who are trying to make something happen are usually the people who make the biggest impact on the world.  It tells you that you can do whatever you want to do, and don't get sculpted by society into thinking you can't attain certain things.  That's the most inspiring thing you can be told.  His message and what my father told me growing up mesh together in the same message – you can do anything you want to do, you just have to believe you can do it and you have to work for it.  That's a great way to look at life.