 INDIANAPOLIS – Colts players made it clear early in the week that the stirring comeback win at Houston was nice, but that attention already was shifted toward St. Louis.
After falling to San Diego three games ago, the Colts have beaten undefeated Denver and wiped out a three-game losing streak at Houston, with the Texans being the two-time defending AFC South champions.
The prime-time lights have gone away after those three straight night contests, but Sunday at 1:00 p.m. presents a St. Louis club with a veteran head coach, young offensive talent and a defense with a pattern of performance.
Starting the second half of the season after going 3-1 in each of the first two quarters of the year is the goal, and here are SEVEN VICTORY KEYS:
TRENDING TRENT – Adapting to a new offense has been a full-time job for Trent Richardson.  Using his ability out of the backfield can be an area almost untapped so far.  Pep Hamilton has said getting him into productive situations is an on-going focus, and Richardson showed some pop late in the Houston game with a 24-yard reception from the backfield.  Learning the pass concepts (there are about 200 in the playbook) has been more of an uphill thing than the run schemes, and getting Richardson (who had 51 rookie receptions in Cleveland) into the flow could be a crucial thing for the attack going forward.   
GUARD THE FORT –** Andrew Luck is a master at extending plays, standing firm in the pocket despite pressure, plus avoiding hits.  Every opponent knows the importance he is for the club and the danger he presents.  After four sacks and 11 hits last week, Luck is facing a St. Louis team that leads the NFL since 2010 in sacks (163), ranks tied for third this year with 29 sacks, but first in sacks per attempts (1 in 9.9; 29 in 286 attempts).  St. Louis topped the NFL in that category in 2012.  Eight Rams have sacks.  Ends Robert Quinn (10) and Chris Long (5.5) lead the pack, with both having three-sack games this year.  Quinn leads NFC sackers, and Long is seeking his third straight 10-plus season.  Keeping Luck clean is the usual Sunday key.
SOMETHING FISHY – Jeff Fisher has not won 152 times over 18 regular seasons without having teams that play for him.  Aggressiveness is a given, so is intellect.  Fisher has concocted things before to try and beat the Colts.  In 2004, Fisher attempted three onside kicks in the first quarter of a 51-24 loss.  That game stood 24-17 Titans after the first quarter, with two Tennessee scores coming on 48-yard scoring passes.  He then tried a fake punt with a center-eligible as the intended receiver.  His teams battle.  Be prepared.  He's come to Indianapolis before as a gambler.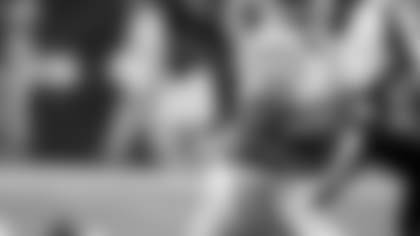 FULL COMMITTEE – Last week, T.Y. Hilton was targeted on 12 of Andrew Luck's 40 attempts, with seven completions.  Other Colts WRs were targeted 17 times, with five completions.  Upping that percentage is needed to make up for attention Hilton will draw.  Coby Fleener snared three of five passes targeted to him, plus a nifty two-point reception.  Continued play like that from a very capable Fleener would be a big boost.  Luck threw to running backs on six occasions, something else that could loosen up defenses.  
STOP RUN – The team's 4.4 seasonal defensive rushing average is bloated by opposing QBs having a 6.1 mark.  Opposing backs have been held to a 4.0 average for a defense that is playing the run better.  This week's assignment is Zac Stacy, who is coming off 134- and 127-yard outings against Seattle and Tennessee.  Stacy has a 5.9 average on 53 carries in those games.  The 5-8, 224-pound back reminds Greg Manusky of Stump Mitchell, a golden-oldie who gained a bunch of career yards after contact.  Sunday is no time to stump the Colts.  They will swing this hammer.
MORE BACKERS – Robert Mathis was a wrecking crew against Denver.  Ditto Erik Walden that game and with a 10-yard sack last week.  Walden's continued contribution on the other edge is needed.  Pat Angerer delivered an interception against Denver and two huge plays (a stop of Case Keenum and a hit on him in Houston's second-to-last possession to stop the drive) among his 17 tackles.  Jerrell Freeman is Jerrell Freeman.  This group is starting to form a four-person identity not seen locally for years, if ever.  Keep an eye on this development.  It could reap benefits in the victory column.
EXECUTE – Resilience is beyond nice, and it's been necessary for the 2013 Colts.  Comeback wins have dotted the first eight games, and defensive adjustments have helped in times like last week when three straight TD drives were followed by two stops in an 18-point rebound over Houston.  A mid-game lull against Oakland put an early 14-0 lead in danger in a 21-17 season-starting win.  A 20-0 second quarter at Jacksonville (started by the defense) triggered a big win.  Nine yards in three opening drives put the Colts behind a 12-0 scoreboard eight-ball against Seattle in an eventual win.  No points on five game-opening drives and no first downs on eight straight third-down chances into the third quarter mandated another comeback last week.  Luck this week said "you can't survive your mistakes forever."  This is an obvious issue confronting the club.  Sunday is a prime time to start correcting it, even if the game is not in prime-time.
QUOTE TO NOTE(Chuck Pagano crediting players for team's resiliency)
"The mindset we try to create from day one, they've all bought into.  It's because of the type of men we have.  It all started (initially) with guys like Robert (Mathis), Reggie (Wayne), Antoine (Bethea) and Adam (Vinatieri).  Those veteran leaders led the charge and didn't waver on how we were going to accomplish things and go about our business on a daily basis.  I credit the players."