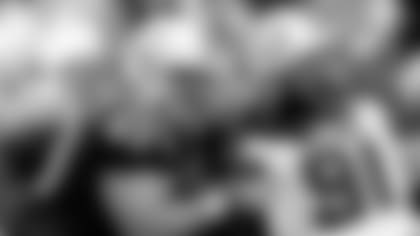 INDIANAPOLIS – Jeff Saturday has played in 197 career games with the Colts, one of the most noteworthy careers ever by a non-drafted Colts player.
Saturday's game total is tied for fourth-most in franchise history, and he is within a few appearances of joining quarterbacks Peyton Manning (208) and John Unitas (206) in being the only players in team history to top 200 career games.
Already, Saturday (132) is tied with the Hall-of-Fame Unitas in career wins with the club, behind Manning (141).  Colts Head Coach Chuck Pagano says Saturday, a five-time Pro Bowler, still is deciding whether he wants to keep playing.
"We've had some talks with Jeff.  It's more that I bumped into him at one of the Super Bowl functions," said Pagano.  "Jeff is a great guy and he's done great things for this organization and this community.
"Right now Jeff is trying to decide whether he wants to keep going, how much gas is left in the tank.   We certainly think there is some there, and we'd love to have him be a part of our program moving forward.  He's sitting down and visiting with his family and trying to make a decision on what he wants to do."
Tennessee Titans Head Coach Mike Munchak was a nine-time Pro Bowler who was inducted into the Hall of Fame in 2001 after a playing career that spanned from 1982-93 and included 159 games.  Munchak observed Saturday twice annually as the Titans' offensive line coach until being promoted prior to last season.
"He's done a great job, especially in this system where they're making all the decisions at the line of scrimmage," said Munchak.  "You don't have time in the huddle to think about what you're going to do.  He's at the line of scrimmage making decisions on protections, making run calls at the last second.  He's done a great job.  He's been the perfect fit for what they're doing for all these years.  He's been a great player."