INDIANAPOLIS – "#IWannaPlay15!"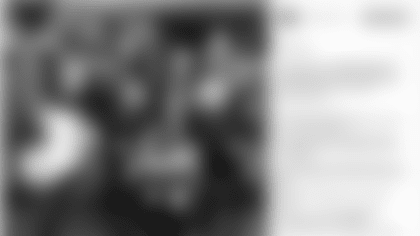 Mathis had just completed year No. 13 in the NFL.
The man who virtually everyone said was "too small" is now nearing a decade and a half of elite football.
Defying the odds again in 2015, Mathis was once again chasing quarterbacks. He was doing it just a year after 10 surgeries on his torn Achilles.
"I feel blessed to just even be back on the field," Mathis said near the end of this past season.
Not only was Mathis on the field in 2015, the Colts all-time leading sacker finished the year with a team-best 7.0 sacks.
Mathis, who turns 35 years old later this month, reached that number even though he didn't enter the starting lineup until Week Seven.
With playing time nowhere near his normal amount (Mathis played just 51 percent of the defensive snaps in 2015, compared to 79 percent in 2013 and 2012), Mathis was still the Colts' most disruptive edge rusher.
"As the season progressed, I feel like I get stronger," Mathis said of 2015.
"I knew it was going to take over the course of a few months to feel myself. I really feel close to 100 percent."
Now, Mathis enters an offseason where his every workout isn't dictated around the rehabbing of his Achilles.
Most players returning from such an injury often don't feel themselves until around two years post-surgery.
"To go into an offseason and not have to have any surgeries, procedures or anything, it maximizes your offseason," Mathis said after the Colts season ended in Week 17.
"No setbacks. I feel great. I'm ready for next season right now. We can line them up right now."
That time will come in eight months, when Mathis will line up for new defensive coordinator Ted Monachino.
Under contract through 2016, Mathis is a staple for what Monachino wants to do to improve the consistency of the Colts pass rush.
"Robert Mathis is going to be a huge part of (the pass rush)," Monachino says. "(He) always has been and always will be.
"We will make sure that we continue to grow him and develop him that maybe he can finish his career at the peak of his career. That would be a great thing."