 INDIANAPOLIS – Trent Richardson practiced three days with the Colts before getting 29 snaps last Sunday at San Francisco.
Ahmad Bradshaw had 19 rushes for 95 yards and a touchdown among his 38 snaps last week, but he is out for Sunday's game at Jacksonville.
"Ahmad came in after the game last Sunday, had some discomfort in his neck," said Chuck Pagano.  "It was a pretty significant blow (last week).  He played the entire game and ran extremely hard.  I don't know exactly when and where it occurred."
Bradshaw and Richardson combined for 32-of-39 Colts rushes last week, the first pairing of the 1-2 punch Indianapolis needed after Vick Ballard suffered a non-contact season-ending knee injury after the opener.
Pagano said Richardson is the main man in the plans for Jacksonville.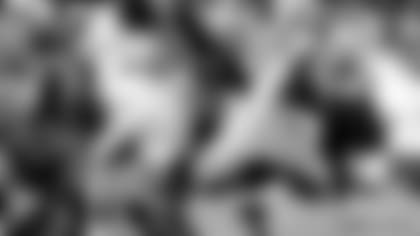 "He's got no choice," said Pagano.  "Those guys have done a great job.  David Walker is a great football coach and teacher.  He did an unbelievable job getting Trent ready for last Sunday.  He'll do the same job this week.  Between him (Richardson) and Donnie (Brown) and the rest of the crew, we'll go down there and hopefully get the job done."
Brown rushed three times for 25 yards last week, and Pagano has no pause in inserting him into action.
"The guy's effective," said Pagano.  "The guy can run, he's a homerun hitter.  We know what Don can do, whether it's in space (or) you get him on the edge.  He's got a significant role on this team.  You can ever have enough runners.  He knows the game plan inside and out, front to back.  He'll be ready to roll, and we'll have a plan for him."
Richardson is staying in a downtown hotel while getting acclimated.  "I've been to Hooter's and got some chicken and shrimp, but that's it.  Other than that, I ain't been nowhere (smiles)."
Richardson was part of a multiple-back approach at Alabama, sharing time with Mark Ingram, Eddie Lacy and Roy Upchurch.  He said he and Bradshaw make a "two-headed monster" here, and he knows Sunday means he will have help in Bradshaw's absence.
"There's still going to be a lot of help.  Andrew and Donald will help me out a lot," said Richardson.  "We all have been on the same page.  I've been learning the game plan every day, sticking my face in that playbook, a few hours after practice, an hour before practice (and) after meetings.  I've been studying hard.  I feel I'm ready to go for it.  When they call my name, I'll be ready to go."
Pagano did not indicate if any roster moves would be made prior to Sunday.  He said the hope is the Jacksonville game provides the same chance as last week to spread the ball around.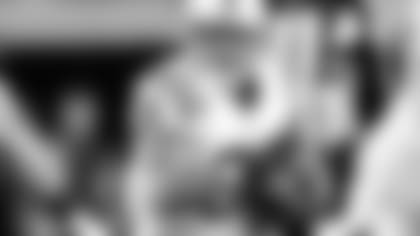 "It all depends on how the game goes," said Pagano of a balanced offense.  "Every game is going to be different.  If you can balance it out and keep guys fresh so in the fourth quarter you have fresh guys running the ball.  That would be great.  It depends on how the game goes."
Reggie Wayne sees no problems with Richardson carrying a bulk of the action Sunday.
"We want everybody, but we know the chances of that are slim," said Wayne.  "We brought Trent in for these particular reasons, to have depth at that position and to be ready to go.  
"We threw a handful on top of what we threw to him last week.  He's done well in practice.  We still have Donald Brown who's ready to go.  There's no worries."
One variable Indianapolis does not have is at quarterback.  The Colts will be facing a Jaguars team that is starting Blaine Gabbert.  Gabbert, the club's top pick in the 2011 draft, has battled injury and Chad Henne has had heavy doses of action.
With Indianapolis having uncertainty at the spot in 2011 – three quarterbacks shared 16 starts – Pagano says the franchise has been blessed in being stable at the position for years.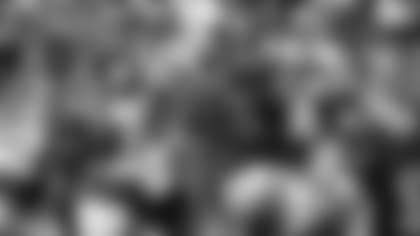 "We're very fortunate.  I think this organization has been blessed for a long, long time to have had the guys they've had under center," said Pagano.  "Regardless of anybody else's circumstances, we appreciate who we have under center. 
"We all know what kind of person (Andrew) is, what kind of player he is and what he's going to be at the end of the day.  We don't take that for granted."
WAYNE'S WORDS – On having to play all three division teams on the road before hosting the entire division in December:  "It don't matter.  The NFL guys are going to do what they want to do anyway. We're just here to serve.  They give us the schedule and we take care of the rest."
PRACTICE REPORT – Did not participate:  RB-Ahmad Bradshaw (neck), DT-Ricky Jean Francois (groin), WR-T.Y. Hilton (toe), S-LaRon Landry (ankle), S-Joe Lefeged (knee);  Full Participation:   LB-Pat Angerer (knee), S-Antoine Bethea (toe), C-Samson Satele (elbow).
INJURY REPORT – Out:  Bradshaw, Francois, Landry; Questionable:  Lefeged; Probable:  Angerer, Bethea, Hilton, Satele.