INDIANAPOLIS – The Indianapolis Colts have named punter Pat McAfee as their local nominee for the NFL's Salute to Service Award. This is the second consecutive year McAfee has been named the team's nominee and in 2015, he was a national finalist. This award was started in 2012 by the NFL to recognize players for their extraordinary efforts to honor and serve U.S. service members and veterans. Every year, each of the 32 NFL teams nominates a player, coach or staff member to be considered for the national award. The award's two finalists will be announced during the postseason and the 2016 award winner will be announced Super Bowl week. Colts fans are encouraged to visit http://www.nfl.com/labs/rr/salute/sts#colts to view Pat's nomination and show their support for his efforts to give back to those who serve our country.
[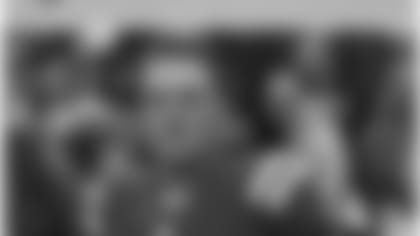 Download Pat McAfee's Salute to Service Award Nominee Packet](http://prod.static.colts.clubs.nfl.com/assets/docs/community/2016-mcafee-salutetoservice.pdf)

McAfee was nominated for his continued commitment to the military and their families. Through his foundation, McAfee has provided more than $250,000 in scholarships to the sons and daughters of U.S. military. In addition, he regularly provides assistance to military families who are going through hardships through his work with Wish for Our Heroes, a non-profit organization based in Indianapolis.
Earlier this year, the USO and the NFL celebrated its 50-year partnership and McAfee joined Head Coach Chuck Pagano and teammates for the first USO/NFL team-themed tour. The group visited eight military bases and traveled aboard a naval ship during a week-long trip to Japan. Along with visiting hundreds of servicemen and women, he toured the newly opened USO Camp Kisner and participated in a 75th anniversary celebration at USO Camp Hanson.
For the fifth consecutive year, McAfee has also sponsored a Community Ticket Block at all of the Colts games, providing 20 tickets and meal vouchers to military for each game. Additionally, he gives of his time to several military organizations, speaking at events and meeting individually with men and women of the Armed Forces. Later this year, Pat is hosting the Wish For Our Heroes G3 Holiday Bash and has guaranteed $100,000 to help 100 military families purchase gifts for the holiday season.
During each Colts Training Camp, Pat hosts a meet and greet with 100 military members and their families during the team's "Military Appreciation Day." He takes time to talk one-on-one with each family and sign autographs for them.
About NFL "Salute to Service"
The National Football League continues its long history of honoring veterans and active duty members of the military with its annual "Salute to Service" campaign that occurs each November.  The "Salute to Service" campaign is designed to unify and elevate the extensive military appreciation work of the NFL and its clubs.  Throughout November, teams designate home games as special military appreciation games.  During these games, teams display "Salute to Service" banners on their sidelines, in addition to hosting ceremonies to honor the service and sacrifice of our nation's troops.
The "Salute to Service" campaign aligns with the NFL's long history of supporting America's armed services, including a partnership of more than 45 years with the USO that includes overseas visits to troops and trips to military hospitals nationwide.