Now in her third season with the Colts Cheerleaders, Jessica is a veteran – and she feels like one too.
"It's fun because you're so used to looking up to people knowing that you're following them and now, you're not following anyone anymore," she says. "We have to be on top of our game all the time now and of course, on time. And if they have questions, you need to know the answer."
It brings her back to her rookie season.
"I remember my first year, the girl that I stood next to in line for games – she'd be like, 'Ok, this next break we're going to do this.' Or, 'Ok, on 5/6, you're going to turn around and do this.' That veteran is almost narrating the game for you," she says. "And now, I'm narrating the game for the rookie standing next to me – in this case, it's Rachel most of the time."
Part of the fun of a new team is the new relationships she forms with her teammates.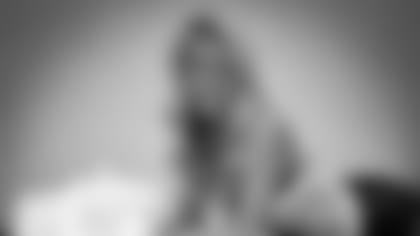 "I feel like it's a new chance to get to know everyone and make a ton of new friends. We're at the point in the season where you're really close to everyone – those are my girls now."
While Jessica and her girls are cheering on the Colts, they have their own cheerleader on game day.
"My mom comes to almost every game. She is my biggest cheerleader. I think she enjoys game day as much as I do. She goes around and makes her rounds and sees everyone – so, she's like their mom too, their little cheerleader. She loves it and she lights up seeing them. And they light up seeing her. She's a big part of game day."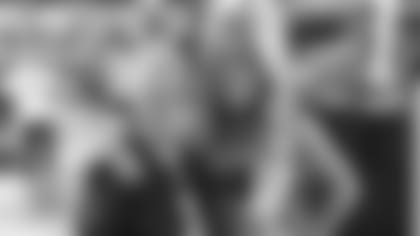 And she's about to become a bigger part of game day. On Thanksgiving weekend, during the Colts – Titans game, the cheerleaders are doing a special halftime show with their moms.
"I was like, 'So Mom, on November 26th, you are going to be on the field with me dancing at halftime. And she looks at me and puts her hands on her chest like, 'Who? Me?'"
A captain in the Army, Cheryl retired in 2001 after 25 years of service. And Jessica credits her mom's military background with helping to form her younger years.
"Growing up, she was very strict and I respected her so much because of that life that she was in. All she had to do was look at me, she didn't even have to say anything – she just gave me that look and I was straight. I knew what that meant. I think I was well behaved because of the way I saw her and saw other people respecting her."
Performing in the field is something Cheryl is used to. Performing on the field is not.
"She's never done anything like that," says Jessica. "I know she's so excited. I think she's very nervous, but I think she'll do amazing. And whether or not she's on the right beat or doing that right dance move, I know that she's going to have a smile on her face and she's going to love it."
And Jessica can't wait to share the spotlight with her biggest fan.
"I'm excited that she'll get to do something with me. Because right now, she's just a spectator at all my things. And she loves doing that, but to get to be a part of it is awesome. It's her moment to shine!"