 ](http://careyindiana.com)
INDIANAPOLIS – Robert Mathis will be taking the field Sunday against Denver in what will be his 39th prime-time game in regular-season action.
Mathis joined the Colts in 2003 and has been involved in many memorable games, including two Super Bowls. 
Some players have only a handful of prime-time games on which to build memories.  As part of a franchise that had the winningest regular-season decade in history (115 victories from 2000-09), Mathis found plenty of action under the bright lights.
As the Colts host Denver Sunday – the first opponent Indianapolis ever hosted in prime-time in 1988 – Mathis looks back at his five most memorable prime-time regular season games:
Colts 38, Tampa Bay 35 (Overtime), October 3, 2003 at Tampa –Indianapolis became the only NFL team to erase a 21-point deficit in the final four minutes of regulation and produce a victory when Mike Vanderjagt's 29-yard field goal 11:13 into overtime gave the Colts a 38-35 win over Tampa Bay.  Down 21-0, 28-7 and 35-14, Peyton Manning (34-47-386, 2 TDs/1 int.) guided the Colts on second-half scoring drives of 73, 75, 12, 58, 85 and 76 yards for the win.  Manning hit Marvin Harrison (11-176, 2 TDs) on 37t and 28t passes, while Ricky Williams (1t, 1t) and James Mungro (3t) had rushing scores.  Indianapolis scored three touchdowns in the final three minutes to draw even with the Buccaneers.  After forcing an overtime punt, Manning directed the winning drive.  The first drive was spurred by a 90-yard KOR by Brad Pyatt.  The win tied the club record (achieved three other times) for the largest deficit overcome in a game, though the deficits in those other games were only as late as the second and third quarters.
ROBERT MATHIS:  This game is at the top of my list of prime-time wins and it came in my rookie year.  It was a 21-point fourth-quarter comeback against a team that was coming off a Super Bowl win.  I was just a young pup in the game.  Being a part of that was special.  To come back and see us be so relentless taught me a lesson from early on, and that's never to give up.  A game is not over until it's over, and this one took more than 60 minutes.  You're always coached never to give up, but this was my first experience of it on the NFL level.  It was surreal, and it's still kind of hard to digest.  It probably is for Tampa Bay, too.  We pulled it out in the last four minutes of regulation, then we had to play almost the whole 15 minutes in overtime.  I bet the majority of America had turned it off to get ready for a Tuesday morning.  A bunch of people missed what we did.  Never to stop fighting was such a valuable lesson to have reinforced early in my NFL career.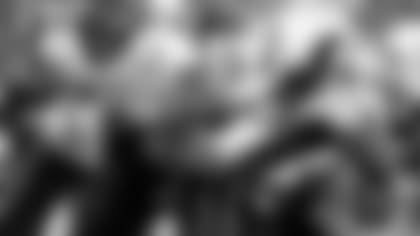 Colts 35, New England 34, November 15, 2009 at Lucas Oil Stadium –Overcoming a 24-point first-half New England assault and two 17-point deficits, including one in the final quarter, Indianapolis rallied for a 35-34 victory over the Patriots.  Peyton Manning was 28-44-327, 4 TDs/2 ints., directing the Colts to 21 fourth-quarter points, including two TD drives in the final four minutes.  Manning teamed with Reggie Wayne (10-126, 2 TDs; 20t, 1t) on two scoring tosses, the final one coming with 13 seconds left to provide the winning tally.  Manning hit Joseph Addai on a 15t toss to open the game and Pierre Garcon on a 29t pass early in the fourth quarter to start the comeback.  New England had leads of 24-7, 31-14 and 34-21 before the Colts rallied.  It was the club's third consecutive fourth-quarter comeback win.  Indianapolis extended its franchise record with an 18th consecutive regular-season victory and became the third team to earn a streak of 18 consecutive regular-season victories (21, New England, 2006-08; 18, New England, 2003-04).  The Colts became the first team to produce three 9-0 starts in a five-year span. 
MATHIS:  This was an epic game, and all of our games with New England kind of had that feel going in.  This one had it at the end.  You never knew what to expect when our teams met.  We came back from 17 points down twice, and Bill Belichick made a decision at the end to go for it on fourth-and-two at his 28 with about two minutes left.  He knew we were hot, and he was trying to close the game on that one play using players that had won many games for him before.  I think he made the right call.  I don't fault his reasoning.  Our offense was clicking, unstoppable.  That's why he gets paid to coach, and there are not many people in his position because they don't have his resume.  Melvin Bullitt made a good read on the pass from Tom Brady to Kevin Faulk.  He made the hit and secured the tackle short of the first down.  It got us the ball back and Reggie Wayne, Peyton's (Manning) safety blanket, made the winning touchdown catch.  That helped us keep a long winning streak going.  It was another game where we didn't stop.  It was not our pedigree.  The stadium was rocking like you only hear it do a few times in your career.  That was a great memory I'll always have.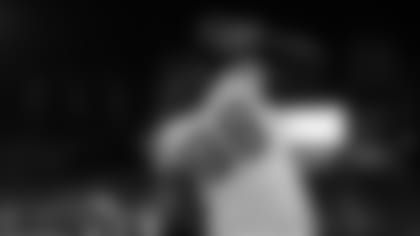 Colts 40, New England 21, November 7, 2005 at Foxborough –An offensive attack that included Peyton Manning (28-37-321, 3 TDs/1 int.), Marvin Harrison (9-128, 2 TDs; 1t, 30t) and Reggie Wayne (9-124, 1 TD; 10t) and Edgerrin James (34-104, 1 TD) helped the club top New England, 40-21.  Indianapolis produced its first-ever 8-0 start as the defense limited New England to 288 yards.  The Colts pushed a 7-7 first-quarter deadlock to a 28-7 third-quarter cushion in gaining the win.  The Indianapolis defense had two sacks and held the Patriots to 34 yards on 14 rushes.  This marked the Colts' first win in New England since the 1995 season.
MATHIS:  This was a big win for us because they had beaten us a few times.  We did it in their place by a good margin, and it mentally was a monkey off our backs.  They had our number, and this game kind of started the snowball in our favor in the series.  I think we won like five of the next six times against them.  Getting that first win was huge.  It was big for the players and for our franchise, and probably for our city and fans, too.  That storm kind of dissipated with that win and started us on the right track.  We ran the ball well on them and got way ahead.  The defense held them on the ground, and we got to 8-0.  I also kept my streak alive with a sack near the end, my eighth straight game with one.  The big feeling, though, was how important it was for everyone in that locker room.
Colts 31, Arizona 10, September 27, 2009 at Arizona –Making their first appearance in Arizona since 1990, the Colts scored three second-quarter touchdowns on the way to a 31-10 victory over the Cardinals.  Peyton Manning was 24-35-379, 4 TDs/1 int.  Manning teamed with Reggie Wayne (7-126, 1 TD; 20t), Dallas Clark (7-62, 1 TD; 10t) and Pierre Garcon (3-64, 1 TD; 53t) for second-period scoring plays to guide the club to a 21-3 halftime advantage.  The Indianapolis defense produced four sacks of Kurt Warner, while the Colts out-rushed the Cardinals, 126-24.  It was the club's second night road game against a defending division champion in six days.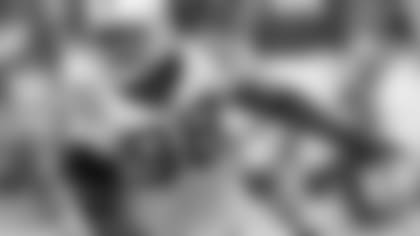 MATHIS:  This was a big game for us because Arizona was coming off a Super Bowl appearance.  We were in their house, it was early in the year and we dominated.  We were facing Kurt Warner, a future Hall-of-Fame, and we knew we had to get to him.  One reason I remember this game was because we were so disruptive and the defensive line got the game ball for the performance.  We got to Warner four times that night, and we got well ahead.  One other challenge that night was we had played six days earlier on a Monday Night in Miami.  It was sweltering and we won that night at the end.  The defense was on the field that night almost 45 minutes, so we were drained in the heat.  We then went two time zones west so quickly to play again.  That's a challenge, and we rose to it.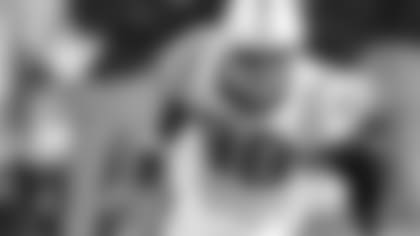 Colts 31, Atlanta 13, November 22, 2007 at Atlanta –Playing on Thanksgiving for only the third time in franchise history, the Colts turned a 10-0 first-quarter deficit into a decisive victory with a 31-3 burst in the middle two periods in topping Atlanta, 31-13.  Peyton Manning (22-32-272, 3 TDs/1 int.) hit Reggie Wayne (5-66, 1 TD, 23t), Dallas Clark (8t) and Ben Utecht (5t) on scoring passes before Joseph Addai (10-44, 1 TD; 4t) added a rushing score.  Indianapolis limited Atlanta to 250 yards, while producing two sacks and two interceptions.
MATHIS:  This game was important to me because it came at home for me in Atlanta, and I had a large cheering section.  It was Thanksgiving Night as well, and the team let me stay afterward and have a great meal with my family.  I was able to hang out with teammates and family after the game.  It was a special time in addition to putting a spanking on the Falcons.  There are so many times when football and your career take you away from your family.  This was a time everything worked to my advantage and so many family members got to see me play without having to travel.  I spent a good portion of my salary on tickets, but it was well worth it.  You remember those times because family is so important.  I'll never forget it, and they had a great time, too.
*ROBERT MATHIS ON HIS APPRECIATION FOR PRIME-TIME GAMES: *It is kind of tough just picking five favorite games.  I've really been fortunate to be on a team and with such great players and coaches that we've been able to play in prime-time games that have had great meanings.  Over the years, you remember different teammates you were with and what games meant as seasons continued to go.  I think I've been in about 40 prime-time games, and some guys never get to be in so many.  I hope there are more to come.  One thing, though, the fans have been with us.  Sometimes they met us at the airport after a big win.  I think we got home from that Tampa win at about 4:30 in the morning.  People were there to greet us.  We came back once from Baltimore after a big prime-time win and it had snowed about six inches, and people were there about 2:00 in the morning.  Our fans have made the RCA Dome and Lucas Oil Stadium a noisy place for visitors, and it seems like we don't get as many chances at home in prime-time.  It's always special, and we want to keep winning whenever we're playing, night or day.