 ](http://careyindiana.com)
INDIANAPOLIS – Adam Vinatieri has been near the top of his profession for so long that to be named the fifth-best at something may not be a compliment.
To be named the fifth-best undrafted free agent of all-time – that's 90-plus NFL seasons – the fifth-leading scorer in league history will take it.
A panel at NFL Films has placed the 19-year veteran Vinatieri fifth in history among undrafted players with illustrious careers.
Those ranked ahead of him include Hall-of-Famers Marion Motley, Dick "Night Train" Lane and John Randle, while one Canton resident, Warren Moon, is ranked one spot behind Vinatieri.
"It's an honor to be mentioned in this group of guys," said Vinatieri.  "Other than Marion Motley, who played before my time, I've known, or have seen play or have been around some of these guys.  They all had to be outstanding athletes, teammates and credits to the sport.  It's an honor for me."
NFL FILMS TOP 10 ALL-TIME FREE AGENTS (Hall of Famer)**

152 games; 580-7,365, 41 TDs receiving

136 games; 2,439-3,775-29,565, 208 TDs passing; 3 Pro Bowls

183 games; 849-11,389, 68 TDs receiving; 3 Pro Bowls

163 games; 719-9,193, 87 TDs receiving; 8 Pro Bowls

208 games; 3,988-6,823-49,325, 291 TDs passing; 9 Pro Bowls

274 games; 448-540 FGs; 2,006 points – 5th-most; 2 Pro Bowls

106 games; 828-4,720, 31 TDs rushing; NFL All-1940s Team

219 games; 137.5 sacks, T7th-most; 29 FF; 11 FR; 7 Pro Bowls

157 games; 68 ints., 4th-most; 5 int. TDs; 7 Pro Bowls

124 games; 2,666-4,070-32,344, 208 TDs passing; 2 MVP
Vinatieri's four championships place him in good stead among the group, two of which came in dramatic fashion with Super Bowl-winning kicks.
Vinatieri's 274 games are the most among the 10 players, and he says multiple factors come into play for every player on the list. 
"I think it's a combination of a lot of things," said Vinatieri.  "Warren Moon was a nine-time Pro Bowler.  That's longevity at a high, high level.  Kurt Warner being listed number one on the list, there's two MVPs behind his name.  That's playing at a high level for that year. 
"There are moments in there, too.  Kurt was the MVP in a Super Bowl.  There are certain things that push you high on the list.  Obviously, you don't get on the list without some longevity, but you have to have those special moments as well."
Two of Vinatieri's three special moments came in Super Bowls, with game-winning kicks in XXXVI and XXXVIII to beat St. Louis and Carolina.  His last-minute 45-yarder in the snow in the 2001 Divisional Playoffs to force overtime against Oakland remains his favorite kick.
Vinatieri remembers being scouted very little at South Dakota State, thus he packed his bags and headed to the World League of American Football.
"I had a few scouts visit, a very short few.  A lot of people would have said I was a diamond in the very, very, very rough," said Vinatieri.  "A lot of people might have thought I was raw and had a lot of hard work ahead.  That's one of the things I'm proud about.  In those times when I wasn't sought after, I continued to work hard.  I just wanted the shot. 
"I didn't know where I'd end up and what I'd do, but I gave 100 percent effort so I could look myself in the mirror and say, 'I gave it everything I've got.'  If I weren't good enough, I could walk away knowing it was what it was."
One kicker and punter – Jan Stenerud and Ray Guy – are in the Hall of Fame.  With 18 seasons and counting, Vinatieri hopes to join them.  He is impressed four undrafted players on the list have been enshrined.
"It says they busted their butts," said Vinatieri.  "When they first came into the league, they were overlooked because they may have come from a small school or didn't have the stats.  
"I look at the guys on the list and say each one was exceptional, was an extremely hard worker who crafted their game to do great things.  Sometimes being a part of a list of things is not a very big deal.  To be talked about with these guys is pretty special."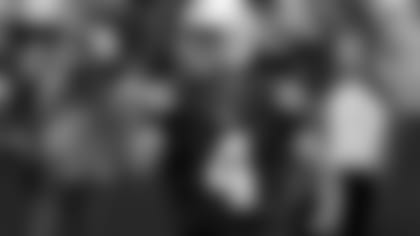 Ever the competitor, Vinny (2,006 points) is not close to being done.  His four Super Bowl titles are one shy of the record.  Catching all the scorers ahead of him (2,544, Morten Andersen; 2,434, Gary Anderson; 2,150, Jason Hanson; 2,062, John Carney)?  Perhaps.
How about those ahead of him on this list?
"I don't know," said Vinatieri.  "I think a lot of these lists are statistics-driven.  Some of it is Pro Bowl-driven.  There are a few championships on here. 
"Hopefully, I can play a few more years, get another championship and jump a notch or two (smiles)."