INDIANAPOLIS —The Indianapolis Colts improved to 4-12 and ended their 2017 season with their 22-13 victory over the Houston Texans on Sunday at Lucas Oil Stadium.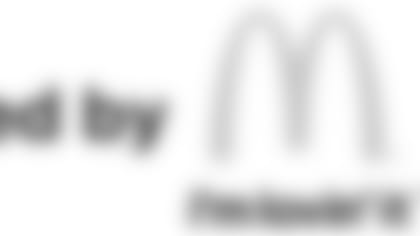 ](https://twitter.com/myindymcdonalds)Trailing 13-7 at halftime, the Colts put the clamps down from there, outscoring Houston 15-0 the rest of the way to earn the season sweep over the Texans.
"Really, really proud of these guys," head coach Chuck Pagano said. "We talked about finishing all week long. I've never been around a group of guys like this – players and coaches, before. Faced so much adversity and so many ups and downs and so many disappointing Sundays, Mondays, Thursdays, what have you. But what a way to go out and you can walk out of here winners; can walk out of here holding their head high and feel really good about themselves and feel really good about starting a new year and going into 2018."
Here are the FIVE THINGS LEARNEDfrom Sunday's victory over the Texans:
• FOND FAREWELL:Sunday's game was the end point for the 2017 season, sure, but it also marked the end of Pagano's six-year run as the Colts' head coach. After the game, an emotional Pagano received the game ball from team owner Jim Irsay, and then made sure to embrace every single player he could get his hands on to show his appreciation for all their hard work, as they all kept their heads down and kept chugging, even as the losses — many of them close ones — piled up. "He was just proud of us for not giving up," Colts left tackle Anthony Castonzo said of Pagano's postgame speech. "He preached, 'Completion, completion, completion.' Complete the season and don't leave it undone and fight the way that we have, and we did. He was just kind of expressing his pride. It was pretty emotional."
• SECOND-HALF SWING:All season long, the third and fourth quarters have been an issue for the Colts. Indy had jumped out to a halftime lead, or at least of share of it, in 10 of their 15 games entering Sunday's finale, but were only able to win three of those contests — and even those victories were officially in hand until the final seconds. Well, the Colts wouldn't have the lead at halftime on Sunday — they trailed 13-7 — but the team was finally able to show it could come out in the final two quarters, make some adjustments, and run away with a win. After allowing 180 total yards in the first half, the Colts' defense allowed just 29 total yards in the second half. Marlon Mack got a tough one-yard rushing touchdown. Hassan Ridgeway had a very timely sack for a safety. And two Adam Vinatieri field goals were the cherry on top. All three phases contributed, giving the players good vibes heading into the offseason.
• FRANK. GORE.: **If Sunday's game was Frank Gore's final time in an Indianapolis Colts uniform, then what a way to go out. While Gore's pursuit of another 1,000-yard season — his second straight and 10th overall — fell just short, he looked like a man possessed in the second half against the Texans, particularly, ripping off runs of 16, nine, 13, eight and nine yards in the final two quarters to finish his day with 24 carries for 100 yards on the dot (with the 100-yard performance, he passed O.J. Simpson (42) for the 16th most 100-yard games in NFL history). He also became the fifth player in NFL history to reach 14,000 career rushing yards, and with 111 yards from scrimmage on Sunday, he reached 1,200 yards from scrimmage in his 12th consecutive season, which extended his NFL record. He also passed Marcus Allen (17,654) for the seventh most yards from scrimmage in NFL history. Gore enters the offseason as an unrestricted free agent, and has expressed his interest in returning to Indy, particularly if he could pair with a healthy Andrew Luck once again. But wherever he goes, we with him nothing but the best. A true Hall of Famer.
• MIXING IT UP:Several Colts rookies, for a second straight week, really took advantage of some prime reps to wrap up their first NFL seasons. Mack had his aforementioned touchdown and had a couple more electric plays with the ball in his hands. Quincy Wilson played really well in coverage again, and was rewarded with a thank-you-very-much interception — this first of his career — on the final play of the game. Sanchez had a phenomenal day punting the ball — five punts for an average of 47 yards, with a net average of 47.6 and three downed within the 20-yard line. Anthony Walker got his second straight start at inside linebacker and led the team in tackles with six. Kenny Moore II, before suffering a concussion, had four tackles and a pass defensed in yet another start for him at cornerback. Grover Stewart had three tackles as he got a little more action within the Colts' defensive front. And Tarell Basham provided two really nice quarterback pressures and hits as he continues his late-season surge. Those are all terrific ways for these rookies to enter the offseason with a little momentum.
— With four receptions, Jack Doyle passed Dallas Clark (77) for the second-most receptions by a tight end in a single season in Colts history.
— With his 54-yard field goal in the fourth quarter, kicker Adam Vinatieri tied Jason Elam (39) for the seventh-most made field goals from 50-plus yards in NFL history.
— Pagano finished with a 56-46 record as head coach of the Colts and led the team to three consecutive 11-5 seasons and playoff appearances in his first three years. After Sunday's win, Pagano is 6-0 in regular season finales.