 ](http://careyindiana.com)
NEW YORK – What stood as a possible noteworthy day in Colts history with the chance for Tony Dungy and Marvin Harrison to be voted into the Pro Football Hall of Fame ended with disappointment as the franchise's winningest field leader and wide receiver fell short of the votes needed to achieve the NFL's highest individual honor.
Dungy and Harrison were among four first-time eligible nominees, and they will have a future chance to gain induction.
They were not among the Class of 2014 inductees that includes linebacker Derrick Brooks, tackle Walter Jones, wide receiver Andre Reed, defensive end Michael Strahan and cornerback/safety Aeneas Williams, while Ray Guy and Claude Humphrey made it off the senior list.
Harrison would have become the sixth wide receiver to enter on a first ballot, joining Raymond Berry, Jerry Rice, Steve Largent, Paul Warfield and Lance Alworth.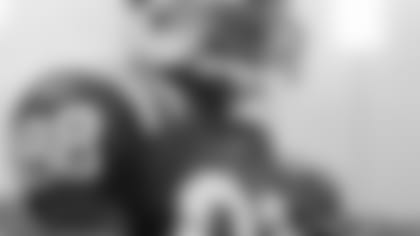 In 190 career games, Harrison caught 1,102 passes for 14,580 yards and 128 touchdowns.  Harrison's receptions were second in league history upon retirement.  His 59 100-yard games ranked third.  He set the NFL seasonal record with 143 receptions in 2002.
"There was basically no discussion, zero.  It was startling, especially for a first-year guy in the room," said 10-year voter Ira Kaufman about Harrison.  "He didn't garner enough support.  I think maybe the pecking order factor came into play where (some) weren't going to put him in ahead of Tim Brown and Andre Reed.  Reed got in, so maybe that loosens things up for Marvin next year."
From 1999-2002, Harrison became the first NFL player with 100-plus receptions in four consecutive seasons.
Harrison (1999-2006) holds the record with eight consecutive 1,000-yard and 10-plus-TD seasons, with Hall-of-Famers Rice second (seven) and Cris Carter third (five).
By every statistical measure, Harrison ranks among the best.  Indianapolis won 62 percent of the time Harrison played (118-72), and nearly 73 percent of its games when he topped 100 reception yards.
Marvin Harrison Among NFL Career Leaders (Total, Rank)
Reception Totals of Leading Hall-of-Famers, First 150 games vs. Marvin Harrison
RECEIVERS WITH 13,000 CAREER YARDS /100 TDS
Dungy, the first coach to beat all 32 teams, is one of three people (John Madden, Tom Flores) to win a Super Bowl as a player and head coach.
"I'm excited to be a part of the process.  To be down to the final 15 was an honor," said Dungy.  "It's great to be even considered with this group.  It was a good class.
"The Lord moves in his own time.  There will probably be votes in other years.  It wasn't the timing.  It was great to be a part of this process."
From 1996-2001, Dungy directed Tampa Bay to four playoff appearances, a franchise with three winning seasons and playoff berths in the previous 20 years.
From 2002-08, Dungy led Indianapolis to 10-6, 12-4, 12-4, 14-2, 12-4, 13-3 and 12-4* *records.  His Colts teams tied then the league's second-best mark with seven seasons with double-digit victory totals.  His 2003-08 teams set the NFL mark with six straight seasons with 12 or more wins.
Only one Dungy team, his first in Tampa, failed to produce a winning record.  Dungy had 10 seasons with 10-plus wins.
"It's a little disappointing," said Dungy.  "Coach Noll always talked about the mark of a coach is to help your players play better.  To know I had a chance of a couple of first-ballot Hall-of-Famers (Harrison, Brooks, John Lynch) who played for me is exciting."
He took 11 of his 13 teams to the playoffs, and 10 straight appearances from 1999-2008 bested Tom Landry's nine (1975-83) as the most by a coach since 1970.  Dungy ended his career with 10 straight winning seasons, seven times having 11-plus triumphs.
Dungy (139-69, .668 regular season; 148-79, .652 overall) had hoped to become the 23rd coach in the Hall of Fame.  Eighteen of the 22 enshrined have 100-plus wins.
Only Madden (.759), Vince Lombardi (.739), George Allen (.712), George Halas (.682) and Don Shula (.677) had a better regular-season winning percentage than Dungy (.668), and Dungy's overall percentage (.652) would rank sixth-highest among Hall-of-Fame coaches.
"Tony generated 45 minutes of discussion, which I believe is the most of the 17 candidates discussed," said Kaufman.  "I would say 90 percent of the debate on Tony was positive.  A couple people questioned his post-season record – one Super Bowl win and a couple of early playoff flameouts.  That seemed to be the big argument.
"I think he's a worthy candidate.  I emphasized his body of work, which I call historically successful – 10.7 wins per year, the best in the 94-year history of the NFL for coaches with three years of experience.  I can't get around that.  I expect him to be in the Class of 2015."
Dungy won 131 times in his first 200 regular-season games, a victory total exceeded only by Shula (147) and Halas (135), the two-winningest coaches in history.
18 HALL-OF-FAME COACHES WITH 100 CAREER WINS (Regular Season-Overall)
*Won NFL Championship/Super Bowl
There are 12 individuals with Colts ties in the Hall of Fame: defensive tackle Art Donovan (inducted in 1968), defensive end Gino Marchetti (1972), wide receiver Raymond Berry (1973), guard/tackle Jim Parker (1973), running back/flanker Lenny Moore (1975), coach Weeb Ewbank (1978), quarterback John Unitas (1979), linebacker Ted Hendricks (1990), tight end John Mackey (1992), coach Don Shula (1997), running back Eric Dickerson (1999) and running back Marshall Faulk (2011).