INDIANAPOLIS —"Today, the draft is such that there's no secret who the first- and second-rounders are. It's in the bottom half of the draft that you make a living. Those are the guys that give you a solid base for your franchise."
Dom Anile wasn't the first NFL scout to come up with this strategy for the draft.
He just happened to be better at executing it than pretty much anybody else.
Anile, who served as Hall of Fame general manager Bill Polian's right-hand man for several years with both the Carolina Panthers and the Indianapolis Colts, recently passed away, Colts owner Jim Irsay tweeted Monday night:
Anile initially gained notoriety as the head coach at C.W. Post, where he became one of the winningest coaches in Division II history, compiling a record of 84-34-1 from 1968 through 1979. It was there that he met Polian, who spent time as the defensive coordinator at the U.S. Merchant Marine Academy, also in New York.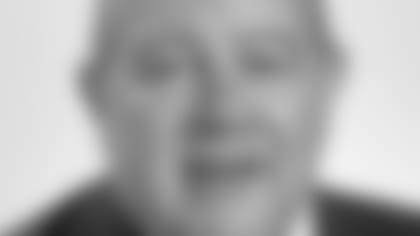 In 1983, Anile began his legendary NFL scouting career when he joined the Cleveland Browns, where he spent 10 seasons. While there, he was instrumental in the selection of running back Earnest Byner in the 10th round of the 1984 NFL Draft, wide receiver Reggie Langhorne, a seventh-round selection in 1985, and offensive lineman Tony Jones, who went undrafted out of Western Carolina in 1988, according to an August 1998 Indianapolis Star article.
In 1994, Polian had joined the expansion Carolina Panthers as their first general manager, and brought Anile on as his player personnel director. The two helped shape the new franchise into an instant winner; Carolina went 7-9 in its first season before finishing 12-4, winning the NFC West Division title and advancing to the NFC Championship game in just its second season.
Polian moved on to the Colts in 1997, and in 1998, he selected quarterback Peyton Manning with the No. 1 overall pick in that year's NFL Draft. Just five days later, Polian hired Anile to be the team's director of football operations, as the GM and team President needed a senior-level executive to help rebuild the organization's entire scouting structure.
With Anile beefing up the scouting staff, the Colts would have some of their most successful drafts in franchise history over the next few years. He was instrumental in the selection of edge rusher Robert Mathis in the fifth round of the 2003 NFL Draft, among others, and was credited by Polian with finding undrafted gems like center Jeff Saturday (1999) and running back Dominic Rhodes (2001), each of whom were instrumental in the Colts' victory over the Chicago Bears in Super Bowl XLI.
With the Colts, Anile would serve as director of football operations (1998-2003), assistant general manager (scouting; 2004-05) and player personnel consultant (2006-09).
In 2015, when Polian was formally inducted into the Pro Football Hall of Fame, he mentioned a few key "personnel executives who have truly been partners in building our teams." One of the three mentioned by name in Polian's enshrinement speech? Dom Anile, who "helped create a system that produced many great teams and many great young men who are now making their mark in the NFL."