 ](http://careyindiana.com)
INDIANAPOLIS – Chuck Pagano's "Build the Monster" mantra enters year three, and a program that has produced the NFL's fifth-best record from 2012-13 (22-10) looks to reach greater heights.
To help do that, the Colts got down in the dirt on Tuesday to nab defensive end Arthur Jones from Baltimore.
Jones, 6-3, 315 pounds, joins an Indianapolis defense that still is forming its 3-4 identity, and he brings multi-position talents that can help.
"He adds good power and stoutness.  Arthur is a heck of a run-stopper," said Cory Redding, one of Pagano's first additions in 2012.  "He has a high motor.  He was my little rookie mentee in 2011.  He's going to be really good for our d-line."
Redding has been a 29-game starter in Indianapolis on a defense that has ranked 26th and 20th overall in his two seasons, 29th and 26th against the rush. 
Having better production will help as Indianapolis tries to remain among the seven teams that have reached the playoffs the last two years.
Redding sees Jones as a building block.
"The biggest thing is stopping the run," said Redding.  "That's first and foremost that he can do, and I've seen him do it. 
"He can create consistent pass rush.  When it comes to rushing the passer, he has the ability to get off the block, create pressure and get in the quarterback's face.  If he doesn't get the sack, he'll get some pressure."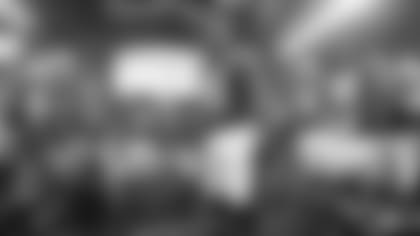 The Colts upped their sack production by 10 in Pagano's second season, while whittling their rushing yards per game average by 12 yards to 125.1.
The rushing numbers paled to the Ravens, who ranked fourth in the conference with a 105.4 average.
Like Redding, Jones had to grow into the Baltimore system.  A rookie special teamer, Jones soon found his role and opened 19-of-30 games the last two seasons.  He had 99 tackles and 8.5 sacks over those outings.
"When you played for Baltimore, they were stocked with players," said Redding, who played there from 2010-11.  "You had second-string guys who were potentially starters and you come, you have to find your way on the team. 
"You have to make it on special teams and wait on your chance to start, and that's what Arthur did.  By his third year (2012), he was a starter.  That's pretty much how it goes there."
Jones got solid on-the-job training with the Ravens, and Redding views that as a great proving ground for any Colts player who does not start a career in Indianapolis.
"Of course (it is), just to be around the caliber of players they have, to be around the same type of defense that they run there and what we run here with a mixture of different things," said Redding.  "To learn how to play the scheme preparing to come here, Baltimore would be a good stop."
Jones expressed excitement Tuesday and said he is ready to join his new team, a former coach (Pagano, who was his defensive coordinator) and a prior advisor.
"(Redding) was a guy who was a mentor for me in Baltimore," said Jones to SIRIUS Radio.  "He helped me develop as a player and as a man.  Any time I needed anything, I would call and ask him for his opinion.
"Just to have the opportunity to play with him again is awesome.  He's just as excited as I am, and we can't wait to terrorize running backs and quarterbacks together."