 ](http://careyindiana.com)
INDIANAPOLIS – In a sport when only the present matters, the Colts hope to repeat past success when they visit Tennessee on Thursday on the NFL Network.
The Colts will be trying to remain undefeated on the network, a streak spanning six games and dating back to the 2007 season.
Indianapolis, 6-3, meets the Titans, 4-5, in a game pivotal in the AFC South race.  The Colts own a two-game lead over Tennessee with seven games left and while these combatants meet again in two weeks, positioning means a great deal before the Titans arrive in Indianapolis on December 1.
This is the sixth straight year the Colts have met a divisional foe on Thursday on the NFL Network.  Last year, Indianapolis took a 27-10 victory at Jacksonville.
The last time the Colts and Titans battled on this stage was in 2010, when Indianapolis snapped a three-game losing streak with a 30-28 victory in Nashville.  It was the first of four straight wins that led to a seventh divisional title.
The Colts are coming off a 38-8 home loss to St. Louis, while Tennessee fell at home last Sunday to Jacksonville, 29-27.  The Colts are 2-0 in divisional play, while Tennessee is 0-2.  Indianapolis has beaten Jacksonville (37-3) and Houston (27-24).
Chuck Pagano says the club will manage the accelerated pace, and that pace gives the club a chance to compete again quickly.
"It's tough obviously.  Guys came in right after the game (Sunday) and started working," said Pagano.  "You always get ahead the week before.  It is what it is.  You deal with the time that you have, the circumstances that are in front of you.
"Coming off the disappointing loss to the Rams, (we) really can't get on the field fast enough. You put a plan together, get the preparation done and get your legs back.  It's good in a sense that you get a chance to get back on the field and get the bad taste out of your mouth."
COLTS HISTORY ON NFL NETWORK/THURSDAY NIGHT
Colts 31, Atlanta 13 (11/22/07) –Playing on Thanksgiving for the third time in franchise history, the Colts turned a 10-0 first-quarter deficit into a decisive victory with a 31-3 burst in the middle two periods.  Peyton Manning (22-32-272, 3 TDs/1 int.) hit TD passes to Reggie Wayne (23 yards), Dallas Clark (8t) and Ben Utecht (5t).  Indianapolis' defense allowed 250 yards and had two sacks and two interceptions.
Colts 31, Jacksonville 24 (12/18/08) –Erasing a 14-point deficit and two 10-point deficits with 17 fourth-quarter points, Indianapolis clinched a seventh straight playoff berth under Tony Dungy.  Keiwan Ratliff's 35t interception return with 4:48 left gave Indianapolis its only lead. Manning's outstanding performance (29-34-364, 3 TDs) helped pace the Colts, while Wayne (41t), Clark (1t) and Dominic Rhodes (10t) had scoring receptions.  The Colts defense had three sacks.  Manning set a club record by completing 23 consecutive passes, dating back to the previous week.  Dungy became the only post-Merger coach to lead 10 consecutive teams to the playoffs. 
Colts 35, Jacksonville 31 (12/17/09) –Indianapolis extended its NFL record with a 23rd consecutive regular-season victory and also produced its 115th victory of the decade, an NFL record.  Manning was 23-30-308, 4 TDs/1 int.  Clark had two scoring receptions, while Wayne had a 65t reception.  It was the seventh fourth-quarter comeback win of the season and pushed the club's record to 14-0.
Colts 30, Tennessee 28 (12/9/10) –The Colts scored the game's first 21 points and led throughout.  Manning was 25-35-319, 2 TDs, while Adam Vinatieri hit three field goals.  Pierre Garcon had 1t and 19t receptions.  The Colts had 14 points off Tennessee turnovers.
Colts 19, Houston 16 (12/22/11) –Wayne's 1t scoring reception with 19 seconds left gave the Colts their only lead and their second win of the season.  Dan Orlovsky posted the starting win that included four Vinatieri field goals.  It was the Colts' second win in five days.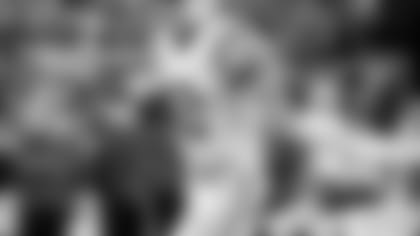 Colts 27, Jacksonville 10 (11/8/12) –A 17-0 start turned into a decisive road win behind 5t and 1t Andrew Luck scoring runs and three takeaways by Darius Butler (two interceptions, one was an 11t play).
COLTS ALL-TIME THURSDAY GAMES (*Thanksgiving)
Luck will be making his fifth prime-time start on his second condensed regular-season playing week.  Like Pagano, he is eager to return to the field.   
"I don't know if there's a (preparation) secret," said Luck of the short week.  "I think it's a revolving way of trying to find the best way to do things.  It's important to make sure you get your body prepared as well as get your mind fresh. 
"It's fairly condensed, but you make it work.  Everybody's in the same boat with a Thursday game.  Everybody has to play a Thursday game at some point.  Our coaches do a great job.  I know we'll be prepared."