 ](http://careyindiana.com)
INDIANAPOLIS – Last year, the 9-4 Colts traveled to 11-2 Houston to try to keep the Texans from clinching a second straight AFC South crown.
The Reliant Stadium turf had been a deciding surface three times previously, but it was the Colts who had nailed down division titles there with victories in 2003, 2004 and 2009.
Indianapolis kept it close before falling, 29-17.
With a two-game AFC South lead over Tennessee and five remaining division battles, the Colts (5-2) make a return to Houston (2-5) knowing post-season hopes are very much in play.
"They are the reigning division champs," said Andrew Luck.  "To get where we want to go, we got to go through them."
Indianapolis plays a second straight game on Sunday Night Football, having bested Denver, 39-33, on October 20 before observing a bye week.
Houston dropped a 17-16 verdict that day in Kansas City, a fifth straight setback that also led into an open date.
The two-time division titlists have had a rocky season after a 2-0 start.  Talk in the Texans camp has this as a "win now" playoff-type mode.
"We understand the magnitude of the game.  We understand how we got to battle to get ourselves back in this thing," said Gary Kubiak.  "What we're trying to do is focus on ourselves.  Until two weeks ago, we had played such error-filled football.
"We had been hurting ourselves so poorly that we're really just trying to refocus on ourselves."
In addition to losing by a point at Kansas City, Houston fell in overtime at home to Seattle, plus dropped other contests by 21, 31 and 25 points.  Case Keenum opened at quarterback against the Chiefs, and he will be making his first-ever home start Sunday.
"It's first and foremost, huge" said Pagano of the Colts' aim of winning the South to reach the playoffs.  "We know what our ultimate goal is.  Our number one goal is to win the division.  The road to winning the division goes through Houston.
"They've won it the last two years.  We have to go there and play very well, try to win this game in order to give ourselves a chance to win the division.  Our total focus is on Houston.  To win the division, we have to beat them."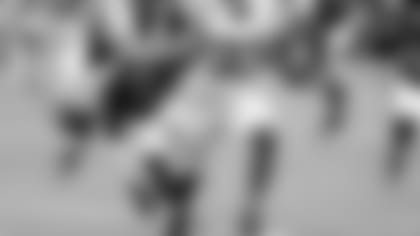 Though Indianapolis is 7-4 in Houston, it has lost its last three outings there.  Last year, the Colts twice squandered possessions deep in Texans territory, cutting a 10-0 deficit only by three points.
A blocked punt for a touchdown, 11 receptions by Andre Johnson (151 yards), three sacks and a forced fumble by J.J. Watt and 79 of Arian Foster's 165 rushing yards coming in the final quarter tipped the crown to Houston.
"Even though we've lost five straight games, I don't think the attitude around here has been negative at all," said Johnson.  "Everybody's been positive because we know that we can get it turned around if we play the way we know how to play."
Robert Mathis was with the Colts when they clinched AFC South titles in Houston.  Mathis knows the highly-competitive nature of divisional contests.
"It's familiarity.  Teams know each other," said Mathis, who will be in his 40th prime-time regular-season game Sunday.  "A lot of teams are designed to beat other teams, and that's normally within your division.  It's kind of like a dogfight.
"There's a saying, 'To be the champs, you have to beat the champs.'  They are the champs.  To get it back, we have to go there and handle our business."
Returning home to play, Luck is focused only on 60 minutes Sunday.
"We realize they're a professional football team.  They prepare to win every game just like us," said Luck.  "Right now, it's us versus the Texans, records out the window.  They are the reigning division champs.  To get where we want to go, we got to go through them."
SAUNDERS BACK – Weslye Saunders has rejoined the Colts after being released July 25 and serving a league-imposed substance suspension.  Saunders started four-of-11 appearances in 2012.
"Wes served his suspension, did a great job while he was away.  (It's) good to have Wes back in the fold," said Pagano.  "We would never have (brought him back) if we didn't feel everything was behind him.  He understands he's been given a great opportunity, again.  We expect him to take full advantage of (it)."
Said Saunders, "I'm 24, I feel like I have the rest of my life ahead of me.  In my head, I felt (the Colts) hadn't given up on me, thank goodness.  The guys accepted me.
"I'm from Indiana, I want to make everybody proud, be the guy I know I can be.  Be a guy with character, not a character."
PRACTICE REPORT – Did not participate:  CB-Josh Gordy (groin), S-Delano Howell (neck), CB-Greg Toler (groin); Limited Participation:  LB-Cam Johnson (knee); Full Participation:  C-Samson Satele (knee), LB-Bjoern Werner (foot).