 ANDERSON – Tuesday was a day pleasing to Pat Angerer. 
The fourth-year linebacker was cleared to the active roster.  It is the first step of what is a hopeful speedy return, though Angerer wants to proceed prudently.
"We have been pretty smart about it so far," said Angerer.  "I am usually dumb about injuries, and they have done a good job of toning me down a little bit.  We are going to be smart about it and ease into it."
The move spawned a wide smile because Angerer does not want 2013 to be anything like his third professional season.
On the first play of last year's preseason opener, he broke the fifth metatarsal bone in his right foot.
Angerer said doctors performed a "tough surgery" where "maybe 10 percent don't heal."  He was told six-to-eight weeks was the recovery period.  His assessment was, "I'm thinking four."
Angerer returned for the sixth game and started three-of-11 outings.  A season fulfilling for his team that went 11-5 was not so on an individual basis.
His contributions did not meet personal standards as he fought through the recovery.  More than once, he admitted it was tough mentally not being healthy for the first time in his career.
On-lookers who were not here when Angerer was drafted 63rd overall in 2010 were impressed by the performer whose 146 tackles in 16 starts in 2011 ranked fourth in the NFL.
"He's a true warrior," said Bruce Arians.  "I don't think there's anyone more respected in the locker room than Pat.  Eighty-five percent of him might be better than 100 percent of a lot of guys."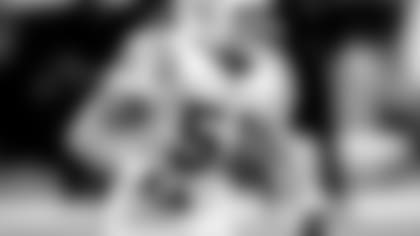 "The most important thing about Pat Angerer is he's a football player through-and-through," said Greg Manusky today.  "I love the ability he has on the field, along with his mental capacity. 
"Pat's a great football player.  He brings a little bit of leadership when he comes back, so we're excited to have him back.  He's a tough, physical player.  He made a decent amount of plays last year, even on a bum foot.  We're excited to get him back."
Angerer underwent a second surgery on his foot this past January.  It was a process to further speed him through an extended period of rough road.
"It was one of the worst mental years of my life," said Angerer.  "A lot of people go through worse things.  It was very frustrating.  I'm sure it was harder on my wife, Mary, to put up with me.  She did, she stuck with me. 
"You want to be healthy and play well.  Sometimes you can't, so you have to push and fight your way through it."
Angerer was part of a small number of players who called the training room "home" this past off-season.  His rehabbing group consisted of Ben Ijalana and Fili Moala, among a couple of others.
"I was pretty much there every day," said Angerer.  "I got a little family vacation, but it wasn't much of an off-season.  It was nice to stick around and get worked on. 
"There were a few of us.  The medical staff pushed us, kept us on track.  They worked hard and put up with our mood swings."
Angerer went through some paces Tuesday and Wednesday in the morning walk-through, but spectated in the afternoon while the team worked. 
"Me and Fili have been doing a lot of bag drills, speed stuff, a lot of conditioning," said Angerer, "pretty much anything these trainers have come up with.  They have done a great job of keeping us geared in and kept pushing us."
Getting back for preseason play was the intended timeline for his return, and Angerer will play when cleared.   
"That was kind of the game plan to see how I felt, and we pretty much pushed it to the max with the trainers.  We have done pretty much everything but hit each other," said Angerer.  "I have responded pretty well and I feel good, so I think it's more than fitting.
"Whenever they think I'm ready, I'll play.  I'd like to play.  I definitely need the reps.  I need to get better.  There's a lot of work I need to put in, but this is the first step.  I look forward to it.  It's going to be fun to get back out there."
In a spirited practice, the nod goes to a red zone scoring toss from Andrew Luck to Reggie Wayne on a quick-hitting pass in the middle of the end zone.  Wayne made the usually sharp catch in traffic, most notably on Darius Butler.  Wayne has a number of such impressive catches in his career, and Luck was on money with the throw.
Luck hit 32-of-45 passes for four TDs and one interception in an impressive day when he hit nine straight at one point.  Luck is 272-of-394 for 25 TDs in 7-on-7 or 11-on-11 drills in during camp. 
He teamed twice with Darrius Heyward-Bey for scores (five receptions for DHB on day), along with Wayne and Jabin Sambrano.  The throw to Sambrano was in the red zone and in tight coverage from Greg Toler.  Toler defensed a pass to break up Luck's completion streak.
Heyward-Bey's first TD catch was a near simultaneous one while matched with Vontae Davis.  The two wrestled for the ball for a minute on the ground with each having a reason to keep fighting.  The ruling was a TD.
T.Y. Hilton scored on a reverse with a late move on Lawrence Guy, but the play was ruled dead at the two-yard line by Chuck Pagano – to jeers and cheers.  Kerwynn Williams scored on a long run-after-the catch with a short throw, but was ruled down by the same judge.
Reggie Wayne had seven receptions, but was ruled out of bounds by officials working the practice on one play.  On the subsequent play, Wayne caught a pass over the middle and good-naturedly pointed to the official as he kept running – to the delight of fans.
Matt Hasselbeck was picked off by Darius Butler to end practice.  Hasselbeck hit Justice Cunningham and Dominique Jones with TDs, threading ball to Jones among three defenders.
LB-Shawn Loiseau picked off Luck in the end zone. 
RB-Vick Ballard popped a run up the middle in team work for almost 10 yards before being touched.
In pass rush drills, Robert Mathis sold Anthony Castonzo on a high outside move, then spun low in the opposite direction to get to the quarterback dummy.  It was one of the signature plays in camp against a player having a great camp.
WR-Griff Whalen (groin), CB-Teddy Williams (quadriceps), S-LaRon Landry (knee), CB-Cassius Vaughn (wrist), RB-Ahmad Bradshaw (foot), FB-Dan Moore (shoulder), LB-Josh McNary (hamstring), LB-Mario Harvey, C/G-Khaled Holmes (ankle), G-Danous Estenor, G-Hugh Thornton (ankle), DT-Montori Hughes (stinger) and TE-Dwayne Allen (foot) did not practice. 
Coby Fleener (concussion) and S-Joe Lefeged (calf) returned to practice.  Fleener is cleared for practice, but not games at this point.  Pat Angerer was in pads and worked individually in conditioning drills.
PAGANO SAYS(On Matt Hasselbeck's play against Buffalo)
"His resume obviously speaks for itself.  He went in and he's done a tremendous job on all fronts, in the quarterback room, helping Andrew in year two.  But he's more than capable.  He can run this offense and you've got a great insurance policy in your back pocket."
FEATURED QUOTE (Andrew Luck on the chance to play on national TV this Sunday)
"It's always special to play a Sunday night game, a national broadcast.  It's special for guys. Sunday night, there's a special feel to it.  Preseason or not, you want to go out and win.  You want to go out and perform.  We're all competitors.  We're all athletes, and I'm sure the Giants are saying the same thing.  It should be a good battle."
Nine different non-quarterbacks have thrown touchdown passes in franchise history.  Name as many as possible, including the three who did it in the Colts' Indianapolis era.  BONUS – Who are the three players from the Baltimore era who pulled the feat twice?  ANSWER:  Tom Matte, Lenny Moore and Joe Washington did it twice, while Curtis Dickey, Mike Wood, Don McCauley, Cotton Speyrer, Ken Dilger and Joseph Addai did it once.  Dickey, Dilger and Addai are from the Indianapolis era.
During the club's Indianapolis era (counting the playoffs) Peyton Manning threw six touchdown passes of 80-plus yards.  Who were his targets?  Also, name the franchise's five other quarterbacks during the Indianapolis era who threw one touchdown pass of at least 80 yards, and who were their targets?  See the next Colts Camp Notebook for the answer(s).
TODAY'S ATTENDANCE:  730.  TOTAL FOR CAMP:  36,273.
The weather during Wednesday's morning work was 61 degrees.  The temperature for the afternoon practice reached 66 degrees with wind and sunny skies. 
The next practice for public viewing is Thursday from 1:50 p.m. to 3:55 p.m.