 ANDERSON – Dwayne Allen came to the Colts from a Clemson offense that used him in multiple roles and prepared him well to advance his career.
Taken 64th overall, Allen led NFL rookie tight ends and set a club first-year mark with 45 receptions, and he was one of six Colts to start every game.
With a new offensive coordinator for Allen's second season, he still will be a primary figure in anything the Colts do.
"He'll play a big part in our offense," said Pep Hamilton.  "I think tight ends are the driving force of our versatility with our personnel groupings."
With Hamilton installing pieces of the offense daily as training camp continues, he has every player's attention. 
Allen is a studious type on his own.  He was told by Hamilton early in the off-season that he not only had to know the offense, but that he had to "master" it.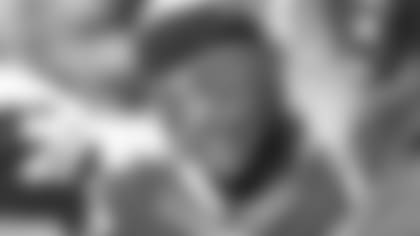 Allen smiled at the command, and all Colts tight ends should notice the production those players had at Stanford in two years in Hamilton's offense.
Cardinal tight ends had nearly as many receptions (179) as wide receivers (206), while their combined yardage total (2,647) and touchdowns (30) led all position groups.  The touchdown total doubled that of wide receivers.
At 6-3, 265, Allen, a Mackey Award winner, is a player who hones his skills on a non-stop basis.
"Goals I have are working on my technique, hand, hat placement, pad leverage, my run after the catch and my protecting the ball," said Allen.  "Those little things are going to help me whenever we get out of training camp.  No matter what role I have, I'm going to be able to do it at a high level."
What is known about the Indianapolis offense is that there is a heavy emphasis on the run.  Hamilton said this week one change he has noticed in moving to the NFL is the fewer padded practices that were at his disposal in college.
"We're a physical, downhill running football team," said Hamilton.  "We feel like you have to work on hardening your knuckles.  That's a big part of who we are, and we need to grind out there and pound a little bit."
Another noticeable thing in early camp work is the versatility in formations used by the club.  One moment flashes the use of a fullback, then there are multiple-receiver sets more familiar to Colts followers.
Regardless of groupings, tight ends are more than window dressing, with Hamilton looking to exploit the size and speed of his performers against defenses. 
Hamilton has tabbed Coby Fleener, a player whom he coached at Stanford, as a mismatch for opponents.  His designs for Allen are multiple, too.
"His (Allen's) overall versatility, his ability to play without the ball is huge," said Hamilton.  "We're going to count on Dwayne to do some heavy lifting but at the same time, he's athletic enough to capitalize on that against DBs and linebackers. 
"We're excited about Dwayne.  He's big, he's physical and he can run fast.  We expect Dwayne to continue to evolve and have even a better year this time around."
Allen studied all previous Mackey Award winners while a collegian.  He wanted the honor for himself and wanted to live up to those who had won it previously.
Mackey is beloved by long-time Colts fans and was the second tight end ever inducted into the Hall of Fame. 
Allen is using his second camp to further study his offense so he can keep making deep footprints.
"I have no goals for the season yet because I don't know my role on this team," said Allen.  "That's because we're in training camp, and I believe that every team's makeup is made during training camp.  
"That's when the coaches are able to take pieces and put them here and put them there.  I'm still waiting on what my role is going to be."
While a key approach for the offense this year is for Andrew Luck to run as little as possible, for the second straight day he rushed for a touchdown.  Today in a spread set, Luck hovered in the pocket before seeing nothing but green ahead of him.  Luck motored about 30 yards for a score.
Andrew Luck hit 18-of-32 passes with one touchdown and one interception, teaming with Reggie Wayne for the score and being pirated by Vontae Davis early in practice.  Davis' interception came on a deep route to T.Y. Hilton, who made the tackle. 
Luck is 106-of-164 for eight TDs in 7-on-7 or 11-on-11 drills in five days.
The Colts defense batted three of Luck's passes and halted him on consecutive red zone possessions midway through practice.  The unit was credited with at least one sack as well as the defense continues to perform strongly in the first week of camp. 
Robert Mathis had one sack and one batted pass.  Kelvin Sheppard could not catch the pass tipped by Mathis.
Matt Hasselbeck completed a tackle-eligible pass for a two-point conversion during action.
Davis had a pass defensed later in practice.  Lawrence Guy tipped a pass.  Delano Howell intercepted a Hasselbeck pass.
Darrius Heyward-Bey snared six passes from Luck during Thursday action, drawing praise from Chuck Pagano for his work over the past couple of days.  One reception was a deep throw. 
G-Hugh Thornton (ankle), C/G-Khaled Holmes (ankle), S-Sergio Brown (hamstring), DT-Kellen Heard (illness), S-Antoine Bethea (wife's child birth), WR-LaVon Brazill (abdomen), LB-Mario Harvey (hamstring), Daniel Adongo (biceps) and Greg Toler (concussion) missed practice.
Bethea is expected to return to camp for tomorrow's work.
G-Robert Griffin was waived and G-Danous Estenor (6-5, 307) of South Florida was signed as a free agent.  The club added C-Thomas Austin (6-4, 310), who has played with Carolina and Houston.  LB-Scott Lutrus was waived-injured.
PAGANO SAYS(On confidence now visible among defensive players)
"You can see it, right?  You can see that swagger coming, right?  Defensively, every time you step on the field, you expect greatness.  You expect to make plays, create turnovers, stop the run.  I think going into year two it's a natural progression that everybody feels more comfortable with the scheme, with their coaches.
PLAYER FEATURED QUOTE (Dwayne Allen on Pep Hamilton's quieter style than previous coordinator Bruce Arians, who use colorful language in coaching players)
"That was his (Arians') way of coaching.  It wasn't considered him cussing you out, it was considered him coaching.  As Coach Pagano said, (you had to have) skin like an armadillo."
Name the year, opponent and site for the times the Colts played preseason games outside of the country.  Who were the Colts' head coaches in those games?  ANSWER:  Indianapolis beat Pittsburgh, 24-23, in Mexico City's Azteca Stadium in 2000.  Atlanta beat the Colts, 27-21, in the Tokyo Dome in 2005.  Buffalo beat the Colts, 34-21, in Toronto's Roger Centre in 2010.  The Colts' head coaches in those games were Jim Mora, Tony Dungy and Jim Caldwell.
How many regular-season games have the Colts played in August?  If it has happened, who was the opponent, the Colts' head coach and the club's starting quarterback?  See the next Colts Camp Notebook for the answer(s).
AFTERNOON ATTENDANCE:  2,475.  TOTAL FOR CAMP:  13,696.
TODAY'S NATIONAL COVERAGE
Dan Wetzel of Yahoo! Sports.
The weather in Anderson on Thursday was sunny and mild.  There was no morning walk-through.  The high for the afternoon session was 79 with sunny skies and wind.  Friday's outlook calls for partly sunny skies with a high of 80 degrees.  Rain is possible.
Friday's practice session open to the public is 9:10 a.m. to 11:40 a.m.  This is a change from the previously scheduled practice session.