Last year was Lexie's first year on the field and her first year in the classroom.
"Everything is such a different feeling this year because you've done it, it's familiar. But yet, it's still so exciting," she says.
For the first grade teacher, starting this school year was a whole different ballgame.
"It was so nice because I could actually look more into the future and see what I wanted my students to achieve and how I could get them there. Where as last year, I was teaching and putting it all together and seeing how they were progressing all at once. So, now I have a little better idea what to expect."
As a Colts cheerleader, she feels the exact same way.
"Last year, I knew what my routines were, but I didn't know how it was all going to come together. So, now I know the big picture of what we're aiming toward and why we're doing the things we're doing. Everything is kind of coming full circle."
And when her two worlds collide, she's a first grade teacher who's also a Colts cheerleader.
"I'll hear conversations at school sometimes from kids who walk by my classroom and they think they're being quiet and sly and they'll whisper, 'She's the one that's the Colts cheerleader.'"
Some of her students are just as enamored.
"I had one of my little ones' moms email me a picture of her standing in front of the TV and they paused the screen when there was a tiny snippet when I was on the game. She had the biggest, cheesiest grin," she says. "It was adorable."
It's a reminder of the people who inspired her growing up and how important those influences are.
"On a level like the NFL, it's something that seems so far out of reach for a lot of people and it's nice to make that connection to people to make it seem achievable. If you don't make something like this seem real, then it's hard to want to fight for it," she says. "That's where the guys on the field got their connections – why they're here, because somebody has impacted them. It's why a lot of us are here, because there's somebody in our lives that made it seem like this goal is achievable."
And Lexie wants to be that somebody for the young people in her life. She does it through teaching and through her involvement with the Colts Junior Cheerleaders.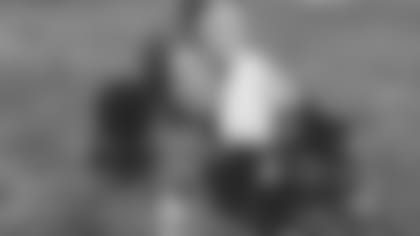 "During the week, I teach six and seven year olds. On the weekends, I have the oldest group in junior cheer. So, my group is from 11 to 13. So, I get literally the complete opposite spectrum. These girls are almost teenagers or preteens, so I try to step a little bit away from, 'I'm the adult,' to 'I'm here to be your friend, but also to be somebody that you can look up to.'"
No matter the age, Lexie has one goal for all the kids she spends time with – to make them feel loved.
"I make sure when they walk in the room if they want to give me a hug, that's the first thing that I do – they get a hug and a good morning. And when they leave, they get a high five or a hug. Because if they get in trouble throughout the day or if there are issues throughout the day, I at least want them to walk in with something positive and leave with something positive."
Lexie's 2018 Colts Cheerleaders Swimsuit Calendar Shoot in Punta Cana, Dominican Republic.