She's an Indiana girl at heart.
Sable grew up in Bedford, Indiana and started dancing early on.
"I've been dancing forever – as long as I can remember. As soon as I could enroll in the studio is when I started dancing," she says. "Off and on, I sort of switched between cheerleading and dance. And when I was younger, I also did basketball and tennis and a few different things. And this is more what I stuck with as I got older."
When it came time to go to college, Sable followed her heart to a private Christian college, Warner Pacific, in the Pacific Northwest. Her freshman year, she learned a lot about herself – mostly, that she was too far from home.
"When I was out in Portland and missing family and thinking about making the move back, that's when I first decided to look into becoming a Colts cheerleader," she says. "I thought, 'Why don't I reach out to Mariah and ask her about Colts cheerleading and what all that entails and if that's something that I could go for and really love.'"
A four-year veteran of the Colts Cheerleaders, Mariah also grew up in Bedford. She and Sable have been lifelong friends. They grew up together, they danced together, and they're now roommates and teammates, cheering for the Colts together.
Performing is something that has always been in Sable's blood.
"I just love performing. It's just so neat to be able to take choreography and bring it to life," she says. "Not only dance, but singing and music. Performing as a whole is what I feel like I've always been led to do. I feel like God has given me that and it would be sad not to do that and not to walk in that when it's something you've felt called to do your whole life."
And performing is something she's done her whole life.
"Growing up, I was in choir all throughout school. I did musicals here and there, but I sang a lot in church. That's always been consistent. I'm actually super excited, I'll be doing worship with Grace Church in Fishers in January," she says. "I get fulfilled doing worship and singing for God and it brings me joy to bring other people into that."
Becoming a Colts cheerleader has given Sable a platform for her music as well. She had the opportunity to sing the National Anthem at the Colts 5K and perform on stage at the Concert for Legends at the Pro Football Hall of Fame.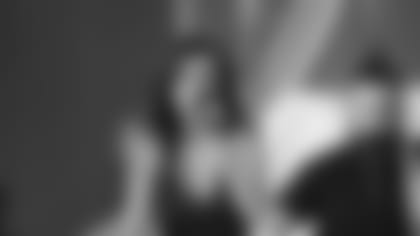 "It's been so cool to be able to use that here," she says. "Going into it, I didn't even think that would be an option, but getting to use that several times throughout the season has just been so special and I'm really grateful for that, that they believe in me and think that I'm good enough to represent them in that way."
For Sable, the last year has been one of growth, faith, and finding her place in the world.
And what she found was that she never really had to leave.  
Indiana had everything Sable was hoping to find.
All she had to do was look around.