 INDIANAPOLIS – Sunday will be the hopeful fruition of a number of things for the Colts' offense.
On the field for the first time is Ahmad Bradshaw, a two-time 1,000-yard rusher.  Also, Dwayne Allen will play after missing four preseason games.  His positional accomplice, Coby Fleener, is back after missing the last two games.
Darrius Heyward-Bey will make his debut and among a small flurry of new faces will be Donald Thomas and Gosder Cherilus – two key off-season additions imported to bolster an offensive line that should be intact when Oakland visits.
The line was a key target for Ryan Grigson after he watched his "walking wounded" open games with the intended five starters on only four occasions last year.
Anthony Castonzo should return from a knee injury in the third preseason game to give Indianapolis the line of its intentions.
"Just kind of progress(ing) a little bit each day and when I'm cleared to go, I'm going to go," said Castonzo Wednesday.  "I'm looking to be cleared as soon as possible.  As soon as I feel like I'm ready to go, I'll definitely be out there."
While Castonzo couched his words, Chuck Pagano indicated the third-year tackle is on track to extend his 24-game starting streak at left tackle.  
With many components scattered so far this year, Andrew Luck said there is no grace period for getting acquainted.
"I don't think you can afford a 'get to know' phase or week," said Luck.  "From what I've learned in my year in the NFL, lineups change constantly.  People get hurt.  It's the nature of the game. It's 'next man up.' "
Stating the obvious is one thing and performing it under pressure is another.  Transitioning from mental reps to physical ones is a must for being a pro.
"You've got to be seamless," said Luck.  "Things change, but we're all very, very comfortable with each other.  There's so many guys that can play, so many guys that can play different positions that whoever is out there, we'll do the best to our abilities."
Castonzo and Mike McGlynn were the only 16-game starters on the line last year, but McGlynn shifted to center for more than half of the home outings against Minnesota and Jacksonville. 
Nine times in 2012 Indianapolis needed in-game adjustments because of injuries, while a total of eight different players started games.  The offensive line used seven starting alignments, never opening more than three straight games with the same unit. 
A portion of preseason was spent on determining players such as Jeff Linkenbach and Joe Reitz who provide the best multi-position value.
"We feel like we've done the right things as far as working guys in," said Pagano.  "We saw Joe (Reitz) do a nice job, and you've got enough guys with enough position flexibility within that group of linemen that we kept.  
"Guys can mix and match.  We'll put five guys out there that can function.  We plan on having A.C. (Castonzo) in there.  If something happens (and) we've got to shuffle the deck, then we've got guys who have gotten work and we feel good about."
Castonzo was not flagged for a holding call in 12 games as a rookie in 2011.  He has become an established veteran quickly after being the 22nd overall pick that year. 
Despite fluctuations on other offensive units in preseason, he is comfortable the line is ready to perform at its peak.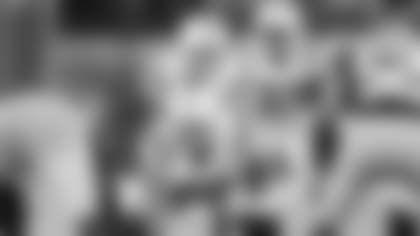 "Yeah, just (for) the fact that we had the whole preseason," said Castonzo.  "We were together most of the time, and we're all real comfortable with each other.  I feel like whenever I step back in there, Mike (McGlynn) is in there, we're all real comfortable with each other."
The aim for Grigson and Pagano is to keep a clean pocket for Luck and to open rushing holes for Bradshaw and other backs in the re-vamped offense.
As the clock ticks toward Sunday, Luck mirrors Castonzo's feelings as the regular season crunch nears.
"I'm very comfortable behind the offensive line," said Luck.  "It's not just the five guys that start, there's eight or nine guys that can play.  You do find out.  This is the true measuring stick outside training camp and preseason games.  This is where you find out."