 INDIANAPOLIS – Andrew Luck had one of the most successful rookie seasons in NFL history, yet the line behind which he played last year endured the microscope.
Luck was hit a number of times in 2012 and his mobility allowed him to escape the pocket on other occasions.
While there can be valid criticism leveled at all units on a team, the line is a lightning rod in a pass-happy league.  It can be even more so when a truly gifted quarterback is under center.
General Manager Ryan Grigson lamented the health of the unit last year, calling the line "the walking wounded." 
Grigson's point is well-taken and not exaggerated one bit.  On only four occasions did the club open with the intended unit targeted at the season's outset.
Nine times in 2012 Indianapolis needed in-game adjustments because of injuries, while a total of eight different players started games.  Despite the lineup juggling and the youthful nature of other positions, the club earned 11 wins and made the playoffs.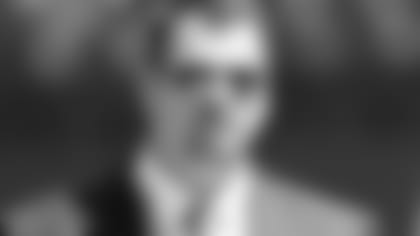 "We had so many guys just dinged up.  The fact that we were as versatile as we were was something," said Grigson.
The line was targeted by Grigson in his approach to 2013, and here are some burning questions awaiting the unit.
This year's unit ranks as one of the biggest in the club's 30-year Indianapolis era.  All of the 16 linemen on roster top 300 pounds, with center Samson Satele (300) being the lightest of the group.
The Colts ran effectively in the 1980s with a beefy line anchored by Ray Donaldson and Chris Hinton.  Though there are no multiple Pro Bowlers on the unit, the size and construct of the offense should solidify a rushing attack that will be applied on a greater basis during the season.
IS MIKE McGLYNN THE STARTER AT RIGHT GUARD?  HOW ABOUT SAMSON SATELE AT CENTER?
No other returning lineman is drawing more attention than McGlynn.  A free agent addition in 2012, McGlynn is a gritty battler. 
He slid in from guard to center for two-thirds of the comeback win over Minnesota and for half of the home game against Jacksonville.  A player without talent and heart could not do that.
A couple of linemen from last year do not remain.  McGlynn does, and he and left tackle Anthony Castonzo were the only two linemen to open each game.
If someone else starts, they will have to take it away.  "Mike is a grinder that came to work every Sunday last fall and could be counted on by the staff and his teammates to play snap-to-whistle," said Grigson.  "In one word, he is 'reliable.' "
Satele missed five games and was knocked from action in three others.  "We had and continue to have high expectations for Samson," said Grigson.  "He unfortunately was hampered by injuries for the first time in his career last year and it obviously slowed him down.  From what we've seen thus far we are optimistic. 
"Mike and Samson are both working their tails off and their focus is obvious.  They both have been around it long enough to know what is expected and the level they need to play at week in/week out for us to be contenders in this league." 
IS BEN IJALANA PART OF THE MIX?
A former high pick, Ijalana has had two very significant knee injuries.  The second one came in a training camp-opening drill last year.  The first one happened at Tampa Bay in 2011 when Castonzo was hurt and Ijalana had a clear shot to contribute.
Ijalana has been targeted to be cleared for camp.  He is toiling now under a new regime.  Here's hoping he can make a push after two very difficult setbacks.
CAN ANDREW LUCK BE PROTECTED BETTER?
He must be, and two new components – Gosder Cherilus and Donald Thomas – were added in free agency.  Two early draft picks – Hugh Thornton (D3) and Khaled Holmes (D4) – were spent as well.
While protection includes contributions from beyond just the line, being solid up front is a key assignment.  "Every single day we want to keep 12 (Andrew Luck) upright," said line coach Joe Gilbert.
One stat service estimated Luck was hit 148 times among his 41 sacks last year.  Counting sacks, hits and hurries, that estimation ballooned to 245.  Ouch. 
One certainty in addition to the sacks was the nine times opponents were flagged last year for illegal hits to Luck.  Some of those hits that totaled $129,000 occurred downfield, but Gilbert is right – 12 is a target.