Cards, chocolate, and roses are traditional ways to express love on Valentine's Day.
But for Ryan Michael, that just wouldn't do.
"I've been a huge Colts fan since the day they moved here when I was a little kid," he said. "I've been a Colts season ticket holder ever since I graduated college 20-some years ago."
As a season ticket member, he got an email about a Valentine's Day visit from Colts mascot, Blue - and he knew just what he needed to do. 
"I took my daughter with me to a game when she was a baby, took her with me to games as she grew up. She's always been a Colts fan and she loves Blue."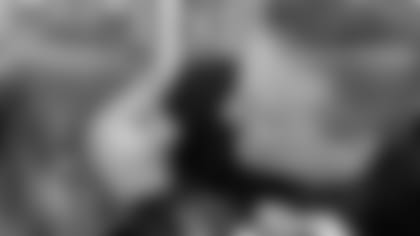 Ryan wanted to make his daughter feel special, so he nominated her for a Valentine's Day visit, saying it would make her day if Blue came to see her at school.
On the morning of Valentine's Day, Adeline sat in her third grade classroom at Hershey Elementary in Lafayette when Blue stumbled in, greeted her with a hug, and left her with some special gifts - including Colts gear, air pods, and a Quenton Nelson signed football.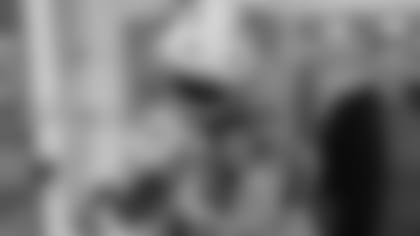 But the real gift went to Ryan, who was able to give his daughter a precious memory - one he and his family will cherish forever.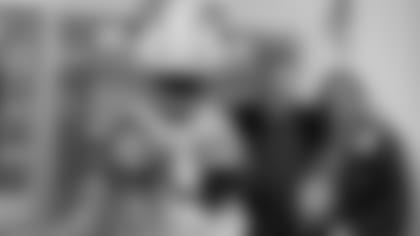 "It was priceless," he said. "It's amazing to be able to do something like that and put a smile on her face. The kids all love Blue. We have the best mascot in the NFL by far."
Maureen Bell and her husband have been Colts season ticket members for 15 years. Their daughter, Bridget, loves to go to games and dance along with Blue.
"She brightens the day of everyone around her with her sweetness, sense of humor, and pure joy," she said. 
A freshman at Hamilton Southeastern, on Valentine's Day, Bridget walked into her classroom to find a giant blue horse bearing gifts.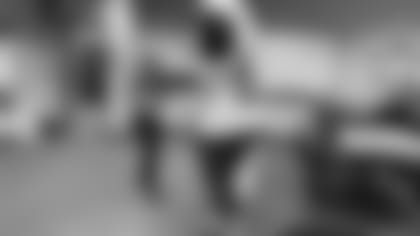 "Blue!" she exclaimed before inviting him to dance. 
Afterwards, she walked him around - introducing him to her classmates and teachers in other rooms.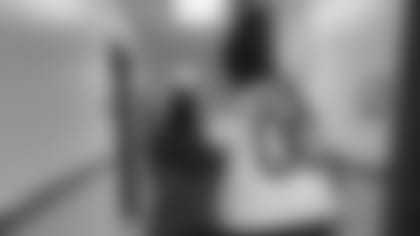 Bridget's desire to share her joy with others is one of the reasons her mother nominated her in the first place. 
"She's always so upbeat and she gives a lot to other people," she said. "I wanted to really make the day special for her."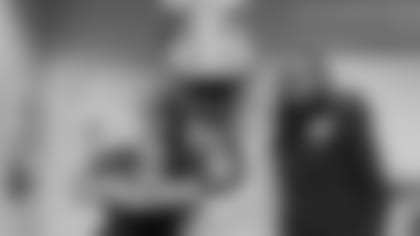 A surprise visit from her favorite mascot was the perfect gift.
"We're going to be hearing about this for a long time to come," Maureen said.
A teacher at Sugar Creek Elementary in New Palestine, Kara Ragsdale wasn't sure what to expect when she went into work on Friday.
"I was nervous all day thinking, 'What's he going to do?'"
Her husband, Nick, has a habit of surprising her on Valentine's Day.
"Last year, he surprised me with a quartet of singers - so I thought, 'How can you top that?'"
How about a visit from the Colts mascot?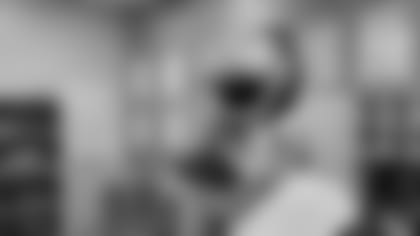 "This clearly topped that, for sure," she laughed.
For eight years, Nick and Kara have been attending Colts games as season ticket members. It's something they enjoy doing together. 
"We just love going to the games and the energy that you feel in the stadium and the support of the city of Indianapolis," she said.
But it was Kara's support of Nick and their family that inspired him to nominate her for a Valentine's Day visit from Blue. 
"I think he doesn't always express how he feels on a daily basis about the things that I do," she said.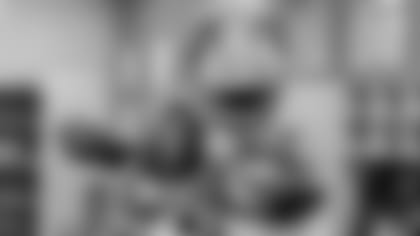 This year, he let Blue express it for him - and it was a gift for the whole class.
"My students love Blue and I love Blue, so I could not have asked for a better Valentine's Day," Kara said.
For some, Valentine's Day isn't just about love - it's also about loss.
Melanie Oakerson and her family are missing one of their own this year and her mother, Carolyn Metsker, is especially heartbroken.
"We lost my dad, her husband, in September," she said. "This is her first Valentine's Day without him in 51 years."
A season ticket member for the past two years, Melanie was hoping to get her mother to a game last season, but her father wasn't well enough for her to go.
On Valentine's Day, the family was gathered at Carolyn's house in Losantville when a big, blue ball of love barged through the door.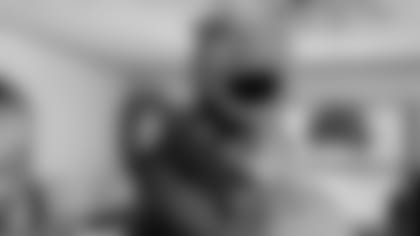 "She's a huge Colts fan. She never misses a game on TV," Melanie said. "I thought she deserved this and it would cheer her up."
Blue filled the room with love and laughter, gifting Carolyn with Valentine's Day surprises and gifting her family with a smile they hadn't seen for quite some time.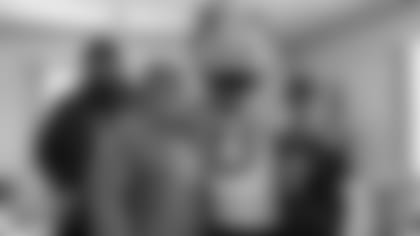 "He makes me laugh," Carolyn said.
For her, it was a gift that couldn't be bought.
A parent's pride, a husband's gratitude, a daughter's sorrow - sometimes, the best way to say "I love you" is to say nothing at all.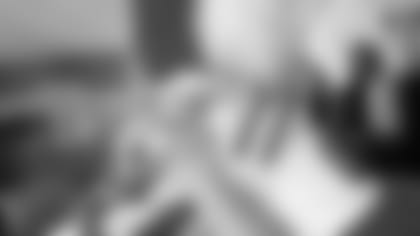 Sometimes, the best way to say "I love you" is to send a professional to do it for you.