INDIANAPOLIS – Monday's uncommon practice for the Colts saw the absence of one vital figure.
Andrew Luck did not participate in Monday's light (walk-through) practice.
When the quarterbacks got together for individual drills late Monday afternoon, Scott Tolzien and Stephen Morris (practice squad) were the only two signal callers present.
Chuck Pagano said after practice that Luck is in the concussion protocol.
Luck's status for Thursday's game against the Steelers is definitely up in the air.
Here is the Monday notebook with Pagano and players meeting the media as the short week preparation is here with the Steelers coming to Indy on Thursday night:
**When Thursday night games come, teams must produce a Monday injury report, just 24 hours after the previous game ended.
CB-Vontae Davis (ankle): Pagano said the Colts held Davis out with his ankle injury. Davis played the entire game on Sunday, through the injury, and was seen in a walking boot at Monday's practice.
S-Clayton Geathers (concussion): After experiencing some concussion-like symptoms in the post-game locker room, Geathers is now in the concussion protocol. Pagano believes the concussion occurred on Geathers' fourth-down stop of DeMarco Murray.
QB-Andrew Luck (concussion): The Luck update is below.
CB-Rashaan Melvin (back): It was a rest day for Melvin.
CB-Patrick Robinson (groin): After missing practice Wednesday-Friday last week, Robinson returned to work on Monday.
Chuck Pagano on the short week not helping Andrew Luck's effort to make it through the concussion protocol by Thursday:
"That would be a good assumption."
Bowen's Analysis:* *With the locker room emptying out on Sunday, Luck began to feel some concussion-like symptoms. After meeting with doctors, Luck is now in the concussion protocol. Pagano spoke on Monday and thought Luck's concussion came in the fourth quarter. An early fourth-quarter sack of Luck saw the quarterback's helmet bounce off the turf. Luck finished the game, going 1-of-3 for 11 yards and an interception. Pagano said the steps Luck must pass by Thursday are: feeling better, taking an impact test/passing that test, practicing in a non-contact jersey, then taking another impact test, and finally being cleared by an independent neurologist.
If Luck doesn't progress through the concussion protocol in time for Thursday's game with the Steelers, the Colts would likely turn to Scott Tolzien (two career starts) and would probably have to elevate Stephen Morris from the practice squad. Tolzien has thrown just one pass in the NFL the past three seasons. His two starts came with Green Bay in 2013. Tolzien's career numbers in six games played are: 56-of-91 (61.5%) for 721 yards, 1 touchdown and 5 interceptions.
D'Qwell Jackson on playing Pittsburgh this Thursday:
"Anytime you play the Pittsburgh Steelers around this time (of year), you know what you are getting.

"The last two times we've played them, we didn't play good football."
Bowen's Analysis:* *In back-to-back years, the Steelers have outscored the Colts 96-44. This year's meeting will now come at Lucas Oil Stadium on a short week. Getting off to a quick start has to again be at the forefront of the Colts' minds this week. Pittsburgh is 0-4 this year when trailing at halftime.
In evaluating Pittsburgh specifically, the Colts must have a "Where's Waldo?" approach to wide receiver Antonio Brown. The NFL's top catch man in 2016, Brown is arguably the league's most dynamic skill player who lines up all over the field. One major difference from this year's matchup versus 2015, is Pittsburgh has running back Le'Veon Bell this time around. In last week's win over the Browns, Bell had 201 yards from scrimmage.Jack Mewhort on the challenges of Thursday night games:
"Our coaches do a great job and we have a great plan in place.

"I try to stay on track as much as possible. Treat a Monday as a Wednesday and just keep that routine going."
Bowen's Analysis: Chuck Pagano and the Colts are 4-0 in Thursday night games since 2012. All four of those games have been away from home. Not having to travel on Sunday, or at all this week, should aid the Colts in their recovery this week.
Veteran D'Qwelll Jackson spoke on Monday about how this week is mainly a mental challenge. Catching up on sleep is a major priority in trying to get the body to fully recover. The physical activity on field during practice this week will be virtually non-existent. Walk-through like practices will be the main learning when the Colts take the field. Jackson said his weekly prep for a Thursday game changes. For example, Jackson flew in his massage therapist on Monday this week, much earlier than he would on a normal game week.
Here is Monday's injury report, which was a very light walk-through practice:
-DNP: CB-Vontae Davis (ankle) S-Clayton Geathers (concussion), QB-Andrew Luck (concussion), OLB-Robert Mathis (rest), CB-Rashaan Melvin (back)
-LIMITED: DT-Arthur Jones (knee/ankle)
-FULL: CB-Patrick Robinson (groin)*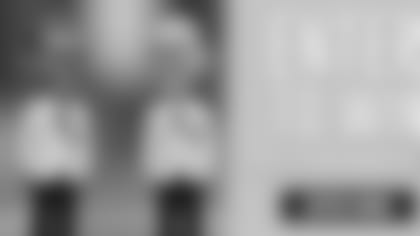 ](https://colts.formstack.com/forms/bobbleheads)