 INDIANAPOLIS – Today at Lucas Oil Stadium, symmetry lines up in addition to the Colts and Bills.
The 2013 preseason opener is the 300th Colts game played in Indianapolis, and the contest with Buffalo is the first primer to the franchise's 30th season locally.
Last season, there was an extreme need for rosters for the first preseason game since fewer than 30 of the 90 players on the Colts' sideline ended the previous season there.
Year Two under Head Coach Chuck Pagano starts today.  Pagano was making his first sideline appearance last year as well, and it became a season like no other for the first-year field leader.
Pagano led the Colts through the season's first three games before leaving to battle leukemia successfully.  The Colts braved on without their leader, then welcomed him back to the bench on December 30 for a 28-16 victory over Houston that nailed down the AFC's fifth playoff seed.
It was another in a long line of memorable seasons of Colts football in Indianapolis.  The Colts jumped nine games in the won-loss category in reaching the playoffs for the 12th time since 1999, while producing and 11-plus victory season for the eighth time in the last 10 seasons. 
Fans versed in the club's fortunes will need rosters again today.  About 40 players will be making an initial appearance in the horseshoe, a figure bolstered by the additions of 11 free agents (eight via the unrestricted route).
The Colts come into today's game having conducted about 20 practices at Anderson University after players reported there on July 27.  Most of the days the team was on the field working for four hours, and the sessions have been attended by thousands of fans.
Pagano is grateful for the attention given his team while it is forging its identity about 50 miles away from the Indiana Farm Bureau Football Center.
"Training camp has been a period of learning for the team.  The atmosphere and energy has been just what we are looking for, and tonight will be a good measuring point for where we are," said Pagano.  "What I have liked so far is the integrity, spirit and dedication of the players.  They stayed in great physical shape during the weeks they were away just prior to camp.  They came back ready to keep learning, and our practices have been sharp. 
"We hope fans today enjoy what they see.  We are so appreciative of the support they provide.  We know they take pride in making Lucas Oil Stadium one of the toughest venues in the National Football League, and we want to continue the Colts' culture of winning.  We will work tirelessly to develop a team built for the long-term, consistent success.  That's what wins championships.  Our focus will never change or weaken.  It's exciting to get back home."
Some of the new components for the Colts are on the defensive side of the ball.  Among the free agents added this year are tackles Ricky Jean Francois and Aubrayo Franklin.  Bjoern Werner was added in the draft, and Robert Mathis has shifted to the 'rush' linebacker spot played last year by Dwight Freeney.
In the secondary, Antoine Bethea is joined by two new performers – LaRon Landry and Greg Toler.  Vontae Davis is set to man the other corner role.
The presence of new personnel has added flavor to training camp, and the growth by players in the 3-4 is evident visually.
"You can see it, right?  You can see that swagger coming right?  Defensively, every time you step on the field, you expect greatness," said Pagano.  "You expect to make plays, create turnovers, stop the run.  All those type of things.
"I think going into year two it's a natural progression that everybody feels more comfortable with the scheme.  We feel more comfortable with their coaches, terminology, all those things.
"Those guys understand where they're supposed to be.  They know where their partner is supposed to be next to them.  They understand the strengths and weaknesses of every call.  So, they're able to play at a high level and play a lot faster than they did last year."
Count Owner and CEO Jim Irsay as one who wants to create much more of a defensive presence as the Colts approach their 30th season locally.
"I look for the defense to take a jump, to become formidable and become something that really starts being the cornerstone of what we're about," said Irsay.  "We want to be a really physical unit and a consistent unit.  We want to have greatness and toughness on defense, and be bigger and more physical. 
"When you look at list (of) the players we were aiming for, we literally got all of our guys.  I made a significant investment.  We're going to be six-to-seven million (dollars) cash over cap. 
"We really targeted guys that we felt could really help us.  That's not always the big-name player that makes the big splash.  You don't want weak links."
Today, the Colts and Bills are a part of the NFL's "Thank You Fans" weekend.  Colts players and coaches know there is a great deal for which to be thankful when it comes to fans following the team. 
Indianapolis has sold out 111 of its last 112 home games, including a streak of 87 straight.  Lucas Oil Stadium is not a dream destination for opposing teams. 
"Every home game was sold out and the fans were just so loud, especially when the defense was on the field," said tight end Dwayne Allen when looking back on his rookie season.  "Before the game, the fans helped set the atmosphere for us to go out and dominate.  We feed off the fans.  They are great and really help give us an advantage."
Cory Redding has spent many years in the league, and this is his second one in Indianapolis.  He knows a great backing when he hears one.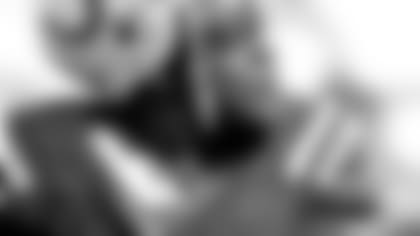 "They're loyal, smart, great fans.  They are large in numbers," said Redding.  "Last year was good, this year they'll be even better.  They get there early and stay late. 
"They show their love on Sundays.  They're loud and proud.  When we're out there making plays and scoring touchdowns, they get the place rocking and rolling.  Great fans, without a doubt."
Matt Hasselbeck is among the 40-ish players making an initial appearance in Lucas Oil Stadium as a Colt.
Hasselbeck has previous experience in the venue while with Tennessee.  He is glad to have the league's best fans now on his side.
"They are famous around the league for being so quiet when the offense is out there," said Hasselbeck.  "It's almost eerie and impressive.  They let the offense work.  In contrast, they're so loud on third downs. 
"I remember wanting to block things a certain way for Dwight Freeney, Robert Mathis or Bob Sanders and you couldn't because of the noise.  You couldn't communicate.  The fans provided a great advantage.  It's great to be on their side now."
Enshrined in the club's Ring of Honor in 2008, the "12th Man" has made a difference in many home games.
"I tip my hat to our fans.  They are terrific," said Antoine Bethea.  "We know when we hit the field, they are going to be loud and loyal.  That's all I've ever seen from them, and it's great having fans like that who really care and support the team. 
"I wouldn't trade our fans for anyone's, and I mean it.  They support you no matter what."