INDIANAPOLIS — When the Indianapolis Colts' coaching staff goes over the roster heading into the beginning of training camp next week, one position at which it can already feel confident is cornerback.
Heading into the offseason, the Colts already featured Pro Bowl shutdown corner Vontae Davis on one side, and they added to that strength by using free agency to sign another starter in Patrick Robinson, who allowed the fewest yards per catch of any corner in the league last season.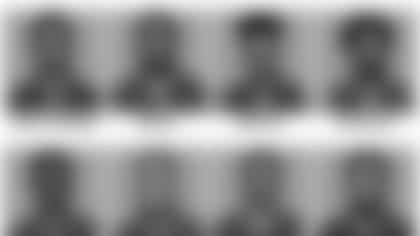 From there, the Colts have a chunk of returning veterans — and one first-year player who has raised some eyebrows — at cornerback to make that position among the deepest on the team.
Here's a look at the state of the Colts' cornerback position heading into training camp:NOTABLE RETURNERS:
- Jalil Brown
- Darius Butler
- Vontae Davis
- Tevin Mitchel
- Tay Glover-Wright
- D'Joun SmithNOTABLE ADDITIONS:
- Patrick RobinsonNOTABLE CAMP BATTLES:
- Daniel Davie
- Christopher Milton
- Winston Rose
- Darius White
- Frankie WilliamsNOTABLE LOSSES:
- Greg Toler (free agent; signed with Washington Redskins)
Last year, the Colts kept six cornerbacks out of training camp for their Week 1 roster (Brown, Butler, Davis, Sheldon Price, Smith and Toler). Towards the end of the season, with Smith on IR, the team had waived Price (with an injury designation) and signed Glover-Wright to its active roster from the practice squad.
This year, seven veterans look to primarily be vying for those five or six spots at cornerback. One of those players, Mitchel, will be a newcomer to Colts fans, but the team's front office and coaching staff are high on the Redskins' 2015 sixth-round draft pick out of Arkansas, who was waived by Washington after he torn his labrum during training camp last year and then claimed — and, accordingly, placed on IR — by the Colts.
Mitchel gives Indianapolis defensive backs coach Greg Williams a player with SEC experience at the nickel cornerback position, though he's not afraid to play outside, either.
That nickel spot should be Butler's to lose, however. Last season, Butler played 50 percent of all defensive snaps, despite missing two games due to injury. He had 50 tackles with four passes defensed, one interception and two forced fumbles on the year.
Brown, meanwhile, played in eight games with four starts in 2015, collecting 22 tackles and three passes defensed. Smith, who was placed on the IR/designated to return list Sept. 18 of last year, was activated on Nov. 16 and played in four games total before being placed back on IR on Dec. 24.
The primary newcomer to the bunch, Robinson, is described as deceptively quick on the field, and although he played about 30 percent of his snaps as a nickel cornerback last season with the San Diego Chargers, he was lined up outside opposite Davis most of his first offseason with the Colts.
Entering his seventh year in the league in 2016, Robinson, a Miami product, has collected 229 total tackles, one sack, 54 passes defensed, 10 interceptions, one defensive touchdown and two forced fumbles.
"(Robinson's) very impressive," Davis said. "You can tell he's been around the league for some time. He's smart. He understands defenses and I'm impressed by him. He's a good addition to the defense."
Davis himself, meanwhile, returns as the unquestioned leader of the cornerbacks group for the Colts. In 2014, he didn't allow a single touchdown, and last year, despite some nagging injuries, he still put up a solid season, with 48 tackles, 16 passes defensed and four interceptions.