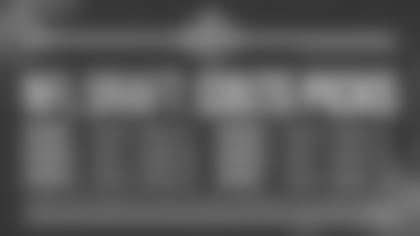 Since 1984, The Colts have never taken a center earlier than the fourth round.
Since 2002, the Colts have taken at least one offensive lineman in every draft.
Since 1995, the Colts have taken two linebackers in the first round (2000-Rob Morris, 2013-Bjoern Werner).
The Colts have taken a defensive lineman in six of the last seven drafts.
Post draft reminder: The Colts have had at least one rookie undrafted free agent make the team's opening week 53-man roster for the past 17 seasons. That is the longest active streak in the NFL. The Colts could have more than 15 UDFAs on their 90-man roster this season. They are typically signed/announced on Sunday, after the draft.
LAST 10 NFL DRAFT PICKS AT NO. 18 OVERALL
*2015: *CB-Marcus Peters, Chiefs
*2014: *S-Calvin Pryor, Jets
*2013: *S-Eric Reid, 49ers
*2012: *LB-Melvin Ingram, Chargers
*2011: *DE-Corey Liuget, Chargers
*2010: *C-Maurkice Pouncey, Steelers
*2009: *DE-Robert Ayers, Broncos
*2008: *QB-Joe Flacco, Ravens
*2007: *CB-Leon Hall, Bengals
*2006: *LB-Bobby Carpenter, Cowboys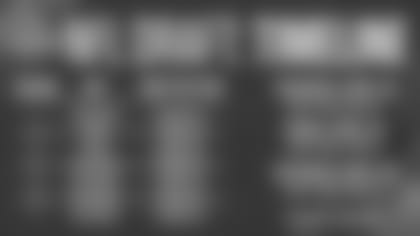 The Colts have 17 players that they drafted. Of those 17 players, 13 started games for the team in 2015. Below is a breakdown of how the Colts were built by the draft:2003:OLB-Robert Mathis![](/team/roster/robert-mathis/5d29904b-7bec-41ee-9307-af5b707a681e/ "Robert Mathis") (5-138)
2009:P-Pat McAfee![](/team/roster/pat-mcafee/4b0d5e9f-3c5a-4d39-beba-47f0605cf32f/ "Pat McAfee") (7-222)
2011:T-Anthony Castonzo![](/team/roster/anthony-castonzo/7f5665e3-e3c0-4168-90ae-0f87bacd1411/ "Anthony Castonzo") (1-22)
2012:QB-Andrew Luck![](/team/roster/andrew-luck/ea912f8f-b6a5-4782-8b64-835b8fd58805/ "Andrew Luck") (1-1), TE-Dwayne Allen![](/team/roster/dwayne-allen/bd05c477-c980-41d7-9017-1e8a815ded17/ "Dwayne Allen") (3-64), WR-T.Y. Hilton![](/team/roster/ty-hilton/1bfc81a4-87be-4e0e-bc21-25099996be55/ "T.Y. Hilton") (3-92)
2013:G-Hugh Thornton![](/team/roster/hugh-thornton/5bd0afeb-bc41-454e-829d-6e39e760fb5e/ "Hugh Thornton") (3-86), C/G-Khaled Holmes![](/team/roster/khaled-holmes/375833ba-d153-4024-8978-7b2be4d23d5b/ "Khaled Holmes") (4-121)
2014:T/G-Jack Mewhort![](/team/roster/jack-mewhort/d94e29ee-8242-4eb5-b612-8415a855beea/ "Jack Mewhort") (2-59), WR-Donte Moncrief![](/team/roster/donte-moncrief/ffd1dc8c-6236-4d23-a17b-ec20615efab2/ "Donte Moncrief") (3-90)
2015:WR-Jacoby Brissett (1-29), CB-D'Joun Smith (3-65), DT-Henry Anderson, S-Clayton Geathers (4-109), DT-David Parry (5-151), ILB-Amarlo Herrera (6-207), OT-Denzelle Good (7-255)
This is the second consecutive year the draft has been held in Chicago.
With both the Titans and Browns trading the top two overall picks, it marks the fourth time this has happened in draft history (1997, 1975 and 1967).
The NFL is expected to have 25 draft prospects in attendance for Thursday's first round. Colts.com will be at the Auditorium Theatre in Chicago in case the Colts first-round pick is present there. The list of attending prospects is here.
If Jared Goff and Carson Wentz go 1-2 in the draft, it will mark the seventh time the first two picks in the draft have been quarterbacks since 1967. Andrew Luck/Robert Griffin went 1-2 in 2012 and Jameis Winston/Marcus Mariota did the same last year.
If Alabama has a player selected in the first round on Thursday, the Crimson Tide will have the third-longest consecutive streak with at least one player drafted in the first round. Alabama has a current streak of seven consecutive drafts with at least one first-round pick.