 ](http://careyindiana.com)
INDIANAPOLIS – After topping NFL rookie tight ends in 2012 with 45 receptions and being one of only six Colts to start every outing, Dwayne Allen's second year ended after one catch in one game.
Recovering from a hip injury was a tough process for a bright talent.  The time it took, though, has reset his perspective.
"Before last year an article came out where I was professing myself as one of the best tight ends in the league.  Who am I to say that?  That's not my job," said Allen.  "My job is to perform and through my actions have others choose me to be one of the best.  That wasn't really my focus, but those words came out of my mouth. 
"I was very humbled by having to sit out last year, and it hurt.  Seeing your teammates play the game you love and just kick tail and you knew you could help if you were healthy but you weren't, it was a helpless feeling.  It did hurt a ton because I love this game so much."
In a sport where 'me-first' attitudes can be prevalent, Allen never exhibited those outwardly to a measurable degree.  Inwardly, though, he felt change was needed.
"I didn't look at it as pride, but that's exactly what it was," said Allen.  "I had such a great rookie year that I was expecting to have a spectacular sophomore year, just explode on the scene and be a Pro Bowl tight end. 
"That's not the way it works sometimes.  The way I am this year, it's more important to explode for my team, not on the scene."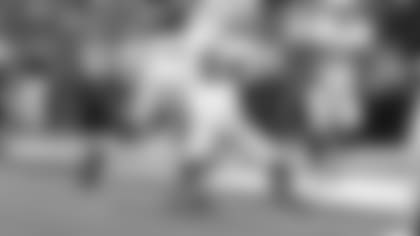 Last year, Allen continued his off-field work as one of the team's top community presences, though he removed himself a bit from his teammates as a coping mechanism.  As of April 21 when the off-season program starts, it is all systems go.
"Getting my mind back into the game is number one.  I need to get my mind back into football," said Allen.  "I transitioned my mind into a fan to survive the season.  Those first couple of games I was in the press box pulling my hair out, yelling and screaming and almost having an aneurism because of my emotional connection to the game. 
"Number two is training my body and technique.  I trust I will be healthy, so it's getting back to the basics – making sure my footwork is crisp, my hands are tight and inside, that I can fire out of these new hips I have." 
While the first two goals are admirable, it is Allen's third that indicates so much about him and what helps make the Colts' program under Chuck Pagano be so resilient.
"Number three is to serve my teammates.  There is no entitlement in professional football.  You're not entitled to anything," said Allen.  "I would love to come back and be a part of this team and assume the role I used to have.  If that's not the role I had, that's totally fine.  What can I do to help this team? 
"If my role has transitioned more to special teams, let's do it.  Has my role transitioned to more blocking in the system than receiving?  Let's do it, whatever it takes to win.  The third thing on my list is to submit and serve.  I want to be part of a successful team.  For that to happen, everyone needs to submit and serve.  That's what I need to do."
Allen saw the club earn six comeback wins in 2012, and he spectated as Indianapolis earned a handful of such efforts last year, including a rally from a 28-point third-quarter deficit in a playoff win over Kansas City.
Pagano has his charges players committed to playing for each other.  What could be a false feeling for some teams is quite real here.
"That's a huge part of why we've been able to hang in there in tough situations," said Allen.  "So many guys take their minds off themselves and put it on the team. 
"Just for a glimpse before last season, I was focused on myself, not the team, and I'd never been that way.  That's what happens when you have a little bit of success.  You can easily get off track and focus on yourself.  I'm so blessed I was able to sit out, re-focus and rededicate myself to the game."
Allen said he has taken the past few weeks to build himself all over.  While he proclaims change inside, he says understanding his body has been part of the process.
"I'm taking it from the ground up.  When you do that, you're able to learn different things about your body," said Allen.  "You learn different things you wouldn't have if you assumed you were at the top or were a finished product. 
"I'm going through this process of crossing 'T's' and dotting 'I's'.  If there are any uncrossed or undotted, I know about it.  Whenever I go through that process, I know what my faults are and can work on them before we get started.
"I have no doubt I'll be equipped to be as healthy and efficient as possible.  Whatever coaches want me to master, I will be the master.  I will do what will benefit 52 teammates."
QUOTE-UNQUOTE (Chuck Pagano on teaming Coby Fleener and Dwayne Allen again):**
"From a competitive standpoint where man sharpens man, it's (good) going to have Dwayne back, and you're talking about putting two (dangerous) guys out there.  That's where the league kind of has gone, if you look at New England and the guys (Rob Gronkowski, Aaron Hernandez) they had.  It was hard to defend them.  You have the run, and then displace those guys and get them out in space.  They're tough guys to cover.  Coby and Dwayne are the same type of guys."